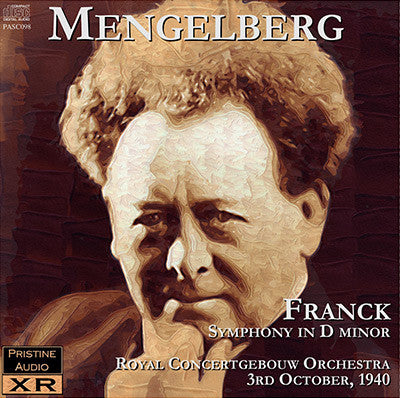 This album is included in the following set
s

:
This set contains the following album
s

:
Producer's Note
Full Track Listing
Cover Art
In the late 1930's and into the early 1940's a number of recordings of Mengelberg conducting the Royal Concertgebouw Orchestra were made to an astonishingly high quality by the semi-private Dutch broadcasting organisation AVRO. They were cut directly onto glass-backed acetates and later transcribed to tape, from which a number of releases have been sourced. Already on this site you'll find Mengelbergs' 1939 Mahler Symphony No. 4 and his 1940 Brahms Requiem, and now we're able to bring the XR process to bear on this superb 1940 Franck recording.
Fortunately in this case the acetates were in a much better state than the previous two recordings I worked on, which left me to concentrate on getting the very best sound quality out of the music, rather than the worst of the noise away from the music! What we hear is a superb performance, and a truly excellent recording for its day.
FRANCK Symphony in D minor
Royal Concertgebouw Orchestra
conducted by Willem Mengelberg

Recorded live in Amsterdam on 3rd October 1940
Transfer and XR remastering by Andrew Rose, October 2007

Duration 35:05