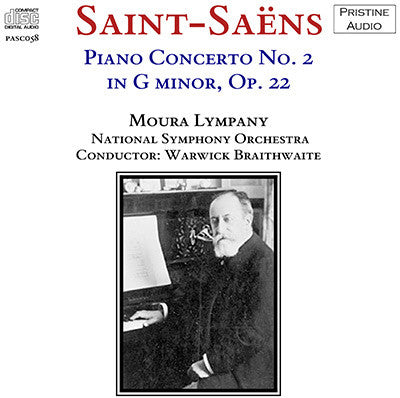 This album is included in the following set
s

:
This set contains the following album
s

:
Producer's Note
Full Track Listing
Cover Art
This recording is one which has suffered from perhaps unwarranted neglect. Like a number of recordings made in the immediate post-war period, it is of high quality, both in terms of performance and in audio fidelity; its fate however was sealed by technology and the huge investment in re-recording music for LP issue that went on in the 1950's.
Elsewhere on this site, for example, you will find Boult's 1949 recording of Elgar's First Symphony and the same conductor's 1945 reading of Holst's Planets Suite, both reissued for the first time since their untimely departure from the catalogue.
In the case of Moura Lympany's 1945 recording for Decca of the Saint-
Saëns Concerto No. 2, this was to be remade just six years later with the LPO under Jean Martinon. The technology might have been updated - tape and vinyl replacing direct-to-disc 78rpm recording, but the sound here can stand up alongside the later recording, being one of Decca's very earliest ffrr (full frequency range recording) issues. Indeed the company were at this time keeping their sonic developments quiet - the ffrr logo was not to appear on a record label for another year. EMI meanwhile had made similar improvements but never advertised this for fear of losing sales on older material!
As to the music - well take a listen to that wonderful finale in our streaming MP3 clip here while you read through Bill Rosen's ever-erudite review notes.
SAINT-SAËNS Piano Concerto No. 2 in G minor, Op. 22

Moura Lympany,
piano
National Symphony Orchestra
Conductor: Warwick Braithwaite
Recorded 24 July 1945
Kingsway Hall, London
Released as Decca K.1161-3
Matrix numbers: AR-9579-4, Take No.s: 1-2-2-2-3-1

Duration 22:41

Bill Rosen's Review
The final movement is incredible--dynamism, speed and power
I have always thought of the Saint-Saëns Piano Concerto #2 as a jeu d'esprit and Moura Lympany as a rather small-scaled pianist. Both views have been changed by this recording.
Saint-Saëns wrote five piano concertos, all brilliant, melodious and delightful. The second, however is deservedly the most popular in spite of the fact that it is not very homogeneous stylistically--one wag said, "It begins like Bach and ends like Offenbach". It was written in 17 days after Saint-Saëns had unwisely promised a new work for one of his performances.
Madame Lympany begins the opening introduction a bit small-scaled but gains power as the orchestral intoduction approaches. The main theme and second theme are played with great poetry. When the arpeggios begin, they are not as an exhibition of virtuosity, but as luminous, pearly pianism. Listen to the end of the first movement where the introduction returns pianissimo on a carpet of magical soft strings.
In the second movement, Lympany does not quite match Rubenstein's effervescence, but her playing of the waltz has such insouciant swing that one is compelled to smile.
The final movement is incredible--dynamism, speed and power. Both Lympany and Braithwaite are nearly over the top. There is no let up; this is large-scale, brilliant and greatly raises the stature of the concerto in my eyes. This is most likely the most exciting performance of the finale I've ever heard.
The sound is quite brilliant, a remarkable remastering of the 1945 recording.