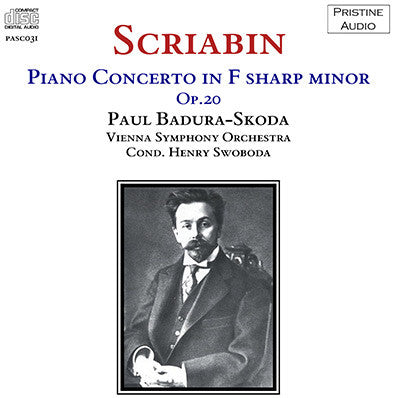 This album is included in the following set
s

:
This set contains the following album
s

:
Producer's Note
Full Track Listing
Cover Art
Scriabin's only piano concerto, written in 1896 at the age of twenty-six, as the composer was reaching the end of his formative period, is both a surprise and a delight. Known at the time as "The Russian Chopin" for his early adherence to the style of the Polish composer, it is little surprise that this work is fully permeated with the influence of Chopin.
Where Scriabin was already ahead of his idol was in his mastery of orchestration, which he put to great effect in this concerto. In 1910, just five years before his early death, Scriabin himself played this concerto to great success during a steamboat tour of the Volga with an orchestra conducted by the legendary Serge Koussevitsky.
Here we find one of the greatest pianists of the twentieth century, Paul Badura-Skoda (left), in one of his earliest LP recordings, made for Westminster in 1950, and then paired with Rimsky-Korsakov's concerto (PASC030). Despite some rather dubious original recorded sound, Peter Harrison at disk2disc has done wonders to make this once again worth hearing!
SCRIABIN Piano Concerto in F sharp minor, Op. 20
Paul Badura-Skoda, piano
Vienna Symphony Orchestra
Conductor: Henry Swoboda
Recorded October 1950
Issued as Westminster WL5068, XWN18521
Duration: 27:30