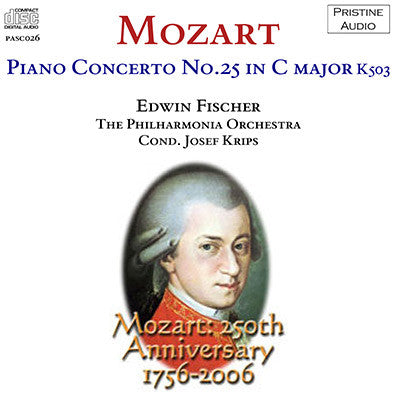 This album is included in the following set
s

:
This set contains the following album
s

:
Producer's Note
Full Track Listing
Cover Art
Edwin Fischer was one of the towering greats of the piano in the first half of the twentieth century, as well as being a hugely talented conductor. And yet only a handful of his recordings can be said to do justice to his immense talents. The general opinion is that his pre-war recordings offer more than his post-war output, and yet when one hears this particular concerto one can't help but wonder if, like so many other recordings of the late 1940's, its success was hampered more by the technological innovations about to revolutionise sound recording than by any musical shortcomings.
For while there is no doubt that sound recording on 78rpm discs was becoming relatively advanced by the time of this recording in 1947, as can be heard when contrasting this with Fischer's 1937 recording of Mozart's 24th Concerto (PASC025), it would never be a match for magnetic tape and the vinyl records of the 1950's and beyond.
Fortunately modern technology does allow us to extract the most from recordings such as this, to reduce background hiss and eliminate record clicks and scratches, and where necessary make minor corrections to the tonal balance. I'm pleased to report that the recording in question required very little in the way of intervention, and is one of those wonderful recordings in which you soon find yourself completely absorbed and unaware of its provenance.
MOZART Piano Concerto No. 25 in C major, K.503
Edwin Fischer,
piano
Philharmonia Orchestra,
Conductor: Josef Krips
Recorded at Abbey Road Studio 1 on 10th October, 1947
Released as HMV DB.6604-07
Matrix numbers: 2EA12401-II, 2EA12402-I, 2EA12403-II, 2EA12404-II, 2EA12405-II, 2EA12406-II, 2EA12407-I, 2EA12408-I.

Duration 30'03"