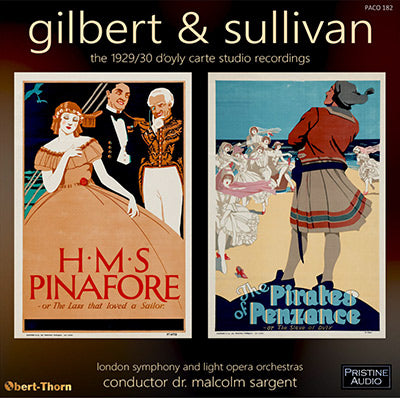 This album is included in the following set
s

:
This set contains the following album
s

:
Producer's Note
Full Track Listing
Cover Art
"Oh joy, oh rapture unforeseen!" Pristine returns to the classic series of D'Oyly Carte company HMV recordings from the late 1920s through the early 1930s to present two of the greatest of Gilbert and Sullivan's comic operas: H. M. S. Pinafore and The Pirates of Penzance. These, along with The Mikado (whose 1926 D'Oyly Carte recording was previously issued on Pristine PACO 087), remain the most beloved and often-performed of their works.
Like the others in the original series of 78 rpm albums, these sets featured a mixture of seasoned Savoyards (Henry Lytton, Elsie Griffin, Bertha Lewis, Darrell Fancourt and others) alongside popular concert singers (George Baker, Peter Dawson) well-trained in the idiom, here under the energetic baton of the young then-Dr. Malcolm Sargent. Together, their work set the standard for G&S performances for decades to come through these influential and widely-distributed recordings.
The discs, originally set down in 1929 and 1930, have been reissued several times on CD; I even did one of the previous editions, for Romophone, some twenty-five years ago. Several factors set this new version apart from competing releases. First, I used American Victor "Z" pressings from 1935-36 for source material. This series boasted the quietest shellac ever used on commercial discs – really, the next best thing to metal parts or vinyl test pressings. (I used "Z" pressings also for my Romophone release, but I've found even better copies of each set since then. I can't vouch for what other CD editions used, but "Z" albums are not that easy to come by.)
Of equal importance, however, was something that wasn't available for previous transfers: iZotope RX 8 Advanced restoration software. Besides having declicking capabilities superior (IMO) to the CEDAR module I previously used, RX offered the opportunity to clean up problems within frequency bands to a degree hitherto unseen, as well as to stabilize pitch. (Admittedly, this last feature required careful monitoring: on a couple occasions, usually dealing with a cappella singing and/or coloratura runs, I found the software got confused and produced strange results. In those cases, such as Mabel's aria, "Poor wandering one", I had to revert to manual pitching. But on the whole, it was an invaluable tool for setting pitch and keeping it constant.)
Another handy feature RX offered was its "EQ Match" module. On each of the two sets, there were sides that were dubbings, marked by a "T1" next to the take number on the discs. These had parts so loud that they were likely to show wear on the disc after only a few playings. New matrices were created by playing back the metal parts and recording them at a lower volume level onto another matrix. As one might expect, the result, being a copy of a record, lacked the fullness of the original, and often sounded tinny. By using EQ Match to another side in the set with similar forces and dynamic range, I was able to get much closer to the original sound than ever before. (Indeed, the biggest challenge I had in transferring this set was constructing endings to each side, as the original engineers sent the cutter to a run-out groove as soon as the music stopped!)
I think you'll find that these classic recordings wear their 90-plus years lightly, and that you'll agree they've never sounded better. ("What, never?" Well . . . you know the rest!)
Mark Obert-Thorn
GILBERT & SULLIVAN HMS Pinafore & The Pirates of Penzance
Gilbert & Sullivan
H. M. S. PINAFORE
(or THE LASS THAT LOVED A SAILOR)
The Rt Hon Sir Joseph Porter, K.C.B. . . . . . . . . . . . . . . . . . . . . . . . . . Sir Henry A. Lytton, baritone
Captain Corcoran . . . . . . .. . . . . . . . . . . . . . . . . . . . . . . . . . . . . . . . . . . . . . . George Baker, baritone
Ralph Rackstraw . . . . . . .  . . . . . . . . . . . . . . . . . . . . . . . . . . . . . . . . . . . . . . Charles Goulding, tenor
Dick Deadeye . . . . . . . . .. . . . . . . . . . . . . . . . . . . . . . . . . . . . . . . . . . . . . . Darrell Fancourt, baritone
Bill Bobstay (Boatswain's Mate) . . . . . . . . . . . . . . . . . . . . . . . . . . Sydney Granville, bass-baritone
Bob Beckett (Carpenter's Mate) . . . . . . . . . . . . . . . . . . . . . . . . . . Stuart Robertson, bass-baritone
Josephine . . . . . . . . . . . . . . . . . . . . . . . . . . . . . . . . . . . . . . . . . . . . . . . . . . . . . . Elsie Griffin, soprano
Hebe . . . . . . . . . . . . . . . . . . . . . . . . . . . . . . . . . . . . . . . . . . . . . . . . Nellie Briercliffe, mezzo-soprano
Mrs Cripps ("Little Buttercup") . . . . . . . . . . . . . . . . . . . . . . . . . . . . . . . . . . Bertha Lewis, contralto
Chorus and London Symphony Orchestra
Sir Malcolm Sargent
CD 1 (77:34)
H.M.S. Pinafore
1. Overture (3:59)
(Cc 18642-3A / D 1844 / 5 Feb 1930)
Act 1
2. We sail the ocean blue (2:05)
3. Hail, men-o'-war's men (0:25)
4. I'm called Little Buttercup (1:35)
(Cc 18636-5A / D 1844 / 24 Mar 1930)
5. But tell me – who's the youth (0:28)
6. The Nightingale sighed (1:52)
7. A maiden fair to see (1:54)
(Cc 18639-3 / D 1845 / 24 Mar 1930)
8. My gallant crew, good morning (0:28)
9. I am the Captain of the Pinafore (1:48)
10. Sir, you are sad (1:31)
(Cc 18637-4A / D 1845 / 24 Mar 1930)
11. Sorry her lot (3:17)
12. Over the bright blue sea (0:38)
(Cc 18704-1 / D 1846 / 14 Mar 1930)
13. Sir Joseph's barge is seen (0:35)
14. Gaily tripping, lightly skipping (1:23)
15. Now give three cheers (1:11)
(Cc 18644-2 / D 1846 / 6 Feb 1930)
16. When I was a lad (2:36)
17. For I hold that on the seas (0:26)
(Cc 18645-1 / D 1847 / 6 Feb 1930)
18. A British tar is a soaring soul (1:56)
19. Refrain, audacious tar (2:49)
(Cc 18641-2A / D 1847 / 14 Mar 1930)
20. Can I survive this overbearing (1:42)
21. My friends, my leave of life I'm taking (1:23)
22. Oh joy, oh rapture unforeseen (1:22)
(Cc 18649-2 / D 1848 / 6 Feb 1930)
23. This very night (1:58)
24. Let's give three cheers for the sailor's bride (2:36)
(Cc 18647-3AT1 / D 1848 / 6 Feb 1930)
Act 2
25. Entr'acte (1:07)
26. Fair moon, to thee I sing (2:46)
(Cc 18643-5A / D 1849 / 4 Feb 1930)
27. Things are seldom what they seem (2:39)
(Cc 18638-2 / D 1849 / 4 Feb 1930)
28. The hours creep on apace (4:32)
(Cc 18698-2 / D 1850 / 14 Mar 1930)
29. Never mind the why and wherefore (2:29)
30. Kind Captain, I've important information (2:10)
(Cc 18713-2A / D 1850 / 24 Mar 1930)
31. Carefully on tiptoe stealing (1:39)
32. Pretty daughter of mine (1:07)
33. He is an Englishman! (1:45)
(Cc 18640-3AT1 / D 1851 / 4 Feb 1930)
34. In uttering a reprobation (2:28)
35. Farewell, my own (1:39)
(Cc 18648-2A / D 1851 / 6 Feb 1930)
36. My pain and my distress (0:43)
37. A many years ago (2:08)
(Cc 18646-1A / D 1852 / 6 Feb 1930)
38. Oh joy, oh rapture unforeseen (3:09)
(Cc 18705-2 / D 1852 / 14 Mar 1930)
Gilbert & Sullivan
THE PIRATES OF PENZANCE
(or THE SLAVE OF DUTY)
The Pirate King . . . . . . . . . . . . . . . . . . . . . . . . . . . . . . . . . . . . . . . . . . Peter Dawson, bass-baritone
Major-General Stanley . ... . . . . . . . . . . . . . . . . . . . . . . . . . . . . . . . . . . . . . . George Baker, baritone
Samuel .  . . . . . . .  . . . . . . . . . . . . . . . . . . . . . . . . . . . . . . . . . . . . . Stuart Robertson, bass-baritone
Frederic . . . . . . . . . . . . . . . . . . . . . . . . . . . . . . . . . . . . . . . . . . . . . . . . . . . . . . . Derek Oldham, tenor
Sergeant of Police . . . . . . . . . . . . . . . . . . . . . . . . . . . . . . . . . . . . . . . . . . . . . Leo Sheffield, baritone
Mabel . . . . . . . . . . . . . . . . . . . . . . . . . . . . . . . . . . . . . . . . . . . . . . . . . . . . . . . . . Elsie Griffin, soprano
Edith . . . . . . . . . . . . . . . . . . . . . . . . . . . . . . . . . . . . . . . . . . . . . . . . Nellie Briercliffe, mezzo-soprano
Kate . . . . . . . . . . . . . . . . . . . . . . . . . . . . . . . . . . . . . . . . . . . . . . . . . . . Nellie Walker, mezzo-soprano
Ruth . . . . . . . . . . . . . . . . . . . . . . . . . . . . . . . . . . . . . . . . . . . . . . . . . . . . . . . . . Dorothy Gill, contralto
Chorus and Light Opera Orchestra
Sir Malcolm Sargent
The Pirates of Penzance
39. Overture (7:14)
(Cc 15910-9A & 15921-1A/ D 1678 / 15 May & 21 Feb 1929)


CD 2 (73:19)
Act 1
1. Pour, oh, pour the pirate sherry (1:34)
2. When Frederic was a little lad (2:43)
(Cc 15911-5 / D 1679 / 19 April 1929)
3. Oh, better far to live and die (2:13)
4. Oh, false one, you have deceived me! (2:25)
(Cc 15943-5 / D 1679 / 25 Mar 1929)
5. What shall I do? (0:15)
6. Climbing over rocky mountain (3:30)
(Cc 15942-6 / D 1680 / 25 Mar 1929)
7. Stop, ladies, pray! (1:22)
8. Oh, is there not one maiden breast (3:08)
(Cc 15918-4T1 / D 1680 / 25 Mar 1929)
9. 'Tis Mabel! (0:46)
10. Poor wandering one! (2:34)
(Cc 15915-5 / D 1681 / 25 Mar 1929)
11. What ought we to do (0:42)
12. How beautifully blue the sky (1:57)
(Cc 15917-3 / D 1681 / 21 Feb 1929)
13. Stay, we must not lose our senses (0:35)
14. Here's a first-rate opportunity (0:51)
15. Hold, monsters! (0:50)
(Cc 15912-2A / D 1682 / 20 Feb 1929)
16. I am the very model of a modern Major-General (2:49)
(Cc 15909-2 / D 1682 / 19 Feb 1929)
17. Oh, men of dark and dismal fate (2:18)
18. I'm telling a terrible story (0:38)
19. Although our dark career . . . Hail, Poetry (1:36)
(Cc 16263-3 / D 1683 / 25 Mar 1929)
20. You may go, for you're at liberty (1:45)
21. Pray, observe the magnanimity (1:36)
(Cc 15948-6 / D 1683 / 25 Mar 1929)
Act 2
22. Oh, dry the glistening tear (3:03)
(Cc 15914-3A / D 1684 / 20 Feb 1929)
23. Then, Frederic, let your escort lion-hearted (0:15)
24. When the foeman bares his steel (4:18)
(Cc 15919-4 / D 1684 / 25 Mar 1929)
25. Now for the pirates' lair! (1:17)
26. When you had left our pirate fold (3:16)
(Cc 15906-2 / D 1685 / 19 Feb 1929)
27. Away, away! my heart's on fire (1:25)
28. All is prepared, your gallant crew await you (2:05)
(Cc 15907-3/ D 1685 / 19 Feb 1929)
29. Ah, leave me not to pine (3:22)
30. Oh, here is love, and here is truth (0:53)
(Cc 15908-6A / D 1686 / 25 Mar 1929)
31. No, I am brave! (1:20)
32. When a felon's not engaged in his employment (2:14)
(Cc 15916-3A / D 1686 / 20 Feb 1929)
33. A rollicking band of pirates we (0:50)
34. With cat-like tread (2:33)
(Cc 15920-1A / D 1687 / 21 Feb 1929)
35. Hush, hush, not a word! (1:21)
36. Softly sighing to the river (2:28)
(Cc 15913-2 / D 1687 / 20 Feb 1929)
37. Now what is this, and what is that (2:24)
(Cc 15949-3A / D 1688 / 28 Feb 1929)
38. To gain a brief advantage you've contrived (2:23)
39. Poor wandering ones (1:43)
(Cc 16262-2A / D 1688 / 25 Mar 1929)
Recorded in Small Queen's Hall, London
Originally issued as HMV Albums 100 (Pinafore) and 83 (Pirates)
Producer and Audio Restoration Engineer: Mark Obert-Thorn
Total duration: 2hr 30:57