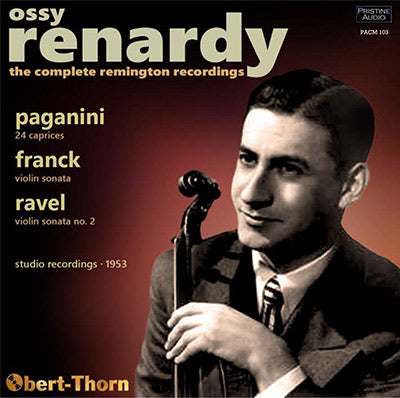 This album is included in the following set
s

:
This set contains the following album
s

:
Producer's Note
Full Track Listing
Cover Art
Ossy Renardy was born Oskar Reiss in Vienna on April 26, 1920. Except for some early training given by a neighbor, he was self-taught. He first played publicly at the age of eleven, and two years later toured Italy with a troupe of variety entertainers. His manager suggested that he adopt "Ossi Renardi" as a more Italian-sounding name, which the violinist later amended when he returned to Vienna. Victor de Sabata heard him perform in Milan in 1934, and invited him to play as soloist with the Vienna Philharmonic, which launched his international career.
He made his American début at a Town Hall recital in New York in January, 1938. Two months later, a few weeks before his 18th birthday, he entered the Columbia studios to make his first recordings (reissued on Pristine PASC 383). In October of 1939, he caused a sensation at Carnegie Hall by performing all of the Paganini Caprices in the version with piano accompaniment by Ferdinand David. Early in the following year he went over to the Victor label, where he made the première recording of the complete set of Caprices as well as several short encores (on Biddulph LAB 061-62, nla).
America's entry into World War II saw Renardy take up American citizenship and join the Army, where he played 490 USO concerts for servicemen. After the war, he recovered from this punishing schedule by taking two years off from concertizing. Renardy signed with British Decca in 1948, where his first recording (and his only one with orchestra) was the Brahms Concerto with Munch and the Concertgebouw (Pristine PASC 013). He followed this up over the next three years with recordings of two unaccompanied Bach Sonatas and a selection of encores, most of which have been reissued on Testament SBT 1292.
In the summer of 1953, two years after his last Decca sessions, Renardy made what were to be his final recordings for Remington in New York. Remington was a budget label which specialized in artists in the twilight of their careers (Spalding, Dohnányi), so it was unusual for someone still in his prime to record for them. In the event, these final recordings show the violinist in excellent form, aided by superb engineering.
Renardy chose to remake the Paganini Caprices, still with the David piano accompaniment even three years after Ruggiero Ricci had made the first complete recording in the composer's original solo version. (The LP covers claim that Renardy was playing Paganini's own Joseph Guarnerius "Cannon", but it is now believed that he used a replica.) The performances are more assured than his earlier set, reflecting his growth as an artist. Arguably even better is the coupling of two French violin sonatas, where Renardy is partnered not with his usual accompanist, but with rising star Eugene List.
Renardy died in an automobile accident while leaving a recital in New Mexico on December 3, 1953. Gramophone's obituary published the following March stated, "At thirty-three he seemed destined to don the mantle of his compatriot Kreisler, whose style of playing was not dissimilar." Now, with nearly all of his commercial recordings having been reissued on CD, a fuller measure of his remarkable artistry can finally be taken.
Mark Obert-Thorn
OSSY RENARDY  The Complete Remington Recordings
Eugene Helmer and Eugene List (piano)
Studio Recordings ∙ 1953
CD 1 (67:09)
PAGANINI: Caprices, Op. 1 (Piano accompaniment by Ferdinand David)
1 No. 1 in E major (1:42)
2 No. 2 in B minor (2:32)
3 No. 3 in E minor (2:39)
4 No. 4 in C minor (5:13)
5 No. 5 in A minor (2:24)
6 No. 6 in G minor (3:35)
7 No. 7 in A minor (3:09)
8 No. 8 in E flat major (2:35)
9 No. 9 in E major (2:44)
10 No. 10 in G minor (2:06)
11 No. 11 in C major (4:06)
12 No. 12 in A flat major (2:40)
13 No. 13 in B flat major (2:49)
14 No. 14 in E flat major (1:11)
15 No. 15 in E minor (2:20)
16 No. 16 in G minor (1:34)
17 No. 17 in E flat major (3:28)
18 No. 18 in C major (2:02)
19 No. 19 in E flat major (2:25)
20 No. 20 in D major (3:29)
21 No. 21 in A major (2:32)
22 No. 22 in F major (2:26)
23 No. 23 in E flat major (3:14)
24 No. 24 in A minor (4:16)
Eugene Helmer (piano)
First issued on Remington R-199-146 (Nos. 1-12) and R-199-152 (Nos. 13-24)
CD 2 (42:17)
FRANCK: Violin Sonata in A major
1 1st Mvt.: Allegretto ben moderato (5:23)
2 2nd Mvt.: Allegro (7:43)
3 3rd Mvt.: Ben moderato: Recitativo – Fantasia (6:08)
4 4th Mvt.: Allegretto poco mosso (5:49)
RAVEL: Violin Sonata No.2 in G major
5 1st Mvt.: Allegretto (7:32)
6 2nd Mvt.: Blues: Moderato (6:06)
7 3rd Mvt.: Perpetuum Mobile: Allegro (3:35)
Eugene List (piano)
First issued on Remington R-199-148
Ossy Renardy (violin)
Producer and Audio Restoration Engineer: Mark Obert-Thorn
Recorded Summer, 1953 at the Mastertone Recording Studios, New York City
Audiophile Audition review
The short-lived Austrian violinist Ossy Renardy enjoys a fine restoration in his Remington legacy.
The name of Viennese violin luminary Ossy Renardy (nee Oskar Reiss, 1920-1953) may invoke the image of a "fingerboard gymnast," compelled to play spectacular showpieces and flamboyant repertory, but he had gleaned respect for his formidable technique and sensitive interpretations, often likened to his compatriot, Fritz Kreisler.  Renardy died in a car crash, only just having begun to reap the repute his hard work and commitment had earned. The decision to record the complete Paganini Caprices in the Ferdinand David edition, with (an anachronistic) piano accompaniment, comes as a result of Renardy's having performed this version in 1940, and here again in 1953, for Don Gabor's Remington label. Ruggiero Ricci would perform the pieces in their solo capacity—in 1947—but Renardy must have felt that the popular consensus would favor the "enriched" harmonization between him and Eugene Helmer. Francescatti must have agreed with the aesthetic, as had Heifetz. The young Michael Rabin, however, dared to play caprices solo. The technique revealed by Renardy in these 24 grueling exercises certainly impresses, as much for a capacity for poetry as for consummate digital skills.  Renardy handles the various challenges confronting him: wide-spaced notes requiring the musician to glide between the outside notes; a "skipping bow"; a sostenuto string in tandem with rapid trills and harmonies in another; bowing to imitate flute and horn sonority; chromatic runs, trills, and guitar-based arpeggios; and the maintenance of brilliant speed and graceful articulation at all times.
For pure musicianship sans ostentatious bravura, the two French works with pianist Eugene List provide a refreshed tonic. The Franck Sonata enjoys a patrician line, edgy perhaps in a way that sides more with Ricci than with Grumiaux, but elegant nevertheless.  The second movement Allegro achieves some daredevil pyrotechnics, while the Recitativo-Fantasia basks in concentrated mystery. The Ravel Sonata (1923-27) claims an "antagonistic" aesthetic for the two instruments, the composer convinced that the violin and piano provide surrogates for saxophone and guitar. Renardy seems to enjoy a natural affinity for the feisty piece, whose second movement, Blues: Moderato assumes a decided, cabaret earthiness. The last movement asks Renardy to play sul ponticello in the midst of whirling filigree, and he accommodates our virtuoso expectations. The restorations, from the sure hand of veteran Mark Obert-Thorn, project an immediacy of effect that assaults the ear: I think of the Caprice No. 9 in E. No. 13 in B-flat, and No. 16 in g minor as cases in point and the easy elegance of the round that defines Franck's final movement.
Personally, I would like to see the entire Remington archives restored with same luster and care that this fine set delivers.
—Gary Lemco