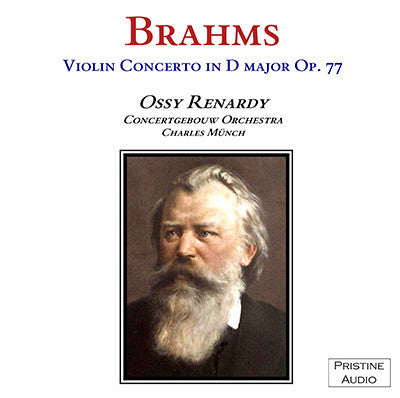 This album is included in the following set
s

:
This set contains the following album
s

:
Producer's Note
Full Track Listing
Cover Art
In 1948 Ossy Renardy was a rising star as a solo violinist, and at the age of just 28, made what was to be both his first and his last concerto recording. Five short years later he was dead, victim of a car accident, leaving us with a legacy of a few assorted 78rpm recordings, and this excellent recording of the Brahms Violin Concerto.
I'll leave the description of this recording to our reviewer Bill Rosen and merely comment that by the late 1940's the Decca engineers had really got to grips with their ffrr (full frequency range recording) system for producing 78rpm discs. I have tried to retain as much air, space and high frequency content whilst battling against what were at times quite noisy surfaces in creating this newly remastered recording. I think I may have succeeded!
BRAHMS Violin Concerto in D, Op. 72
Recorded on 27th June, 1948.
Originally issued on five 78rpm discs as Decca ffrr AK.2205-AK.2059

Matrix Numbers: HAR41-3, HAR42-2, HAR43-2, HAR44-2, HAR45-1,
HAR46-3, HAR47-2, HAR48-2, HAR49-2, HAR50-2

Duration 37'11"
Ossy Renardy, violin
Concertgebouw Orchestra
conducted by Charles Münch
Bill Rosen's Review
This is a very fine performance of the Brahms violin concerto by a violinist that few of us know
I find it difficult to review performances of great masterpieces. There are so many recordings and most of them are very good. Only a small percentage have the musical depth, the virtuosity and the individuality to qualify as "great". This one doesn't make it but is well above the pack.

Ossy Renardy was born Oscar Reiss in Vienna in 1920 and made his debut at the age of 13. He came to the United States, changed his name and was building a a very good career when he was killed in an automobile accident in 1953 at the age of 33. This recording, the only concerto recording he made, shows what a loss his death was for us.

Münch shows his characteristic vigor and drive in the orchestral introduction.

Renardy makes a fiery entrance and a superb transition to the second theme. With clean double-stopping, Renardy rides the lovely third theme into the extremely exciting triple-stopping to complete the exposition. Shrillness is avoided throughout the development, although I feel some slackening of tension and focus toward the end of the development and the beginning of the recapitulation. Somehow, Renardy gets all the power back and the recapitulation is terrific. The cadenza is not the standard Joachim, but is very musical.

The slow movement is possibly the finest I've ever heard. The oboist is incredibly eloquent and Renardy matches him. This slow movement is one of the few I've heard that balances the first and third movements.

The finale is very good, but it does not quite match the other two movements. It seems to lack the brilliance and panache that they have.

Still, this is a very fine performance of the Brahms violin concerto by a violinist that few of us know. The reproduction is very clean and beautiful and allows us to hear what might have been but for that automobile accident.