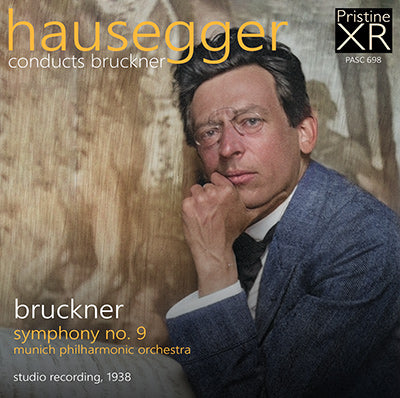 This album is included in the following set
s

:
This set contains the following album
s

:
Producer's Note
Full Track Listing
Cover Art
"For 30 years after its 1903 premiere, this symphony was given only in Ferdinand Loewe's revised version, a complete misrepresentation of Bruckner's original. On April 2, 1932, the Internationale Bruckner Gesellschaft sponsored a concert with the Munich Philharmonic playing two performances of the Bruckner Ninth: one in Loewe's revised version, and one of the composer's original score. They invited eminent scholars and musical figures of the day, and this kind of "a-b" comparison convinced all present of the superiority of Bruckner's original version, and led directly to the Gesellschaft's decision to publish this and other Bruckner symphonies in their original versions.
To conduct that very special concert, the Bruckner Society chose Siegmund von Hausegger. Six years later he made this recording of the work (having in the interim helped to supervise the publication of the original version). Von Hausegger was born in Graz in 1872, which meant he was 24 when Bruckner died. He had begun conducting at the Graz opera in 1895, Bruckner's final full year—and thus his links with the style and times of this music are significant. He was very highly thought of as a conductor, and his own compositions were well thought of too.
Hausegger's conducting here is sensational. He takes Bruckner on his own terms, the only way that really works. This means he lets the score unfold at its own leisurely pace, he doesn't fear the length, and therefore gives Bruckner's special world to us with a straightforward honesty that is different from most performances, which seem to be trying to "help" Bruckner in some way. In addition, Hausegger's intimate knowledge of the score pays off in the many details he convincingly integrates into the whole, while still giving them loving special touches. There are subtle ritards (e.g., first mvt., bars 10-12); there is the special warmth of the string playing throughout (note the violin entrance in measure 27 of the first movement); there is the feel for Bruckner's sonorities (well captured in this superbly processed transfer); and there is the inner spirit of this music that Hausseger feels deeply, and conveys movingly.
I don't want to bore you with many more score references or details, but they do help give meaning to otherwise vague allusions to "spirit." Two more will suffice. Many conductors rush Bruckner's rests, afraid of the silences. Hausegger does not. In fact, at measure 276 of the first movement, he observes the fermata over the rest with a vengeance; but because of the way he has led into that rest, the tension carries right through the pause. Finally, what there is that sets this reading apart from most modern performances is a reverence for orchestral sound, for tone, that is almost a lost art today. Listen to the way the B-flat in the violins at bars 190-191 of the first movement just seems to grow organically richer as it sounds and you will know you are hearing some very special music-making."
Henry Fogel
This article originally appeared in Issue 05:2 (Nov/Dec 1981) of Fanfare Magazine

This 1938 recording has long been treasured as one of the greatest recordings of Bruckner's final symphony and, despite its age, it remains relevant to the modern listener. However, the somewhat distant and constrained sound of that original recording have been a major obstacle for those wishing to get the most from this truly historic document. This Pristine Ambient Stereo XR remastering aims to do as much as possible, within the constraints of the dynamic and frequency range of the original, to rectify this situation. It brings an entirely new and vastly improved soundscape to the recording which, whilst it cannot replace lost upper-end frequencies, results in a far more realistic and believable presentation of this vital world première recording.
Andrew Rose
HAUSEGGER Bruckner: Symphony No. 9

BRUCKNER Symphony No. 9 in D minor
1. 1st mvt. - Feierlich, misterioso  (23:38)
2. 2nd mvt. - Scherzo. Bewegt, lebhaft; Trio. Schnell  (9:04)
3. 3rd mvt. - Adagio. Langsam, feierlich  (22:39)

Munich Philharmonic Orchestra
conducted by Siegmund von Hausegger

XR Remastered by Andrew Rose
Cover artwork based on a photograph of Siegmund von Hausegger

Recorded in Munich, April 1938
Issued as HMV/Electrola DB 4515-21

Total duration:  55:21