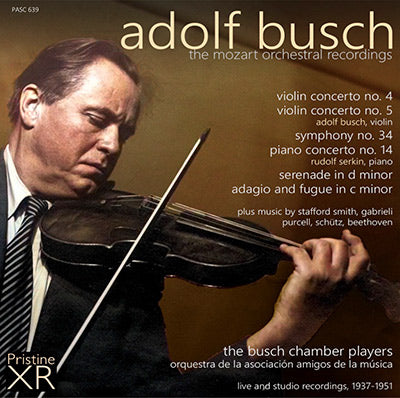 This album is included in the following set
s

:
This set contains the following album
s

:
Producer's Note
Full Track Listing
Cover Art
Although posterity has decided that Adolf Busch was the Beethoven violinist par excellence, his favourite composers were Bach and Mozart. He performed more music by Mozart than any other musician of his time and was the only one to play all five Violin Concertos plus the Sinfonia concertante and Concertone. Had World War II not broken out when it did, we should have had more HMV Mozart recordings, including string quintets with Paul Doktor as second violist. Some compensation was provided by a magnificent 1942 account of the String Quartet in E flat, K428, made by the Busch Quartet in New York.
Busch often made his feelings clear: 'With Mozart and Bach there is no bad writing, only beautiful and more beautiful' … 'I wish I had known Mozart, so that I could have told him I understood him' … 'Mozart is altogether the most cunning swine that ever existed; he knew more than the Lord God knew' … 'After Bach, Mozart knew the most about counterpoint' … 'How can you deny the existence of God if there is a G minor Symphony?' Brother Fritz, and even Toscanini, consulted him on points of Mozartian style and accuracy. He played an enormous range of Mozart chamber music – including Violin Sonatas, String Duos, Piano Trios and Quartets, Divertimenti, String Quartets and Quintets – and used Mozart themes for two of his most successful compositions.
Two movements of the D major Quartet, K575, were among Busch's first records. And when, in 1935, he founded a chamber orchestra which he led from the first violin desk, after two seasons of Bach he introduced pieces by Mozart: A major Violin Concerto, k219, E flat Piano Concerto, k271, Adagio & Fugue, k546, Serenata notturna, k239, and Eine kleine Nachtmusik. In 1938 he added two more E flat Concertos, k365 for two pianos and k449 for solo piano, and the D major Violin Concerto, k218. Five of those works are included here. Fascinating from a violinistic point of view is the Serenata notturna, as it showcases the gemütlich Adolf Busch who led a Viennese orchestra for six years and liked to play Strauss waltzes. The Violin Concertos are stylishly played, with Eingängen where appropriate; the D major is from Busch's last year of concert activity. Busch had two Symphonies in his chamber orchestra repertoire, Nos 33 and 34: by chance No. 34 was captured off-air and made available to wartime radio stations.
The non-Mozartian performances here are all interesting. The Grosse Fuge recording was the first performance by the American Busch Chamber Players – Toscanini had attended the rehearsals. The others come from a live broadcast. The Star-Spangled Banner should have had Rudolf Serkin improvising a 'continuo', but he was ill. The deeply moving Schütz Litany features contralto Christine Johnson (1911-2010), winner of the 1943 Metropolitan Opera Auditions of the Air and the first Nettie Fowler in Carousel. She gave up her career in 1950, on marrying, and returned to her native Kentucky to raise a family and teach.
TULLY POTTER
ADOLF BUSCH The Mozart Orchestral Recordings


CD 1 [78:11]
MOZART Serenade in D minor, K239, Serenata notturna
1. 1st mvt. - Marcia. Maestoso  (3:04)
2. 2nd mvt. - Minuetto  (3:59)
3. 3rd mvt. - Rondo. Allegretto  (4:36)
Adolf Busch, Gösta Andreasson (violin)
Karl Doktor (viola)
Carlo Morini (double-bass)
Clarence O'Neil (timpani)
Busch Chamber Players, dir. Adolf Busch
Kingsway Hall, London, 11.10.1938
HMV Mat. 0EA 1186/9, DA 1673/4
MOZART Violin Concerto No. 5 in A major, K219 (cadenzas: Joseph Joachim)
4. 1st mvt. - Allegro aperto  (8:37)
5. 2nd mvt. - Adagio  (10:02)
6. 3rd mvt. - Rondeau. Tempo di Menuetto  (8:18)
Adolf Busch (violin)
Busch Chamber Players, Adolf Busch
Liederkranz Hall, New York, 30.4.1945
Columbia Mat. XCO 34649/55, 71749/52-D (M 609), 71753/6-D (MM 609)
MOZART Symphony No. 34 in C major, K338
7. 1st mvt. - Allegro vivace  (5:31)
8. 2nd mvt. - Andante di molto (più tosto Allegretto)  (5:27)
9. 3rd mvt. - Finale: Allegro vivace  (3:24)
Busch Chamber Players, dir. Adolf Busch
live recording, Town Hall, New York City, 14.4.1944
Office of War Information (Overseas Branch) Discs 13-4999/5003
MOZART Violin Concerto No. 4 in D major, K218 (cadenzas: Adolf Busch)
10. 1st mvt. - Allegro  (8:44)
11. 2nd mvt. - Andante  (8:56)
12. 3rd mvt. - Molto allegro  (7:33)
Adolf Busch (violin)
Orquesta de cámara de la Asociación Amigos de la Música, dir. Adolf Busch
Cine Teatro Broadway, Buenos Aires, 5.6.1951
live broadcast, previously unrelease, from private acetates

CD 2 [69:51]
MOZART Adagio & Fugue in C minor, K546
1. 1. Adagio  (4:37)
2. 2. Fugue  (4:36)
Busch Chamber Players, dir. Adolf Busch
Abbey Road Studio No. 1, London, 10.10.1937
HMV Mat. 2EA 5394/5, DB 3391
MOZART Piano Concerto no. 14 in E flat, K449
3. 1st mvt. - Allegro vivace  (8:02)
4. 2nd mvt. - Andantino  (7:20)
5. 3rd mvt. - Allegro ma non troppo  (5:49)
Rudolf Serkin (piano)
Busch Chamber Players, dir. Adolf Busch
Kingsway Hall, London, 11.10.1938
HMV Mat. 2EA 1190/5, DB 3690/2, DB 8611/3

Bonus Tracks:
6. STAFFORD SMITH The Star-Spangled Banner (arr. Adolf Busch) (1:29)
7. GABRIELI Canzon per sonar primi toni a 10, Ch.176  (3:00)
8. PURCELL Chacony in G minor, Z.730  (8:04)
9. SCHÜTZ (arr. Busch) - Litania, SWV 458  (10:10)
Christine Johnson (contralto), New Choral Group (chorus master Carl Bamberger), Lukas Foss (continuo piano)
Busch Chamber Players: Adolf Busch, Felix Galimir, Frances Magnes, Arlie Furman (violin), Karl Doktor, Lotte Hammerschlag, Theodor Ratner, Sol Rumberg (viola), Hermann Busch, Emmerich Gura (cello), Irven Whitenack (double-bass)
live recording, Town Hall, New York City, 26.3.1943, from private acetates
10. BEETHOVEN (arr. Weingartner) - Große Fuge, Op.133  (16:44)
Busch Chamber Players, dir. Adolf Busch
Liederkranz Hall, New York, 2.10.1941
Columbia Mat. XCO 31474/7, 11777/8-D (X 221), 11779/80-D (MX 221)
XR Remastered by Andrew Rose
Cover artwork based on a photograph of Adolf Busch
Thanks to Tully Potter, Antony Hodgson, the Busch family, Gert Schäfer, Klaus Schöler, Dr. Jürgen Schaarwächter
Produced in co-operation with the Max-Reger-Institut/BuschBrothersArchive, Karlsruhe, Germany

Total duration:  2hr 28:02