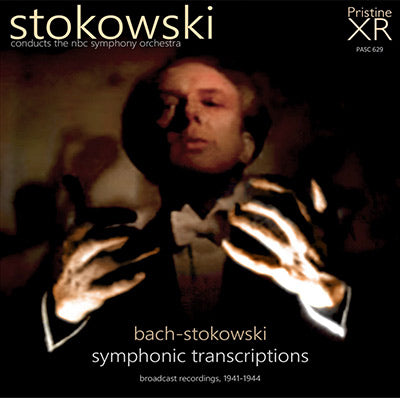 This album is included in the following set
s

:
This set contains the following album
s

:
Producer's Note
Full Track Listing
Cover Art
In his 1947 collection of essays entitled Mi Contra Fa, the self-styled 'Machiavellian Musician' Kaikhosru Shapurji Sorabji had this to say about 'The Art of the Arranger': "The great transcriber expounds, enlarges and amplifies matter and thought inherent in the original text and makes the original a point de départ for a great new creation." Sorabji went on to discuss the great piano transcriptions of such masters as Godowsky, Liszt and Busoni but his words could equally apply to many of the orchestral arrangements which have stood the test of time, headed naturally enough by Ravel's orchestration of Mussorgsky's Pictures at an Exhibition for solo piano but also including many of Leopold Stokowski's famous "Symphonic Transcriptions."
In considering the Bach arrangements heard here, we should not forget that JSB was himself the foremost borrower of many of his contemporaries' works. Indeed, his reworkings of the music of Buxtehude, Telemann, Corelli, Couperin, Albinoni, Marcello and others were often very free adaptations, rather than straightforward arrangements. A classic example is Bach's Concerto for Four Harpsichords and Orchestra in A minor, a technical tour de force based on Vivaldi's Concerto for Four Violins in B minor.
Stokowski was of course familiar with Bach's keyboard works from his early days as a church organist, both in London and New York. His recitals were said to have dazzled listeners, not only with his playing of Bach but also assorted orchestral pieces arranged for the organ. Indeed, on one occasion, at the end of a St. Bartholomew's recital, he let rip with The Ride of the Valkyries, only to be sternly admonished by a local critic for playing music of such "unchurchliness"!
However, Stokowski soon moved with alacrity from the organ console to the conductor's podium, learning the basic repertoire during his three years with the Cincinnati Orchestra. A few of Bach's instrumental works found their way into his concerts there but with his move to Philadelphia in 1912, his repertoire became much more extensive and widespread.
With much nostalgia, he looked back to his church organist days, recollected the Bach works he played in his youth and decided to transcribe them for his new Philadelphia audience. The most popular orchestration of any of Bach's organ works is undoubtedly Stokowski's transcription of the Toccata and Fugue in D minor. This received its premiere on 8 February 1926, its first recording being made the following year. That 78rpm shellac disc was a phenomenal best seller and was hailed in the Gramophone as "one of the most exciting achievements of the American orchestra ... the only word is 'magnificent.' Every organist has his ideal conception of how he would like this arranged for orchestra but I do not think any will withhold very high praise indeed to the transcriber and the players."
Stokowski's transcription was to find even larger world-wide fame when it was featured in Walt Disney's Fantasia. As a result, many conductors have included it their concert repertoire and it has been commercially recorded by Wolfgang Sawallisch and Yannick Nézet-Séguin, former and present conductors of the Philadelphia Orchestra, as well as José Serebrier and Matthias Bamert, Stokowski's associates during his time with the American Symphony Orchestra.
Less well known perhaps is the Prelude in Eb minor from Book 1 of the Well-Tempered Clavier. This arrangement was given its first performance as well as its first recording in 1927. It was also the opening item on Stokowski's debut concert with the NBC Symphony in 1941 and is one of his most solemn and reflective Bach transcriptions.
As is well-known, Bach himself often re-used his own music in different works and we have an example in the Arioso heard next. It is the slow movement from his Keyboard Concerto No. 5 in F minor as well as the opening "Sinfonia" to the Cantata No. 156 Ich steh mit einem Fuß im Grabe. In the "Sinfonia," Bach gives the melody to the solo oboe throughout but in Stokowski's version, it is played by the massed strings.
Bach used the Lutheran chorale Ein Feste Burg on a number of occasions and Stokowski made three versions of it himself. The first one - a "short" version - was recorded on a 10" Philadelphia Orchestra disc in 1933. It was this arrangement that he used to mark his movie debut in The Big Broadcast of 1937. He then expanded it to a longer version and this had its first recording in 1939. Two years later, in a New York Philharmonic concert, he introduced a third version which he played again with the NBC Symphony in 1942. It's a real curiosity, in which the Lutheran chorale is interspersed with an assortment of woodwind cadenzas. Evidently Stokowski decided that the second "long" version was the best of the three and it was that which he re-recorded on two further occasions. The NBC performance of the third version is presented here in its only extant recording.
When Stokowski was invited onto the BBC's long-running radio programme "Desert Island Discs" in 1957, the first of the eight records he chose to be marooned with was a Bach Chorale Prelude. He transcribed several of these and of Wir glauben all' an einen Gott, he wrote: "In giving this music orchestral expression, I have tried to imagine what Bach would do if he had the vast resources of the modern orchestra as his instrument, instead of the more limited instrumental means of his time." Stokowski added that the music is an organ fugue and that the pedal theme "has the sound of giant-like strides up and down the octave - from which comes the familiar name of the 'Giant Fugue'." This performance began the NBC broadcast of 6 December 1942 and was immediately followed by the next piece without a pause.
It is the middle movement of the organ Toccata, Adagio and Fugue in C major and features what Stokowski described as "the balance between the intellectual and emotional sides of Bach's personality. It has the improvisational freedom of so much of Bach's music. Possibly the germ of its themes and the mood of its feeling stem from an occasion when Bach was improvising on the organ." Stokowski and his Philadelphians made the first recording of the piece in 1933 but he never re-recorded it commercially, thus making his NBC performance something of a rarity.
Es is vollbracht comes from the second part of the St. John Passion where it is a solo aria for alto. The opening words translate as "It is accomplished; what comfort for suffering human souls. I can see the end of the night of sorrow." With the words "The hero from Judah ends his victorious fight!" the music brightens up and a solo trumpet emulates the alto part, the music then reverting to the grave solemnity with which the piece began.
Christ lag in Todesbanden is another of the organ Chorale Preludes which Stokowski transcribed for orchestra. Bach based it on an Easter Hymn by Martin Luther which itself was derived from earlier examples of the melody. Stokowski's arrangement is sombrely scored and was another of the Bach transcriptions which he recorded commercially only once, on a Philadelphia 78 in 1931.
To complete the entire selection of Bach arrangements which Stokowski performed, and in some cases introduced, during his three seasons as the NBC Symphony's chief conductor, we hear the mighty Passacaglia and Fugue in C minor. By a remarkable coincidence this was the very last work that he played on his final NBC Symphony programme and - rather like a pair of bookends - it mirrored the Prelude in Eb minor with which he opened his first NBC concert three years earlier!
This was in fact one of Stokowski's earliest Bach transcriptions and it had its premiere on 10 February 1922. As with the Toccata and Fugue in D minor, he recorded it several times over the years, the first occasion with the Philadelphia Orchestra in 1929 and the last with the Czech Philharmonic shortly after his 90th birthday in 1972. In his published score he wrote: "Bach's Passacaglia is in music what a great Gothic cathedral is in architecture - the same vast conception - the same soaring mysticism given eternal form. Whether played on the organ, or by the greatest of all instruments - the orchestra - it is one of the most divinely inspired creations ever conceived."
To conclude, we turn from arranged Bach to an appropriate non-transcribed finale - the closing chorus from the St Matthew Passion, sung in an English edition: "Here yet awhile, Lord, Thou art sleeping, Hearts turn to Thee, O Saviour blest; rest Thou calmly, Thou calmly, calmly rest." This was a work Stokowski conducted several times over the years, starting in 1907 when he was organist and choirmaster at New York's St Bartholomew's Church. His biographer Oliver Daniel was to remark that "it was surely one of the earliest American performances of the complete work." Stokowski also featured it in his very last concerts with the Philadelphia Orchestra in 1941, following his resignation from an ensemble he had built into one of the world's finest. This NBC performance of the final chorus is again something of a rarity, insofar as Stokowski's discography is concerned, but it makes a suitable conclusion to a compendium of music by the maestro's declared favourite composer.
Edward Johnson
BACH-STOKOWSKI Symphonic Transcriptions

1. Toccata and Fugue in D minor  (9:57)
Broadcast of 12 December 1943  

2. Prelude in E flat minor (from The Well-Tempered Clavier, Book 1)  (7:02)
Broadcast of 4 November 1941

3. Arioso (Largo from Harpsichord Concerto No. 5 in F minor)  (8:35)
Broadcast of 25 November 1941

4. Prelude on Ein Feste Burg  (6:54)
Broadcast of 7 April 1942

5. Wir Glauben all' an Einen Gott (Chorale-Prelude 'Giant Fugue')  (3:09)
6. Adagio (from Toccata, Adagio and Fugue in C minor)  (5:32)
Broadcast of 6 December 1942

7. Es ist Vollbracht (from the St. John Passion)  (9:23)
Broadcast of 28 March 1943

8. Christ lag in Todesbanden (Chorale-Prelude)  (3:57)
Broadcast of 12 December 1943

9. Passacaglia and Fugue in C minor  (13:50)
Broadcast of 27 February 1944

Bonus track:
10. St. Matthew Passion - Final Chorus  (8:52)
"Here yet awhile, Lord, Thou art sleeping, Hearts turn to Thee, O Saviour blest"
Collegiate Chorale
Broadcast of 31 March 1942


NBC Symphony Orchestra  
conducted by Leopold Stokowski



XR Remastered by Andrew Rose

Cover artwork based on a photograph of Leopold Stokowski
Special thanks to Edward Johnson

Total duration:  77:11