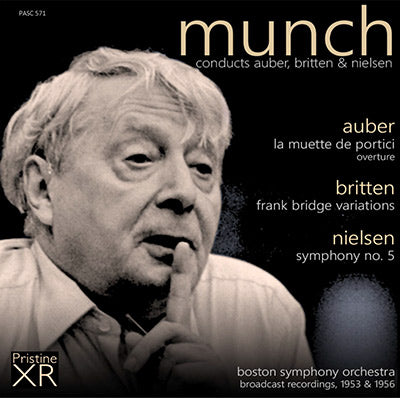 This album is included in the following set
s

:
This set contains the following album
s

:
Producer's Note
Full Track Listing
Cover Art
These excellent broadcast recordings were drawn from the extensive tape archives of a major private collector and film director. The tapes were in generally excellent condition and sound quality throughout is fine, with just the occasional hint of overload. Ambient Stereo XR remastering has brought out the best of each recording.
Searching through the archives of the Boston press we was able to find references to two of the three performances:
"Another thoroughly comfortable program, this, with much to ease the spirit and nothing to tax the mind. Designed for purposes of pleasure only, unless, as in the case of Ibert and perhaps of Britten, you swallow with difficulty anything composed after 1900.

Britten's Variations on a Theme by Frank Bridge are, however, remarkably innocuous, full of clever detail, soothing inner voices and ingenious blends and contrasts of string sonorities. Harmonically the score is never more than bracing. The Variations never have been done too much hereabouts, and this is a good time to renew acquaintance."  
- Boston Globe, 8 December 1956


"Carl Nielsen's Fifth Symphony must have been new to nearly everyone in Symphony Hall. It is "big music" in form and manner. A great deal in orchestral counterpoint goes on, too much to grasp all the work at a single hearing, The style is a mixture of modernity and old-fashioned romanticism, and was such a mixture when the Symphony was written in 1922.

Nielsen, much admired in his native Denmark and virtually unknown across the Atlantic, must have been both an academic musician and an artist with a demonic side, witness the long, loud and ferocious improvisation for a snare drum which cuts across the singing tissue of a striking part of the first movement. Harold Karherman played this improvisation brilliantly. Indeed, being kept busy much of the afternoon, he was perhaps the most spectacular player involved in this program.

A man with the technic, the melodic gift, the sense of structure and the passion which Nielsen shows in this work cannot be judged this or that on the basis of brief acquaintance. I found the Fifth Symphony absorbing, indeed fascinating, and I would prefer opportunity to write of it again after much more acquaintance."
- Boston Globe, 7 November 1953

MUNCH conducts Auber, Britten & Nielsen

1. AUBER La Muette de Portici - Overture  (7:48)

BRITTEN  Variations on a Theme of Frank Bridge, Op. 10
2. Introduction and Theme  (2:32)
3. Variation 1: Adagio  (3:05)
4. Variation 2: March  (1:18)
5. Variation 3: Romance  (2:04)
6. Variation 4: Aria Italiana  (1:26)
7. Variation 5: Bourrée classique  (1:34)
8. Variation 7: Moto perpetuo  (1:14)
9. Variation 8: Funeral March  (4:40)
10. Variation 10: Fugue and Finale  (8:01)

NIELSEN  Symphony No. 5, Op. 50
11. 1st mvt. - Tempo giusto - Adagio  (20:50)
12. 2nd mvt. - Allegro - Presto - Andante poco tranquillo   (13:18)

Boston Symphony Orchestra  
conducted by Charles Munch

XR remastering by Andrew Rose
Cover artwork based on a photograph of Charles Munch

Auber Overture
Concert of 26 November 1953

Britten Variations
Concert of 8 December 1956

Nielsen Symphony
Concert of 6 November 1953

Live broadcasts from Symphony Hall, Boston

Total duration:  67:50