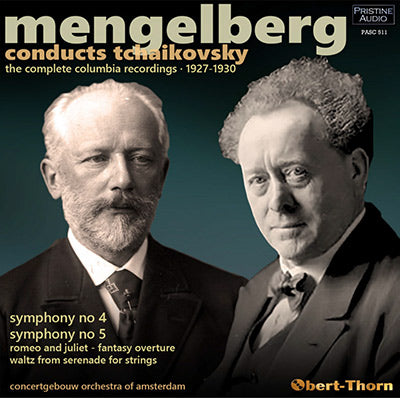 This album is included in the following set
s

:
This set contains the following album
s

:
Producer's Note
Full Track Listing
Cover Art
Willem Mengelberg had a long history as a champion of Tchaikovsky going back to some of his earliest appearances as chief conductor of the Concertgebouw Orchestra in 1895. The rhythmic flexibility, passionate intensity and inexorable forward momentum of his performances were ideally suited to the Russian composer's works.
Among his earliest acoustic recordings with the New York Philharmonic for Victor were two abridged movements from the Pathétique Symphony, each on a single side, and the Waltz from the Serenade for Strings. With the introduction of electrical recording and the signing of his Dutch orchestra to the Columbia label, however, his recorded Tchaikovsky repertoire expanded significantly.
Mengelberg's first attempt at recording Tchaikovsky's Fifth Symphony was in June, 1927, when only the middle two movements were taken down. Although this session was recorded by Columbia, these sides were issued only on French Odeon, and are among Mengelberg's rarest discs. In December of the same year, Mengelberg recorded the symphony complete with the New York Philharmonic for Brunswick. This set was never released, however, reportedly because it failed the "wear test" with regard to blasting during loud passages, and the masters were destroyed.
Five months later, he recorded the complete performance presented here, which has remained a gramophone classic despite its inherent speed fluctuation problems (definitively fixed here using Capstan pitch stabilisation software). He would go on to re-record the work in 1940 with the Berlin Philharmonic (Pristine PASC 348), and a live broadcast with the Concertgebouw from 1939 has also been released. In all of these, Mengelberg takes two cuts in the finale: a large one in the development section, and a smaller one at the start of the coda. He claimed for these the authority of the composer's brother, Modest, who had told him that Tchaikovsky himself made these elisions in his later performances of the work in order to tighten the structure of the movement.
In contrast to the many versions of the Fifth, both the Fourth Symphony and Romeo and Juliet only received the single recordings presented here. The Romeo is particularly noteworthy in being one of the few versions from the 78 rpm era to fit on four sides, although it is accompanied by a noticeable tempo acceleration at the start of Side 3. The Waltz from the Serenade for Strings was originally issued as the filler for the Fifth Symphony. Mengelberg and the Concertgebouw would go on to re-record it as part of the complete Serenade for Telefunken in 1938.
The sources for the transfers were U.S. Columbia "Viva-Tonal" label pressings, and French Odeons for the two movements from the Fifth Symphony from 1927.
Mark Obert-Thorn
CD 1 (60:01)
1. TCHAIKOVSKY: Romeo and Juliet – Fantasy Overture (18:41)
Recorded 30 May 1930 in the Concertgebouw, Amsterdam
Matrix nos.: WAX 5599-2, 5600-2, 5601-2 and 5602-2
First issued on Columbia LX 55/6
TCHAIKOVSKY: Symphony No. 4 in F minor, Op. 36
2. 1st Mvt.: Andante sostenuto (17:18)
3. 2nd Mvt.: Andantino in modo di canzone (8:53)
4. 3rd Mvt.: Pizzicato ostinato (5:44)
5. 4th Mvt.: Finale – Allegro con fuoco (9:23)
Recorded 11 - 15 June 1929 in the Concertgebouw, Amsterdam
Matrix nos.: WAX 5034-5, 5035-1, 5036-2, 5037-1, 5038-2, 5039-1, 5040-3, 5041-1, 5042-2 and 5043-1
First issued on Columbia L 2366/70
CD 2 (68:39)
TCHAIKOVSKY: Symphony No. 5 in E minor, Op. 64
1. 2nd Mvt.: Andante cantabile, con alcuna licenza (14:09)
2. 3rd Mvt.: Valse – Allegro moderato (6:12)
Recorded 10 June 1927 in the Concertgebouw, Amsterdam
Matrix nos.: WAX 2831/6 (Columbia) and 7855/60 (Odeon)
First issued on Odeon (France) 123.533/5
TCHAIKOVSKY: Symphony No. 5 in E minor, Op. 64
3. 1st Mvt.: Andante (13:33)
4. 2nd Mvt.: Andante cantabile, con alcuna licenza (14:23)
5. 3rd Mvt.: Valse – Allegro moderato (6:22)
6. 4th Mvt.: Finale – Andante maestoso (10:01)
Recorded 10 May 1928 in the Concertgebouw, Amsterdam
Matrix nos.: WAX 3629-3, 3630-3, 3631-3, 3632-3, 3633-2, 3634-3, 3635-2, 3636-2, 3637-4, 3638-2, 3639-3, 3640-3 and 3641-3
First issued on Columbia L 2176/82
TCHAIKOVSKY: Serenade for Strings, Op. 48
7. 2nd Mvt.: Waltz (3:57)
Recorded 10 May 1928 in the Concertgebouw, Amsterdam
Matrix no.: WAX 3646-3
First issued on Columbia L 2182
Willem Mengelberg ∙ Concertgebouw Orchestra of Amsterdam
Producer and Audio Restoration Engineer: Mark Obert-Thorn
Pitch stabilisation (CD 2, Tracks 3 – 7): Andrew Rose

Cover artwork based on photographs of Tchaikovsky and Mengelberg

Total duration:  2hr 08:26