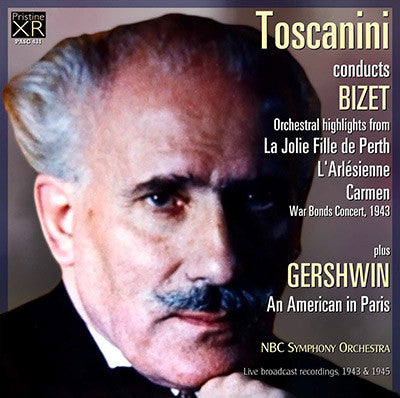 This album is included in the following set
s

:
This set contains the following album
s

:
Producer's Note
Full Track Listing
Cover Art
Additional Notes
An all-Bizet War Bonds concert from Toscanini in 1943

Plus Gershwin's An American In Paris - a bonus recording from 1945!


The bulk of this release was sourced from discs prepared for South American Spanish-language re-broadcasts of the 1943 all-Bizet special War Bonds concert which omitted the excerpts from Carmen. These have been transferred from a second, full source which was marginally less well-preserved. Meanwhile a third, lower quality source of the full concert with Ben Grauer's announcements provided the commentary and applause heard here.

The sound quality of the excerpts from La Jolie Fille de Perth and L'Arlesienne was particularly high for 1943 and I've been able to do great work on this to produce a particularly wonderful, clear and full orchestral sound. The Carmen excerpts come close to matching this, though with less top end extension the sound isn't quite as clear.

The 1945 recording of Gershwin's An American in Paris was suggested to me as an interesting and "kind of" appropriate extra for this release. It's an exuberant performance I'd not heard before, and despite some slight surface noise that's been largely dealt with it's been brilliantly preserved here, coming across with much more life and pizzazz than the RCA studio recording which Toscanini made a couple of months later.       
Andrew Rose
BIZET  La Jolie Fille de Perth
Prelude
Serenade
March
Gypsy Dance
BIZET 
L'Arlésienne
Prelude
Minuet
Adagietto
Pastorale 
Carillon


BIZET 
Carmen
Aragonaise
Intermezzo
Les Dragons d'Alcala 
Les Toréadors
Broadcast of 19 September, 1943
NBC Studio 8H, New York
GERSHWIN An American in Paris
Broadcast of 18 March, 1945
NBC Studio 8H, New York
NBC Symphony Orchestra
Arturo Toscanini, conductor
Toscanini, we are told, was fond of Bizet's music - Carmen in particular was "led many times in the theater" (Mortimer H. Frank) - and yet it rarely appeared on his NBC Symphony Orchestra broadcasts. The major exception to this was a concert outside of the regular yearly broadcast seasons, given on 19th September 1943 in NBC's Studio 8H as a War Bonds fund-raiser. ("Send $1000 to your radio station for War Bonds and you'll receive a special signed photograph of Arturo Toscanini...")

The concert featured three suites derived and adapted by Toscanini from the operas of Bizet: La Jolie Fille de Perth (The Fair Maid of Perth), L'Arlésienne and Carmen, none of which coincides exactly with the regular published suites connected with each work. Items are cut, suites are mixed and matched, and Toscanini even gets down to a little composition himself, with a harp cadenza written for Carmen.

As I explain in my notes, this came to me in a variety of transcriptions, some complete, others partial. My task was not only restore each of four options to the point at which I could reliably select the best for each part of the broadcast performance, but then to mix and match these in as seamless a manner as possible and squeeze the very best possible sound quality from each.

The finest quality was to be found in discs prepared for rebroadcast in South America - and quite possibly live short-wave transmission there as well. I'm told that these were prepared simultaneously to the live broadcast, with the Spanish commentator sitting in a booth next to the one in which Ben Grauer introduced the programme to US and Canadian listeners.

My source tells me: "So far as I know all the discs were cut simultaneously - usually copy A was master, copy B was backup in case A was damaged, copy C was Spanish, copy D was for Toscanini. If the technology in cutting the discs was the same, presumably the results should have been pretty similar even if allowing for small variations in machines."

This makes a lot of sense, so I was somewhat confused to find that the Spanish broadcast transcriptions have a clear and vivid frequency extension way above that found in the US discs: the latter get very dim and nasty above around 5.5kHz, while the former extend cleanly and brightly up to nearly 10kHz. Unfortunately they contain only the first half (up to but excluding the interval talk and the Carmen Suite), but what we do have is of excellent quality.

It was then down to a selection contest between the other three sources to find something as close to this as possible for the Carmen excerpts, and to use all the technology at my disposal to try and squeeze every last drop of upper-end information out of the "best of the rest". The results, whilst not quite up to the same standard as the Jolie Fille de Perth and L'Arlésienne, to happily come pretty close. The original, full recording then provided me with Ben Grauer's introductions (curiously up almost a semitone by the halfway point until I fixed them), which has been lightly trimmed to remove some references to sponsors and the midway talk, also omitted.
With a little space to spare I was able to add another recording to this release - after all that French music, why not explore the idea of an American in Paris, as conjured up by George Gershwin in 1928. By this time the saxophone was starting to become more associated with jazz, and it can be heard in this score - but you'll also hear it in the Bizet concert of 1943, Bizet being the first major composer to write for the instrument in an orchestral context.

As with the Bizet concert - and particularly the Spanish transcriptions - the sound quality here is superb, and after XR remastering sounds more 1950s or even 1960s than mid-forties. It really is spectacular, and one senses Toscanini would have made fine work of other jazz-influenced composers of the day, given the inclination and opportunity based on what he achieves here. There's a life and zip to this live performance that perhaps exceeds that of his studio recording made a couple of months after.
Andrew Rose
Newsletter editorial, January 2015