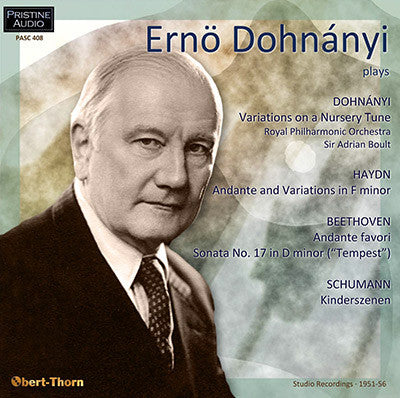 This album is included in the following set
s

:
This set contains the following album
s

:
Producer's Note
Full Track Listing
Cover Art
Additional Notes
Dohnányi's 1950s Beethoven, Haydn and Schumann - plus his own brilliant stereo Variations on a Nursery Tune
"The aged composer tosses off a dashing, youthful-sounding performance that catches the warmhearted irony of the music" - Fanfare
This release completes the reissue of Dohnányi's Remington recordings which was begun with the three Brahms Violin Sonatas with Albert Spalding (Pristine Audio PACM 078) and continued with recordings of his own Violin Sonata (again with Spalding) and Four Rhapsodies (PASC 381).
As with the previous reissues, Remington's original engineering and pressings posed several restoration challenges. Probably the most significant hurdle was locating quiet pressings in good condition. Remington was the original "budget" LP label, and their cost-cutting manifested itself most noticeably in the quality (or lack thereof) of the material on which they were pressed. Initial releases featured a hard, plastic-like compound high in surface noise, while later issues were on somewhat quieter vinyl. All of the Remington recordings on the current release were taken from pristine copies of the later editions.
In the case of the Schumann Kinderszenen (with spoken announcements in English by the pianist), this posed a dilemma. The early pressings are extremely noisy, with some of the softer passages almost lost in surface crackle. In the later pressings, however, there appears to be a tape tracking problem which causes a watery sound on some of the selections. In the case of "Wichtige Begebenheit", these were serious enough that I was forced to patch in the version from the earlier pressing. For the remaining items, I felt that the trade-off favored the later edition, even with its flaws.
No such reservations need apply to the EMI recording of Dohnányi's Variations on a Nursery Tune with Boult. Recorded at the same sessions as his Second Piano Concerto (PASC 381), it was a return to a work the composer/pianist had first recorded in London 25 years earlier under Lawrance Collingwood (PASC 252), but this time on stereo tape rather than wax 78 rpm masters. It has been transferred here from a British LP pressing.
Mark Obert-Thorn
HAYDN Andante and Variations in F minor, Hob. XVII:6


BEETHOVEN Andante favori in F major, WoO 57


BEETHOVEN Piano Sonata No. 17 in D minor, Op. 31, No. 2 ("Tempest")
First issued on Remington RLP-199-16, rec. 1951 
 

SCHUMANN Kinderszenen, Op. 15 (Scenes of childhood)
First issued on Remington RLP-199-43, rec. 1951



DOHNÁNYI Variations on a Nursery Tune, Op. 25 [STEREO]
First issued on HMV ALP 1514
Recorded 10 – 11 September 1956 in Abbey Road Studio 1, London  

Royal Philharmonic Orchestra 
Sir Adrian Boult, conductor 


Ernö Dohnányi, piano
Ernö Dohnányi
At one time the list of recordings of Dohnányi's music, some in the composer's own performances, was quite impressive, but now, apart from four versions of his Variations on a Nursery Song for piano and orchestra there are only the early Piano Concerto, an orchestral suite, the Cello Sonata and one of the four Piano Rhapsodies.
Ernö Dohnányi, or Ernst von Dohnányi as for a time he preferred to be called, was born in Poszony (Pressburg) in Hungary on July 27th, 1877 and died in New York on February 11th, 1960. Brilliantly gifted from childhood, he began to study the piano and later harmony with the local cathedral organist at the age of eight and by the time he went to the Academy of Music in Budapest in 1893 he had written a string sextet, some string quartets, piano pieces and songs. His Symphony in F gained for him the King's Prize in 1897, in which year he made his début as a pianist in Berlin and Vienna, having worked with Eugen d'Albert for a short time. A year later he played one of Beethoven's piano concertos at a Richter concert in London's Queen's Hall. Over the years he travelled extensively and became very popular in America, and among the appointments he held at different times were professor of piano at the Berlin High School of Music, Director of the Budapest Conservatory, conductor of the Budapest Philharmonic Orchestra and Director of Hungarian Radio. For political reasons he left Hungary in 1946 and taught in Argentina for a year or so before being appointed composer-in-residence at the Florida State University in Miami.
Dohnányi would seem to have been blessed with a broad and simple sense of humour, clearly revealed in his tongue-in-check opening to the Variations on a Nursery Song, He had a fund of entertaining stories, one of which relates to two ministers in Glasgow. They had flats on the first floor and periodically one would drag his piano into the other's flat so that they could play duet sonatas. Not very skilled performers, they were delighted when after several less successful attempts one evening they finished together. After a celebratory noggin of whisky one said, "Splendid Donald, now let's try the second movement" and Donald replied "But, man Angus, that was the second movement that I was playing".
W. A. Chislett, Gramophone, July 1977
MusicWeb International Review
The restoration of the Remingtons has been a valuable feature of these releases
We are moving to a position where almost all Dohnányi's recordings as a pianist are available; certainly in the case of the studio recordings. This release completes the release of his Remington LP performances begun on PACM078 – the three Brahms sonatas with violinist Albert Spalding, somewhat painful examples of late Spalding - and PASC381, where we find his own Violin Sonata, again with Spalding, and the Four Rhapsodies.
 
Haydn's Andante and Variations in F minor, Hob. XVII:6 was taped for Remington in 1951 and displays a degree of expressive romanticism to emerge from, or – if one is unsympathetic – to be overlain on the music. Beethoven's Andante favori, from the same time, is a convincing performance of largely unchallenging music and prefaces the greater challenges of the Sonata in D minor, the Tempest. Here one gets something of an insight into Dohnányi's recreative conceptions though they are ones somewhat compromised by a technique that is liable to strain in the finale. Nevertheless this is an important document in his discography and it is invaluably made available here, in a fine transfer, insofar as any transfer of a Remington disc can be said to be fine; certainly the restoration is fine. These pieces were released on a different LP to that of Schumann's Kinderszenen, recorded, I assume, at the same time, or around the same time. The interesting feature of this 1951 LP is that we hear spoken introductions (in English), by the pianist, to each scene. The overriding feature here is of a romanticist approach to the music in which legato and rubato play a profoundly important role. There are times when he comes almost to a full stop, though the mock heroics of An Important Event are well done. Träumerei is not too slow, with a flexible pulse, and one really does feel the child does indeed fall asleep in the penultimate scene. The poet, speaking, is very plain-speaking indeed; no Carl Friedberg here.
 
The most familiar item is the only non-Remington, the September 1956 Abbey Road recording of the Variations on a Nursery tune. He had recorded it in London a quarter of a century earlier with Lawrence Collingwood but here had the advantage of Boult – there were attempts to interest Beecham with, after all, his own orchestra, but they fell through – directing the Royal Philharmonic. This was recorded at the same sessions that gave us the Second Piano Concerto, released on Pristine PASC381. The earliest releases were on mono LP but this Pristine has been transferred from a stereo LP release, and very successfully too.
 
The disc could hardly be packed more to the gills than it is: 79 minutes of Dohnányi. The restoration of the Remingtons has been a valuable feature of these releases.
 
Jonathan Woolf
MusicWeb International, September 2014