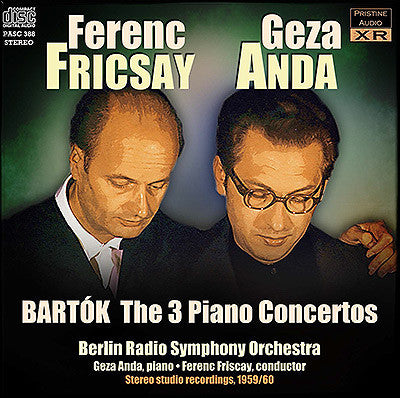 This album is included in the following set
s

:
This set contains the following album
s

:
Producer's Note
Full Track Listing
Cover Art
Historic Review
Three of the greatest recordings of Bartók's Piano Concertos in new XR remasters
"A performance remarkable for its precision of ensemble, clarity and exactness of detail" - Gramophone
These recordings, drawn from a later DGG pressing which brought together Bartók's three piano concertos and the Piano Rhapsody in a 1970s double-LP, are still prized more than fifty years later as among the very finest interpretations of these works. Brilliant performances were captured very well in fine stereo by Deutsche Grammophon's engineers in the Jesus Christus-Kirche in Berlin.
As has previously been the case with the finest recordings of this era, I had to be certain there was more to be brought out of these recordings through XR remastering before committing fully to this project. A series of extensive transfer and listening tests convinced me that, indeed, there was. Careful pitch stabilisation has helped reduce or eliminate wow, flutter, pitch drift and a noticeable edit in the Third Concerto where the pitch drops from one take to the other. The overall sound is now fuller, richer and clearer, with a hint of the musically-sypatheric acoustic properties of Birmingham Symphony Hall filling out the rather artificially-dry original sound to great effect.
Andrew Rose
BARTÓK Concerto for Piano and Orchestra, No. 1 Sz.83 
BARTÓK

Concerto for Piano and Orchestra, No. 2 in G Sz.95

BARTÓK

Concerto for Piano and Orchestra, No. 3 in E Sz.119



Geza Anda piano
Berlin Radio Symphony Orchestra
Ferenc Fricsay

conductor





Concerto No. 1
Recorded 17 October 1960
Jesus Christus-Kirche, Berlin
First issued as DGG SLPM 138708


Concertos No. 2 & No. 3
Recorded 10 September 1959
Jesus Christus-Kirche, Berlin
First issued as DGG SLPM 138111

Transfers from DGG 2539 061/62
XR remastering by Andrew Rose at Pristine Audio, May 2013
Cover artwork based on a photograph of Fricsay and Anda

Total duration: 78:46

REVIEW Concertos 2 & 3
At very long last we have a worthy recording of the Bartók Second Concerto, a work whose previous interpreters (including the admirable Andor Foldes, whose performance received Bartók's own blessing) have all suffered from recording qualities ranging from indifferent to abysmal. This will be valuable in helping to spread a knowledge of an important work in Bartók's output which is rarely heard in the concert hall, probably because of the ferocious difficulty of the solo part - Bartók seems to have had in mind huge hands with permanent built-in octave and thirds mechanisms. The music does not deserve this neglect, and though it is "tougher" in idiom than the more mellow Third Concerto it has in fact had a consistently successful reception ever since its first performance (by the composer) in 1933. A bravura, lithe work, it abounds in motor energy and in contrapuntal vigour and resource (much of the material of the first movement - which is played entirely without the strings - reappears in inversion, or even in retrograde inversion, in the finale): the central part of the Adagio is a brilliantly fantastic delicate scherzo which looks forward to the Sonata for two pianos and percussion. Soloist and orchestra co-operate in exemplary fashion in a performance remarkable for its precision of ensemble, clarity and exactness of detail: Geza Anda in particular is to be congratulated for the way he romps through all the difficulties. The recording is excellent, the stereo even better than the mono.

There is no lack of recordings of the more popular Third Concerto, but the new one is, to my mind, way ahead of the field. Katchen's suffers from a lukewarm and lack-lustre finale; Haas's from a rather veiled recording; Fischer's (a good one) from a balance excessively favouring the piano, and from what I still feel is over-much rubato in the first movement; Sandor's from a rushed first movement, and over-reverberant recording and some muddy piano passages. Here there is a true balance between piano and orchestra and the performance is mostly very good indeed, with a particularly buoyant fugato in the finale . The ensemble has one lapse - the unison wind passage at figure 76 drags behind a little; and I personally don't care for Anda's rather mannered delivery of the opening subject both at the beginning and at the recapitulation; but otherwise this is entirely recommendable.

L.S., The Gramophone, May 1961



Fanfare Review
The mystery and excitement of these spectacular works have been raised to a new level
I have been comfortable over the decades with the smooth, mellow sound of the Deutsche Grammophon LPs and CDs of these 1959/1960 performances, in which two of Bartók's finest interpreters created what many consider definitive recordings. (I have my own quirky favorites—who can explain the musical magic that captures us?) Andrew Rose has performed his own magic, opening up the sound, correcting minor pitch difficulties, and adding a lively ambience. For one accustomed to the DG discs, the results take some getting use to. One immediately feels an added, realistic brilliance of the piano (so important for Bartók), but at first the strings seem to shriek and the ambience is almost dizzying. The whole seems too bright, like a computer-enhanced photo; we must rely on Rose's taste not to take it too far. Rehearing the DGs, both the piano and orchestra now sound dull, and I become painfully aware of a bad join and pitch jump between takes (on the DG disc) that never bothered me in all those years. Rose has made one minor miscalculation: the Finale of the Third Concerto now opens four or five seconds after the final chord of the second movement has died away, denying Bartók's attacca direction.
The mystery and excitement of these spectacular works have been raised to a new level, but Rose's manipulations affect my views of the three recordings differently (note that it is my views which vary, not his work). The First Concerto, which I once considered a weak sister in the family, gains in stature because Rose commands my full attention, no longer allowing me to listen passively. Mandarin-like details appear in the orchestra; a phrase on the piano suggests Gershwin's Concerto-to-be. I confess to the former torpor to demonstrate how important recorded sound is; improvements not only contribute to listening pleasure but to our understanding and appreciation of music. But you knew that.
I won't blame you if you remain perfectly happy with your DG CD. But beware! If you do happen to hear this Pristine release, there will be no turning back.
James H. North
This article originally appeared in Issue 37:3 (Jan/Feb 2014) of Fanfare Magazine.