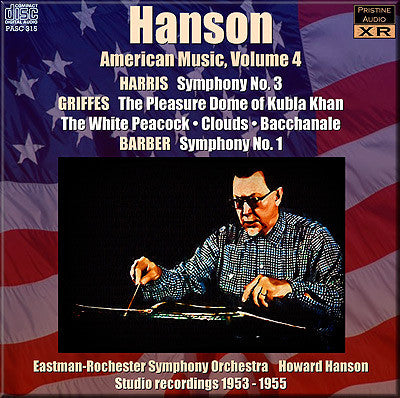 This album is included in the following set
s

:
This set contains the following album
s

:
Producer's Note
Full Track Listing
Cover Art
"The greatest American symphony" - and more - first time on CD
 "Some of the finest American symphonic works of the 20th century, interpreted by a brilliant conductor whose advocacy for American music was second to none" - Fanfare

A radio broadcast the weekend before the release of these recordings on Pristine Audio succeded in reminding me that I had some unfinished business with the American music recordings of Howard Hanson, and I'm glad it did. The presenter and critic Rob Cowan introduced this recording of Harris's Third Symphony, which had been specially transferred from LP for his broadcast, as "the greatest American symphony", and pointedly reminded me (and his other listeners) that it had never appeared on CD.
As with the previous issues in this short series, the Eastman-Rochester Symphony Orchestra has been very well recorded by Mercury, leaving me in the happy position of some excellent starting points for my remastering work. The release coincides with work I've been doing on trying to recapture some of the sub-bass which was often heavily filtered on LP recordings in the 1950s - the almost subsonic underpinning of many a modern recording which is rarely to be heard on older recordings (these are frequencies that early LPs in particular struggled with), but which when present can bring a fabulous extra dimension of realism to a symphony orchestra recording.
Andrew Rose
HARRIS Symphony No. 3

Recorded 11-13 May 1953
Issued as Mercury MG-40004 


GRIFFES The Pleasure Dome of Kubla Khan
GRIFFES The White Peacock, Op. 7, No. 1
GRIFFES Clouds, Op. 7, No. 4
GRIFFES Bacchanale, Op. 6, No. 3

Recorded 29 October 1954
Issued as Mercury MG-40012


BARBER Symphony No. 1 in One Movement, Op. 9

Recorded 9 May 1955
Issued as Mercury MG-40014



Eastman-Rochester Symphony
 Orchestra 
Howard Hanson conductor
XR remastering by Andrew Rose at Pristine Audio, November 2011
Cover artwork based on a photograph of Howard Hanson

Total duration: 59:59


Fanfare Review
This is Howard Hanson on Mercury, and American music doesn't get much better than that.
As a record reviewer, I have to fight the urge to claim that every CD I like is an important album. That's because now and then, a CD like the present one falls into my hands, and I don't want to be in the position of the boy who cried "Wolf!" This is an important release. We have here some of the finest, if not always the most popular, American symphonic works of the 20th century, interpreted by a brilliant conductor whose advocacy for American music was second to none. What's more, these recordings showcase a sound engineering team that, even in the monaural era, pioneered audiophile recordings. In other words, this is Howard Hanson on Mercury, and American music doesn't get much better than that.
Written in 1937, Roy Harris's Third Symphony perhaps is the finest American symphony since the four by Charles Ives. Hanson's performance is the best I've ever heard, with rich, beautifully balanced string tone and superb proportions. Hanson renders the work's pathos with strength and an absence of sentimentality. Indicative of this is the fact that Hanson's version requires two minutes less time than Leonard Bernstein's second recording. The value of Mercury's single-microphone recording technique is obvious here, leaving the orchestral balance entirely in Hanson's hands. The orchestra's first-desk players, drawn from the Rochester Philharmonic, shine. (Andrew Rose of Pristine Audio should consider reissuing Erich Leinsdorf's Rochester Philharmonic recordings from this period.) In the symphony's culminating section, the brass choirs play with beautiful ensemble rather than glaring obviousness. This is simply outstanding Harris.
Charles Tomlinson Griffes is one of the most important American composers of tone poems. The Pleasure Dome of Kubla Khan is a rare example of orientalism in American music, comparable with Anatol Liadov. Hanson creates a languorous atmosphere here, without ever resorting to kitsch. The White Peacock receives lush playing that belies the fact that Hanson's orchestra is mainly made up of students. As a composer, Hanson must have envied Clouds, a masterly study in orchestral color. The Bacchanale from Saint-Saëns's Samson and Delilah may have inspired Griffes's work with the same title, although the latter composer's opus sounds more epicurean than the Frenchman's orgiastic riot of sound. Is it too fanciful to suggest that Griffes's piece epitomizes the moderate sensual sensibility of a composer who maintained a gay relationship with a married New York City policeman?
Samuel Barber's First Symphony, almost contemporary with Harris's Third, gets an unusually lucid performance from Hanson. His orchestra dispatches the rhythmically challenging second section, allegro molto, with commendable clarity. This leads into an andante tranquillo that begins with a ravishing oboe solo. Mercury's single-microphone technique copes well with Barber's thick orchestration, although the Chandos sound for Neeme Järvi is more revealing. Experiencing Hanson's empathy with Barber's sound world should lead one to investigate the conductor's stereo version of the Medea ballet suite. Andrew Rose secures highly listenable transfers of all these recordings. The orchestral balance almost always seems just so, a sign that Rose gets the equalization right. Occasionally there is a tinge of fizz on the violin or higher winds sound, which just may be an artifact of the LP pressings Rose uses. Interestingly, the Barber symphony was recorded on the same day, May 9, 1955, as a Holst and Vaughan Williams album by Frederick Fennell and the Eastman Wind Ensemble. This was reissued in 1999 on a Mercury Living Presence CD, with a transfer from the original master tapes by Mercury's Wilma Cozart Fine. Even taking into account the fact that the Barber might have employed a different microphone in a separate placement, plus a distinct recording level, Rose's remastering from the LP only yields slightly to the Fennell in dynamic range and frequency response. He has given us vintage recordings of great music in mainly natural sound, and that should be cause for rejoicing.
Dave Saemann
This article originally appeared in Issue 35:5 (May/June 2012) of Fanfare Magazine.