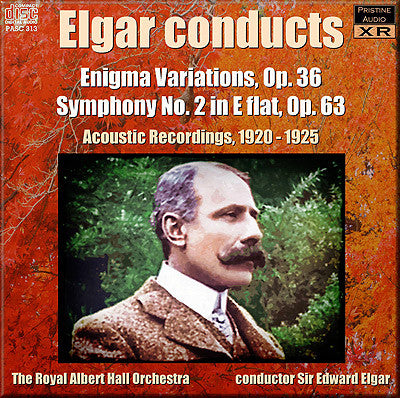 This album is included in the following set
s

:
This set contains the following album
s

:
Producer's Note
Track Listing
Cover Art
Elgar's definitive acoustic recordings of his own masterpieces
"Andrew Rose has worked miracles with the label's XR reprocessing technique" - Classical CD Review

Attempting to extract more musical information than is usually heard when listening to older recordings is one of the chief rationales behind XR remastering, where the restoration of an acoustic balance closer to reality than is often heard in vintage recordings can bring out all sorts of qualities previously lost to the listener. Attempting to achieve this with recordings made in the acoustic era, such as those here, is especially difficult. There are most certainly "hidden" sounds, and frequencies that can only be discerned when played at the highest volume - but they share their pitches with, and are often buried in, a huge swathe of surface noise. Extracting the former from the latter is an incredibly difficult task which inevitably results in necessary compromises.
What I can offer is perhaps greater depth, a more realistic sound, and a higher frequency extension than has been heard in these recordings before. At times you may also find more background noise, though I've struggled to keep this as unobtrusive as possible.
Yet despite this, these recordings still have the power to astonish today as they must have done 90 years ago - and here's a chance to get closer to them than ever before.
Andrew Rose
ELGAR Variations on an Original Theme, "Enigma", Op. 36

Recorded at Hayes Room 1, 24 February & 16 November 1920, 11 April 1921 
Issued as HMV D.578, 582, 596, 602


ELGAR Symphony No. 2 in E flat major, Op. 63

Recorded at Hayes Rooms 1 & 2, 5 and 20 March 1924, 16 April 1925 
Issued as HMV D.1012-17
The Royal Albert Hall 
Orchestra 
Sir Edward Elgar conductor
XR remastering by Andrew Rose at Pristine Audio, October 2011
Cover artwork based on a photograph of Elgar
Total duration: 71:46

Classical CD Review review
Over a long period of time Sir Edward Elgar recorded much of his music, often in multiple versions to take advantage of advancing technology. EMI has already issued most of these, and Music & Arts has just released a 4 well-filled CD set of performances recorded 1914-1925, that includes the two works on the Pristine Audio CD. It also includes the violin concerto with Marie Hall recorded in 1916 and the cello concerto with Beatrice Harrison recorded 1919/1920; for a complete listing visit the Music & Arts. Enigma Variations was recorded Feb. 24 and Nov. 16, 1920, and April 11, 1921, and Symphony No. 2 required four days in March 1924, and April 16 the following year. There is no explanation why these widely-separated dates were necessary. For those interested in Elgar's first interpretive thoughts on these works, here they are within the limitations of the acoustic recording process. No question that Andrew Rose has worked miracles with the label's XR reprocessing technique.


 
R.E.B.
Classical CD Review