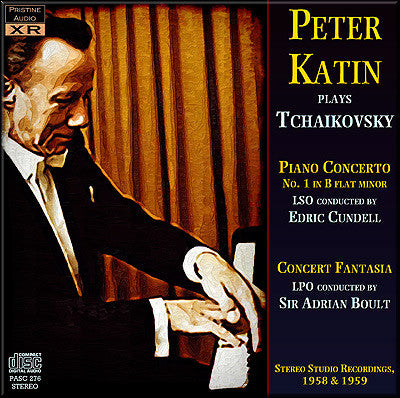 This album is included in the following set
s

:
This set contains the following album
s

:
Producer's Note
Full Track Listing
Cover Art
Peter Katin shines in Tchaikovsky's First Concerto
Plus a brilliant Concert Fantasia, in excellent late-1950s Decca stereo
This, the second in our series of stereo concerto recordings made in the late 1950s by Peter Katin for Decca and its subsidiaries, brings together his two orchestral Tchaikovsky releases. The Concert Fantasia derived from the same sessions with Boult which produced the Rachmaninov Concerto No. 1 in February 1958, and were issued in mono and stereo both in the UK and the USA at around the same time. The Concerto No. 1 however was initially destined only for the American market - credited originally to the New Symphony Orchestra of London, its UK reissue in the early 1970s gave the London Symphony as the orchestra, though it does not appear in the official discography of the orchestra. It is the only recording in the Decca catalogue credited to English composer and conductor Edric Cundell (1893-1961), whose name was mis-spelt "Kundell" on both Decca and Olympia re-issues, though the original Richmond issues were correct in this matter.
Spellings and questions over orchestras aside, these are both excellent recordings and, taken from near-mint 1970s Decca pressings, were very straightforward to transfer and restore barring a curious low-frequency tone which appeared intermittently in the Concert Fantasia. Indeed it is fair to say this is among the least interventionist remasters ever to appear on the Pristine label.
Andrew Rose
TCHAIKOVSKY Piano Concerto No. 1 in B flat minor, Op. 23
New Symphony Orchestra of London*
conducted by Edric Cundell


Recording producer: Erik Smith Recording Engineer: Alan Reeve
Recorded 11 May, 1959 Kingsway Hall, London

*Although originally - and it now seems correctly - attributed to the New Symphony Orchestra of London in its US release, this recording was later wrongly listed by Decca as being by the London Symphony Orchestra. It has since been established that the LSO would have been most likely out of the country on the day of recording.




TCHAIKOSVKY Concert Fantasia in G major, Op. 56
London Philharmonic Orchestra
conducted by Sir Adrian Boult

Recording producer: Ray Minshull Recording Engineer: Alan Reeve
Recorded 17-19 February, 1958 Kingsway Hall, London

Transfers from Decca LP SPA168

Peter Katin, piano
XR remastering by Andrew Rose at Pristine Audio, February 2011
Cover artwork based on a photograph of Peter Katin

Total duration: 61:07


Fanfare Review
Enthusiastically recommended
From the labs of Pristine Audio, where Bob [sic] Rose works his magic remastering and restoring archival recordings, come these performances of Tchaikovsky's Piano Concerto No. 1 and Concert Fantasy played by pianist Peter Katin. They were recorded by Decca, in stereo, in 1958 and 1959. A footnote in small print explains that in its original U.S. release, the orchestra in the concerto was identified as the New Symphony Orchestra of London, a pseudonym Decca subsequently corrected to reflect the ensemble's true identity, which was the London Symphony Orchestra.
In reviews of other Pristine Classical releases, some of which rely on 78s and masters dating back to the late 1920s for their sources, I've been uniformly impressed. And even when the restored results have been less than ideal, as in a recent remastering of a 1929 Brahms "Double" with Casals and Thibaud, the historical importance of the players and the performance seemed to me to override issues of sonic fidelity. We have here in Katin's Tchaikovsky, however, transfers made from "near-mint 1970s Decca pressings" that, in turn, come from modern, state-of-the-art (at the time) masters produced at exactly the same time as Decca's revolutionary Culshaw "Ring" cycle with Solti begun in 1958. The sound is terrific; there's no denying it.
Peter Katin (b.1930 in London) is no stranger to Tchaikovsky; he teamed up for a second recording of the concerto with John Pritchard and the London Philharmonic for Classics for Pleasure, which, unfortunately, I haven't heard. But with the current release, Pristine Classical pits Katin against its own earlier 2007 remastering of the classic 1941 Horowitz and Toscanini performance (CD 76), a recording I do have, though not, sadly, in Pristine's restoration.
For some reason, at 18:46, Katin's first movement sounds slower than it actually is. The 1941 Vladimir Horowitz with Arturo Toscanini is more than a full minute faster at 17:42, but there are passages where the pianist sounds like he's been zapped with a taser, so muscle-twitching is his playing. Katin is considerably faster than Van Cliburn, however, who, in his near-legendary RCA recording with Kirill Kondrashin, takes 20:38. And even the usually wound-up Martha Argerich with Charles Dutoit is a relaxed 21:08.
Katin's reading sounds slower than it is, I think, because it's not a performance that unduly emphasizes the virtuosic pyrotechnics of the piece. His view of the score, which seems to be shared by conductor Edric Cundell, is that of a classically balanced concerto in which soloist and orchestra are equal partners. As a result, superbly well played as it is, in Katin's hands, the piano takes on a slightly more subdued or self-effacing role than it does in more explicitly exhibitionistic performances. I'm not saying this is a bad thing—we actually get to hear the orchestra rather more prominently than we do in some other recordings—but it's apt to come across as a bit lower in voltage than the knock-'em-dead approach that has become virtually de rigeur thanks to contests like the International Tchaikovsky Piano Competition and today's pubescent players pumped up and primed to rout all rivals. I really like Katin's way with the piece and this performance of it. The concerto emerges less fractured and frayed than it sometimes does, and it sounds musically the stronger for it.
In its day, Tchaikovsky's Concert Fantasy was quite popular, though it followed a somewhat twisted path to its completion in 1884. Inspired by the playing of Liszt's pupil Eugen d'Albert, who had been concertizing in Moscow, Tchaikovsky thought about writing another concerto. But he was working at the same time on his Third Orchestral Suite, and somehow the two compositions ended up exchanging bodily fluids, so to speak. What was to have been the first movement of the suite, Contrastes, became the second movement of the Fantasy. Meanwhile, Tchaikovsky also wrote an alternative ending for the Fantasy's first movement, which can be heard on a separate track in Jerome Lowenthal's recent Bridge recording. Between the composer's Concert Fantasy and his Third Piano Concerto it's a tossup as to which is the bigger white elephant in the room.
Let me conclude by saying that not only has Pristine Classical produced another disc with incredible sonic properties, but for some reason, if I'm not mistaken, neither Decca nor Eloquence, its Australian subsidiary, has ever made this Katin Tchaikovsky available on CD—though one can still find used copies of the original LP—so we have here something more than a remastering of recordings that can be found in other reincarnations; if I'm right, we have a first. Enthusiastically recommended.

Jerry Dubins
This article originally appeared in Issue 35:1 (Sept/Oct 2011) of Fanfare Magazine.