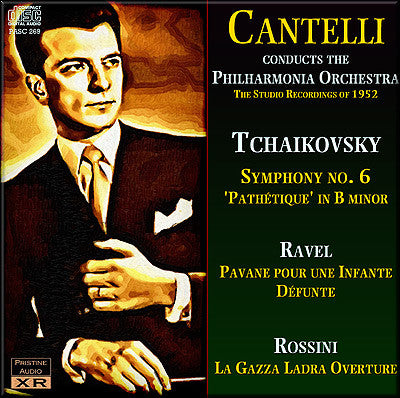 This album is included in the following set
s

:
This set contains the following album
s

:
Producer's Note
Full Track Listing
Cover Art
Historic Review
Additional Notes
All of Cantelli's 1952 Philharmonia recordings XR remastered
Featuring his superb 'Pathétique' - "recommended...splendid" - Gramophone
The recordings here, all of which were generously lent by Keith Bennett for the purposes of this release, were drawn largely from a rare and unusually high quality source. During the 1950s, His Master's Voice recordings could be purchased on disc, normally both 78rpm shellac and, from 1952 onwards, on the quickly popular 33rpm vinyl format.
However, they also ran a short series of "High Fidelity Tape Recording" issues, the "HTA" series, and at the time the highest-priced issue format the company offered. Each tape consisted of a 7-inch spool of 1/4 inch EMITAPE with two mono tracks, one on each side, running at 7.5 inches per second. A printed paper inlay contained the sleevenotes, and a small slip which referenced the Batch Number was hand-initialled by the tape operator, an inspector and a packer.
Despite their undoubted high fidelity, especially when replayed as here on a modern, broadcast-standard Studer tape recorder, these tapes failed to attract much public attention at the time, quite possibly as a result of their exorbitant cost. It has to be said that they have been a pleasure to work from - offering the highest quality of any domestic medium I've encountered from the era.
Andrew Rose
TCHAIKOVSKY Symphony No. 6 in B minor, 'Pathétique', Op. 74
Recorded 24, 28 & 30 October, 1952, Royal Festival Hall, London
Transfer from HMV open reel tape HTA 3


RAVEL Pavane pour une Infante Défunte
Recorded 24 & 25 October, 1952, Royal Festival Hall, London
Transfer from HMV open reel tape HTA 23


ROSSINI La Gazza Ladra - Overture
Recorded 22 October, 1952, Royal Festival Hall, London
Recording from the Keith Bennett collection

 
Philharmonia Orchestra
conductor Guido Cantelli
XR remastering by Andrew Rose at Pristine Audio, January 2011
Cover artwork based on a photograph of Cantelli

Total duration: 58:13

REVIEW - THE GRAMOPHONE, JUNE 1953:

This is the recommended LP of the Pathetique. Karajan's (33CX1026) has been described, not without reason, as "vulgar and pretentious." Münch (on LXT2544) underplayed the emotional work. Cantelli strikes an admirable balance between the conflicting demands of expressiveness and taste. This is a more exciting, more moving performance than that which he gave in the Festival Hall six months ago. The composer's directions (incalzando, animanclo, ppppp, etc.) are more passionately observed. But hysteria is avoided, and in the finale the depths of misery are laid bare. In addition there is the same miraculous care for the orchestral playing which marks all that Cantelli does. Phrases are shaped and moulded with loving care. The only faults are trivial ones : for instance, the flutes, in the two bars before the trio in II (page 95, Boosey & Hawkes pocket score) do not observe Tchaikovsky's slur marks. The recording, on the whole, is splendid. The Philharmonia's fine wood-wind is vividly reproduced (notice how it sings out in the second limb of the second subject). Sometimes the string detail is not quite clear, and there are patches of gramophoney tone in the finale. But in warmth, brilliance and depth there is little to be desired.


Notes for Cantelli's 1952 Commercial Recording Sessions

by Keith Bennett

By the time that Guido Cantelli appeared with the Philharmonia Orchestra for the first time in the autumn of 1951 he had already made five complete commercial recordings with three orchestras. In 1949 these were: the Haydn Symphony No.93 with the NBC Symphony Orchestra (2 March) followed by Rossini's overture Le siège de Corinthe (9 May) and Casella's Paganiniana (13 and 14 May) with the Orchestra Stabile dell'Accademia Nazionale di Santa Cecilia. The following year he made his second recording with the NBC Symphony Orchestra, this time it was Hindemith's Mathis der Maler (13 January), thus completing both the works which he had conducted for his debut in the States the previous year. Then followed the Tchaikovsky Symphony No.5 with the Orchestra della Scala after the orchestra's visit to the Edinburgh Festival and this was recorded at the Abbey Road Studio in London (23 and 26 September). But it was 1951 that heralded the beginning of his relationship with what was considered by many to be Britain's premier orchestra - the Philharmonia Orchestra.
Cantelli returned to London in October 1952 for six concerts with the Philharmonia Orchestra and plans were in place by the previous August for recording sessions which were also to be held in the Royal Festival Hall. This was possibly an experiment to establish whether the hall would be a suitable venue for recordings but it was never used again for Cantelli and possibly did not find favour with Douglas Larter, the engineer for the majority of Cantelli recordings on the HMV label. The works recorded and which appear on this CD were Pavane pour une infante défunte (Ravel) La gazza ladra (Rossini), and Symphony No.6 (Tchaikovsky) and as usual all had been played at the concerts – the Ravel on 5 and 8 October, the Tchaikovsky on 14 October and the Rossini on 17 October.
Rossini: Overture La gazza ladra
The first session took place in the afternoon of 22 October and consisted of Rossini's overture La gazza ladra. This is interesting for four reasons; in the first place Cantelli only conducted the piece once (on 17 October); secondly it was his very first performance; thirdly it disposes of the view that Cantelli would only record a work after it been completely assimilated into his repertoire by several performance sand fourthly, the recording sheet has a clearly handwritten annotation 'Not approved by artistes'. That would appear to indicate that it was the producers – the highly experienced David Bicknell and Lawrance Collingwood – who rejected the recording and it never released by EMI. But why? True, there had been an outburst from Cantelli when the principal flute, Gareth Morris (these two musicians were not on the best of terms), ended a passage with a pom-tiddlely-pom-pom to lighten the proceedings. But Alan Sanders in his review in the November 1994 issue of Gramophone wrote


Cantelli did not approve the release of the Rossini overture, although it is difficult now to understand why, for this is a delectably vivacious and expressive reading, superlatively played in a more than adequate quality of sound. I hope the conductor's shade will not be too annoyed that his wishes have been posthumously disobeyed.


While one can be in absolutely in total agreement with Sanders' assessment of the recorded performance I am not convinced that it was Cantelli who rejected the recording: the annotation is 'artistes' and I believe it is quite likely that it was Bicknell and Collingwood (both of the International Artistes Department) who made the decision, maybe to pacify the conductor – but who knows for certain?
Ravel: Pavane pour une infante défunte
This work had a particular significance for Cantelli: he was inordinately fond of his nephew, Sergio, and was devastated when the child died aged only 12 in November 1951. Although Cantelli had only given one previous performance of this work (sometimes interpreted as a Pavane for a dead child rather than a princess) early in 1946 with an unknown orchestra – he resolved to dedicate his next performance – which took place on 1 December 1951with the NBC Symphony Orchestra – to his memory. No further performances took place until his concerts with the Philharmonia Orchestra on 5 and 8 October 1952 and when he came to make the commercial recording a few days later his sadness over the loss of his nephew created enormous problems during the sessions as he was fully aware that he was now making – what was for him – a permanent memorial to Sergio. The problems were not caused by any shortcomings of the principal horn, Dennis Brain (how could it be?), but with Cantelli's difficulty of balancing the harp which reduced Renata Scheffel-Stein to a nervous wreck.

Many sources refer to the number of takes which Cantelli required to obtain the performance he wanted for Ravel's Pavane pour une infante défunte but – after examination of the actual recording sheets – it would appear that the number has been exaggerated. The traumas experienced by the musicians at the sessions (and Cantelli took more than just three hours to achieve his requirements) are not evident on this CD – it is a most ravishing performance.
Tchaikovsky: Symphony in B minor, No.6, Op.74, Pathétique
There are instances when the tragedy of Cantelli's brief career registers with overwhelming force and this is one of them. Cantelli performed this symphony on just six occasions and it is worth a moment's thought that Karajan made more commercial recordings of this symphony (seven) than Cantelli gave actual performances. Cantelli first conducted the symphony on 27 July 1945 at an open air concert during his first appearance with the Orchestra della Scala and his last was the performance with the NBC Symphony Orchestra on 21 February 1953 which has already been released on this label (PASC 166). His previous concert performance was with the Philharmonia Orchestra on 14 October 1952 and was followed by four three-hour session on 24, 28 and 30 October for the commercial recording. As might be expected, with so short an interval between the commercial recording in London and the concert performance in New York, there is little to choose between them: perhaps the commercial recording has a slightly more burnished sound, but it's marginal. Cantelli fully understands the emotional implications of the score which he conveys without resorting to exaggerations: the demands of expressiveness are met without hysteria, tempi are well-judged in all four movements, and the harrowing despair of the final movement is admirably portrayed. All this is also true of the live performance with the NBC Symphony Orchestra.
Postscript
Finally, I cannot resist from commenting on a recording which I believe took place during the 1952 sessions but for which I have been unable to trace any documentary evidence apart from a letter which I found while carrying out research at the EMI Archive. This was dated 26 July 1954 and was from Owen Mase to David Bicknell. Mase – who had been the Concerts Adviser at the Royal Festival Hall from 1950 to 1953 – had become a close friend of Cantelli and Bicknell often used him to liaise with the conductor. The gist of the letter was thanking Bicknell for sending some Cantelli LPs. He commented that the Schumann Symphony No.4 (1953) 'was a miracle of playing and recording'; considered that the Siegfried Idyll (1951) 'was absolutely first class'; thought the Brahms Symphony No.1 (also 1953) 'Excellent, though I think in the first movement he himself is not at his absolutely top best'; for the Tchaikovsky he considered Symphony No.5 with the Orchestra della Scala (1950) as 'good' and Symphony No.6 (1952) as 'Very good'. There is nothing untoward there because those recordings had been released. But the intriguing feature about this correspondence is that Mase also mentioned an overture which has never been issued – Wagner's Eine Faust-Ouvertüre – considering it as being 'Very good'. Despite diligent research no Instruction for Recording was found although an Instruction for Recording H5474 is mentioned on H5462 but was not seen – could that be relevant regarding this 'missing' overture? Furthermore, no Recording Sheet was located.
It should not come as no surprise that some paperwork is missing because Cantelli often changed his mind about what he wanted to record and prior to 1955 his recordings with the Philharmonia Orchestra were always associated with his concert programmes. If he was particularly pleased with the way the public performance(s) had gone, the work was quite likely to be introduced into the recording schedule (cf the 1953 sessions when the four overtures scheduled were replaced by two symphonies!). It is as well to bear in mind that the EMI Archive is vast and covers over 100 years of recordings and it is understandable if a couple of sheets of paper may have become misfiled.
The recording must have existed! Owen Mase – whom I only met once – was not the sort of person who would dream up a recording and then add further confusion to the situation by making a comment about a non-existent record. Furthermore, after Cantelli's death, Bicknell issued an instruction that no recordings by Cantelli – whether or not approved – were to be destroyed.
It is worth considering when this Wagner overture could have been recorded. Up until 1955 Cantelli's recording sessions in London were always linked to the works which had been performed in concerts a few days previously. Cantelli's only performances of Eine Faust-Ouvertüre with the Philharmonia Orchestra were on 14 and 17 October 1952 and it was not broadcast. Between 22 and 30 October Cantelli had six three-hour recording sessions in the Royal Festival Hall and it is perfectly feasible that the Wagner was taped either on 22 or – more unlikely – 25 October.As can be seen in the Table below there were some 150 minuted 'spare' on 22nd and while there is a lengthier period apparently available on 25th one should bear in mind that the concentrated effort Cantelli required for the number of takes for the Pavane probably left the orchestra pretty well exhausted.
Date

No. of

3-hour

Sessions

Work(s) recorded

Approximate Duration

of Work(s)

(Timings for Takes)

22 October

1

La gazza ladra

9 minutes (28 minutes)

25 October

1

Pavane

6 minutes (34 minutes)
Finally, I would like to record my thanks to the staff at the EMI Archive and others within the EMI organization who put up with the incessant questions posed over this enigma
© 2011 Keith Bennett
Keith Bennett is the author of Guido Cantelli – Just Eight Years of Fame (published 2009) which is only available from GC Publishers.
For further details either write to:
GC Publishers, 21 Nunn Close, Martlesham, Woodbridge,
Suffolk IP12 4UL, UK
or e-mail: gcpublishers@keithbennett.waitrose.com
Fanfare Review
Stunning combination of aristocratic finesse, urbanity, and controlled excitement
This seems like a curious choice for Pristine, as these classic 1952 recordings have long been available on Testament, in fine remasterings from the EMI master tapes. The sources used here are rare reel-to-reel tapes; their sound lacks the richness and impact of Testament's, but is attractive in its own way, open and bright.
Cantelli's "Pathétique" is a well-known quantity that probably does not require much comment at this stage, but it was interesting to revisit the performance, not having heard it for several years. I find it curiously elusive—objective, phenomenally articulate, quite stellar in the polish and precision of the playing, but with a quality of monumental freeze-dried perfection that can seem rather alienating. Cantelli has an extreme aversion to tempo modification, even those explicitly called for in the score. In the first movement, the main theme and development are spacious and unhurried; the second theme cool, brisk, and straight, with scant regard for Tchaikovsky's myriad notated tempo inflections. The Allegro con grazia is straitlaced, with little charm; the scherzo-march deliberate (9:16), articulated and balanced with phenomenal clarity. The finale is beautifully played, rising to great heights of intensity in the reprise of the main theme, but the second theme again exhibits that curiously straitlaced reluctance to observe the notated tempo fluctuations.
Comparing with other famous 1950s studio versions with the same orchestra and label—Karajan (1955–56), Kempe (1957), Silvestri (1959), Giulini (1959)—all of these, in their different ways, seem more attuned to the music's humanity. The oft-repeated likening of Cantelli to Toscanini has always seemed off the mark to me (pace the old maestro's own comments)—certainly there is little resemblance to that conductor's volatile, spontaneous, flexible conception of this work, which sings and dances in a way the young Italian's never does. Interestingly, a live NBC version from 1953 (also available on Pristine) is, if anything, even more tightly controlled.
Ravel's Pavane gets ultra-refined treatment, though here Testament's transfer is greatly preferable to Pristine's edgy, crumbly sound. For my money, the Rossini is the best thing here, in its stunning combination of aristocratic finesse, urbanity (those solo winds in the introduction—sheer perfection!), and controlled excitement.

Boyd Pomeroy
This article originally appeared in Issue 34:6 (July/Aug 2011) of Fanfare Magazine.