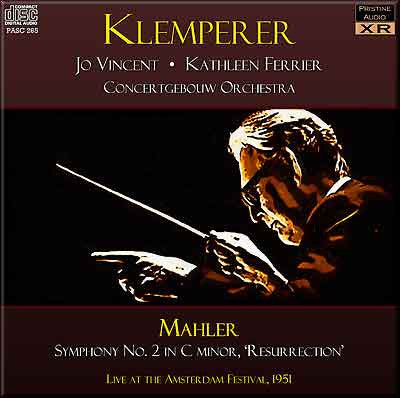 This album is included in the following set
s

:
This set contains the following album
s

:
Producer's Note
Full Track Listing
Cover Art
Klemperer's legendary 1951 live Mahler Resurrection Symphony
With an outstanding performance from Kathleen Ferrier - new XR remastering
Despite this recording being made well into the age of tape and widespread use of the magnetic recording medium, there were numerous clues to suggest that this recording was originally made onto pretty standard 12" 78rpm acetate discs by the Dutch radio station, Katholieke Radio Omroep, albeit well-made, well-preserved and quiet ones. Because the discs would have been cut on alternating machines, it was possible to see an increase in rumble below about 40Hz every other disc, with disc changes thus obvious at roughly 4-minute intervals. Furthermore some very light repetitive surface ticks at the start of the first movement indicated a speed of almost exactly 78rpm. Finally a side join during the first movement suffers slight phasing (which I've attempted to diminish) as the music crossfades from the end of one disc to the beginning of the next.
However, the biggest shortcoming of this recording lies in its frequency range, which pretty much gives up just above 10kHz, thus depriving the listener of the very high frequencies which give a sense of 'air' around a recording, as well as enhancing particularly the brightest brass and percussion. However, by a careful use of XR remastering's tonal rebalancing I've been able to create a much fuller, clearer sound than previously heard, one which greatly enhances the dynamic impact of this superb performance.
Andrew Rose
MAHLER Symphony No. 2 in C minor, Op. 47 "Resurrection"

Recorded Holland Festival, Concertgebouw, Amsterdam, 12th July, 1951


Jo Vincent, soprano
Kathleen Ferrier, contralto
Holland Festival Chorus
Concertgebouw Orchestra
conductor Otto Klemperer

XR remastering by Andrew Rose at Pristine Audio, January 2011
Cover artwork based on a photograph of Otto Klemperer

Total duration: 71:26

Fanfare Review
Recommended, if you're in the market for a good-sounding edition of this unique performance
Pristine's edition of this famous, and often-reissued, performance is very welcome. The recording was never a sonic prize. The transfer I have for comparison is Guild's; the new one is more open, though it still lacks impact and needs a volume boost. As with some other Pristine releases, I find the noise reduction employed excessive in the quietest passages—e.g., Rehearsal 24 in the first movement, which sounds muffled and distant.
The performance is the fastest, by a considerable margin, of Klemperer's many versions of this symphony—indeed one of the (if not the) fastest ever, by anyone (for all his reputation for slowness, Klemperer could really go to the other extreme in some works, most notably Bruckner's Fourth and the present one). It's exciting all right, but often, I find, at the price of an impatient, ruthless feeling.
The first movement flies by at 17:42, in a straight-ahead, take-no-prisoners approach with little concession to Mahler's detailed directions for tempo modification—in this respect, the diametrical opposite of Scherchen's imaginative response to detail and extreme rhetorical molding (Vienna State Opera Orchestra/Westminster, 1958). The great opening paragraph is jagged, angular, and clipped, and not ideally firm in rhythmic control. The lyrical episodes (Rehearsals 3, 7, etc.) sound perfunctory, as if Klemperer was bored by them. But he is superbly cutting and dramatic in the development section, inspiring a memorably brilliant, abrasive response from the orchestra. In the coda, the intricate contrapuntal textures are given insufficient breathing space; the effect is merely impatient, Mahler's magisterial spookiness here going for little. The ending's descending chromatic scale is galloped through at breakneck speed.
The second-movement Ländler is brisk and unsentimental. There is a severe quality, a refusal to ingratiate; although the strings play with plenty of portamento there is curiously little Viennese feeling. The twisting, turning Scherzo is a highlight of the performance, its edgy, sardonic character caught to perfection. Kathleen Ferrier's (or rather, Klemperer's) Urlicht is brisk, straight, and businesslike. The finale has high drama aplenty, as in the volcanically eruptive opening, or the kräftig march after Rehearsal 15. There is a compelling seat-of-the-pants spontaneity to the whole thing; listen to those recitative-like passages at Rehearsals 7 and 21—perilously hard-driven, with some all-too-obvious confusion in the orchestra's ranks! The final section has an exciting sweep, though it's a little short on breadth. Both soloists are excellent.
As I say, the performance represents an extreme, even in the context of Klemperer's uncompromising conception of the work. Another live version from the same year (Vienna Symphony, Testament) is a little more sympathetic, less hard-driven, but the Vienna Symphony is not the Concertgebouw. By the 1960s, his conception had mellowed to a degree, and two further live versions with the Vienna Philharmonic (1963, Music & Arts) and Philharmonia (1964, Testament) exhibit, to my ears, a more satisfying balance of excitement and breadth (a Bavarian Radio version from 1965 [EMI] certainly has its moments, but by this time his conducting was beginning to lose something of its former grip). And of course there's a lot to be said for the studio refinement of the classic EMI recording with the Philharmonia in 1961–62 (as for his other studio recording, with the Vienna Symphony in 1951 for Vox, it's hard to imagine preferring it to anything). Comparison to other conductors is hardly to the point here—this is obviously worlds apart from Walter's richly idiomatic, Viennese way with the composer; and of course both conductors' approaches could claim an unbroken link to Mahler himself.
Recommended, if you're in the market for a good-sounding edition of this unique performance.

Boyd Pomeroy
This article originally appeared in Issue 34:6 (July/Aug 2011) of Fanfare Magazine.