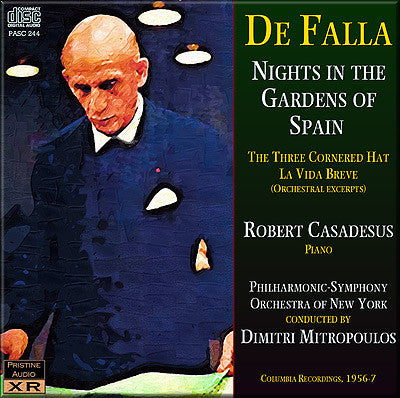 This album is included in the following set
s

:
This set contains the following album
s

:
Producer's Note
Full Track Listing
Cover Art
Casadesus' only studio recording of Spanish music
Mitropoulos and the NY Phil masterful in a superb XR remastering
Robert Casadesus isn't particularly well-known for his interpretations of the music of Manuel de Falla. This recording of Nights in the Gardens of Spain is the only studio recording he made of any of the Spanish composer's music (a live concert recording made around the same time has also been issued on CD). Indeed, it would appear to be the only recording he ever made of any music by a Spanish composer – as a lover of Spanish music myself this is a great pity, as he is very, very good with what little of it we have! Nights in the Gardens of Spain requires exceptional skill from a pianist, and Casadesus passes its various tests with flying colours.
Likewise Mitropoulos doesn't appear to have spent much time recording de Falla over his lengthy career. I have yet to track down a copy of his full discography, but extensive searching reveals very little beyond the present recordings. The source for this release was a near-mint copy of the original Columbia release, sent to Philips as a sample for possible licensing and one of a considerable number of similar discs in the Pristine collection. I've followed the annotation of the Casadesus website which gives two recording dates for this – what exactly was recorded when I have been unable to discover. XR remastering has opened out beautifully what was already a very good, clean recording. The somewhat short programme for this release merely reflects the dearth of suitable material with which to pair it.
Andrew Rose
DE FALLA Nights in the Gardens of Spain
DE FALLA Three Dances from 'The Three Cornered Hat'
DE FALLA 'La Vida Breve' - Interlude and Dance

Recorded 2nd November 1956 and 3rd June 1957, Columbia 30th Street Studio, New York
Issued as Columbia Masterworks ML 5172
Robert Casadesus, piano
The Philharmonic-Symphony Orchestra of New York
conductor Dimitri Mitropoulos
Transfers from Columbia Masterworks ML 5172 by Andrew Rose
XR remastering by Andrew Rose at Pristine Audio, September 2010
Cover artwork based on a photograph of Dimitri Mitropoulos

Total duration: 42:23


Fanfare Review
It's a special pleasure to welcome this striking, individualistic Nights in the Gardens of Spain back to the land of the living
Cascavelle has recoupled the Casadesus/Ansermet Nights with yet another Igor Markevitch Sacre du printemps, this one with the Suisse Romande Orchestra (get one of his recordings with British orchestras). I preferred the previous coupling, which included the Liszt Concerto No. 2 and the Mozart 26th, K 437, but at least one of the better recordings of Nights in the Gardens of Spain remains available. Pristine's decision to issue a Casadesus/Mitropoulos studio recording made a year later (1957) than the Cascavelle performance illustrates, if such a phenomenon needed illustration, what a difference a conductor (and, probably, a recording producer) can make. I had the same reaction to two Casadesus recordings of d'Indy's Symphony on a French Mountain Air, one of which is also reviewed in this issue. Granted, these two pieces are not conventional piano concertos—the piano's role is more like that of a first among equals, so the conductor need not function as an accompanist. The Casadesus/Ansermet is a comparatively fast Nights (all to the good, as far as I'm concerned) with Casadesus apparently trying to blend in with the orchestra; there's no lack of animation but the piano part is more subdued than one often hears. One imagines that this was a true collaboration with the conductor and pianist sharing a common view of the music. It is possible that Casadesus and Mitropoulos were also collaborating but, although recorded only a year later, their recording features a more vivid, individualistic orchestral presence and a more aggressive approach by the nominal soloist; it might be described as more impassioned than Impressionistic. On its own terms, it works and is only about a minute slower than the earlier Suisse Romande broadcast. Apparently Pristine could not find enough suitable couplings, for 42:23 seems like short measure for a CD unless the company thinks of itself as primarily an MP3 site. In any case, the remainder of the disc contains the 1956 Mitropoulos recordings of the Neighbor's, Miller's, and Final Dances from The Three-Cornered Hat, by turns heavy-handed, hard-driven, and smeared due to an over-resonant recording and a warm-blooded, ardent performance of the Interlude and Dance from La vida breve during which the acoustics don't bother me a bit. I wondered if these recordings were gone forever and it's a special pleasure to welcome this striking, individualistic Nights in the Gardens of Spain back to the land of the living. I owned the LP decades ago and have forgotten what it sounded like, but I'm sure it didn't come across as vividly as this CD reissue.
James Miller
This article originally appeared in Issue 34:4 (Mar/Apr 2011) of Fanfare Magazine.