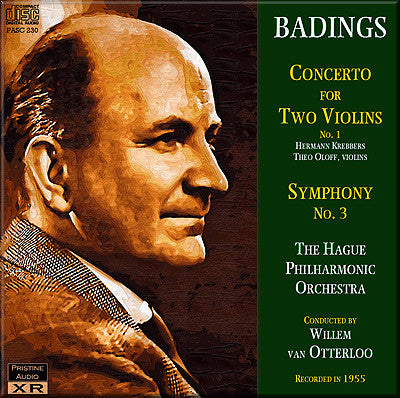 This album is included in the following set
s

:
This set contains the following album
s

:
Producer's Note
Full Track Listing
Cover Art
Two of Dutch composer Henk Badings' finest works
Superb sound quality from these mid-50s Philips recordings
What is particularly unusual about the Concerto recording is that it sounds quite distinctly like a continuous performance, including the gaps between movements. In many recordings of the 1950s there's a clear and obvious cut of silence between movements on the master tape, where oxide-free 'leader' tape would be inserted to create a section of total silence. Indeed, these were too often rather roughly inserted, cutting off the decay of the last note of a movement quite abruptly and requiring the careful use of a little extra digital reverberation to mask the 'chop'!
Not here - I got a clear impression of the musicians stopping and waiting between movements - small sounds of preparation that one simply doesn't expect to hear outside of a live recording. Of course I may be entirely mistaken and the engineers may simply have edited in some background 'atmos' rather than going to complete silence. Either way, it's a more convincing approach to making a studio recording resemble a continuous performance than some recordings of the era.
It should be said that both of these recordings were excellent. Philips has a deservedly fine reputation for quality at this point in their history, and the following year the composer, Badings, was to take up residency at their main studios to begin work on some of his earliest electronic compositions. No doubt when he heard these recordings he was suitably impressed!
Andrew Rose
BADINGS Concerto for Two Violins, No. 1 (1954)
    Herman Krebbers, violin
    Theo Olof, violin

BADINGS Symphony No. 3 (1934)
Recorded 28-30 November, 1955

The Hague Philharmonic Orchestra
conductor Willem van Otterloo

Issued as Philips LP A 00487 L
Transfers by Andrew Rose from the Pristine Audio collection
XR remastering by Andrew Rose at Pristine Audio, April-June 2010
Cover artwork based on a photograph of Henk Badings

Total duration: 53:07