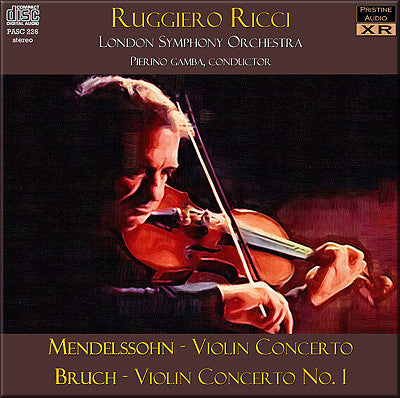 This album is included in the following set
s

:
This set contains the following album
s

:
Producer's Note
Full Track Listing
Cover Art
Historic Review
"Very good performances indeed" - The Gramophone, 1958
Ricci is superb in these XR-remastered stereo masterpieces
This recording dates from a time when Decca was almost certainly unable to release it in its stereo format - the only possible way to hear purchased stereo recordings in a domestic environment at the time was the handful of open-reel tapes commercially available from around 1956. However the new format was clearly imminent, and many recordings like this were made for both mono and stereo release prior the development of the stereo LP and its launch in 1958.
Perhaps as a result, at this time Decca's standard policy was to send out two teams of engineers and producers, each complete with their own recording equipment, microphones and so forth. One team was entirely responsible for the mono recording, the second concentrated on the stereo version. As a result, microphone placement could have been quite different for each, as indeed could microphone types. This suggests therefore that the differences noted above by The Gramophone's perceptive reviewer could have been due to more than simply the ability to hear the work with a full stereo spread before him.
Of course later mono issues were simply reworkings of their stereo masters, summing the two channels to produce a single central mono recording. The Ricci however was made at a time when greater differences than the mere opening up of a soundstage might be heard, and thus further judgements needed to be made between the merits of each issue.
These recordings are certainly very good indeed for their era. I worked from a later pressing, in mint condition, for the transfers presented here, something which obviously eases my workload. However I was able to bring to the recordings some considerable improvements - XR remastering produced results akin to lifting a sonic veil from the originals, considerably sweetening Ricci's upper treble tone and bringing the whole recording several steps closer to the listener. When heard side by side with the original the effect is immediate and utterly convincing - the 1958 recording sounds dull and dusty; the 2010 XR remastering sounds almost as if it had been recorded last week.
Andrew Rose

    MENDELSSOHN Violin Concerto in E minor, Op. 64 [notes / score]
    BRUCH Violin Concerto No. 1 in G minor, Op. 26 [notes / score]

    Played by Ruggiero Ricci
    London Symphony Orchestra
    conductor Pierino Gamba

    Recorded 15-16 January, 1957, Kingsway Hall, London
    First issued in mono as Decca LXT5334 in July 1957
    First issued in stereo as Decca SXL2006 in September 1958
    Stereo recording produced by Erik Smith, engineered by Cyril Windebank
Transfers from Decca LP SPA 88 in the Pristine Audio collection
XR remastering by Andrew Rose at Pristine Audio, May 2010
Cover artwork based on a photograph of Ruggiero Ricci

Total duration: 50:40


"Ricci gives very good performances indeed of both concertos; caught out nowhere, even on the margin of intonation, by their technical demands in the outer movements, he manages also to communicate both poetry and impulse to the slow movements.

Indeed the monaural coupling was a strong competitor among the best of each concerto; and the sound, always good, is now further improved by qualities of spaciousness and separation. The latter quality is especially important in concerto recording; for it allows the ear to hold to the solo line against an orchestral accompaniment which might otherwise be in danger of swamping it. In the concert hall, balance in a solo string concerto is seldom ideal, but sometimes manages to deceive the ear into thinking it so largely by a geographical advantage denied monaural recording. Hence the tendency hitherto on records to emphasise the soloist in balance, often with a resulting improvement on the concert hall. Now, in stereo, the two mediums are closer; and the balance on this disc, which in the monaural version seemed sometimes to favour the orchestra, seems in the new version to be ideal.

I am not suggesting that good recording should not continue to pluck up courage and try to improve on the concert hall where that is possible. But I am suggesting that this particular record always was a good one, and is now even better. "

M.M., The Gramophone, October 1958