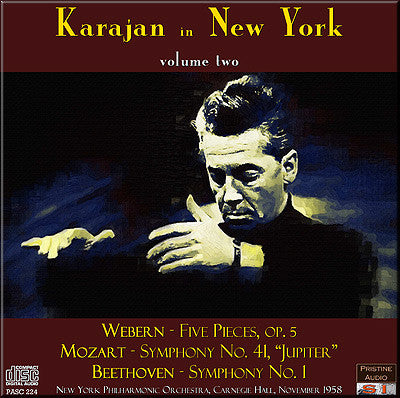 This album is included in the following set
s

:
This set contains the following album
s

:
Producer's Note
Full Track Listing
Cover Art
Herbert von Karajan conducts the New York Philharmonic!
Second of three volumes chronicling his only appearances with the orchestra
"Herbert von Karajan (5 April 1908 – 16 July 1989) was an Austrian orchestra and opera conductor. His obituary in The New York Times described him as "probably the world's best-known conductor and one of the most powerful figures in classical music". Karajan conducted the Berlin Philharmonic orchestra for 35 years. He is the top-selling classical music recording artist of all time, having sold an estimated 200 million records during his career." - Wikipedia
Despite his lengthy and varied career, Karajan was predominantly a Europe-based conductor and rarely conducted American orchestras - in 169 concerts in the USA he conducted only three orchestras: the Los Angeles Philharmonic once (1959), the Metropolitan Opera Orchestra fifteen times (1967-69), and the New York Philharmonic eight times in November, 1958. His only other engagements with an American orchestra were two concerts with the Cleveland Orchestra in Salzburg and Lucerne during August 1967.
The New York Philharmonic concerts were split into two groups of four: The first concerts, of 13-16 November 1958, consisted of three works: Webern's Five Pieces for String Orchestra, Mozart's "Jupiter" Symphony, No. 41, and Richard Strauss's Ein Heldenleben. A week later, between 20th and 23rd November, Karajan played an all-Beethoven programme, beginning with the First Symphony and ending with the Ninth - in the case of the Ninth "Choral" Symphony these constituted four of ten performances the conductor gave of this work in 1958 alone - three with the Berlin and three with the Vienna Philharmonics complete the total.
Transfer notes
Each group of four New York Philharmonic concerts received a radio broadcast - in each case it was the third of the four concerts, held on Saturday evenings, which was broadcast on the CBS radio network. At the present time the only surviving recordings of these concerts appear to have been taken from AM broadcasts. Although the quality, both of the recordings and the transmissions themselves is very good, they are inevitably diminished by the limited bandwidth and dynamic range of this broadcast medium.
As a result there is no recorded signal above about 6kHz, and at times some of the very loudest passages sound somewhat compressed in volume. However, with such obvious interest in these rare recordings, made by such top rank musicians, it was clear that they could not be ignored, and we were delighted to be sent excellent source copies by an American collector. Restoration has revolved around minimising hiss, dealing with very occasional light drop-out, the odd click and crackle, and one short instance of line whistle. Thereafter the XR remastering process has been used in order to ty and extract the very best sound quality possible from this compromised source material. Although the results would be considered fine for a recording of earlier years it's clearly not up to the standards one normally expects of 1958 technology, hence the designation "Special Interest" for this release.
P.S. Following the release of the first volume in this series I received the following in an e-mail from a regular contributor: "Why are you releasing these as "SI", though?  The sound is not that bad -- decent AM radio quality". He's right - in many respects the sound quality is excellent, with very low levels of background noise, an excellent signal, and a very clear recording. Certainly the recordings make for an enjoyable listening experience. But I do think that it would be easy to miss the small print pointing out that this is an AM radio broadcast and assume full-frequency 1958-quality sound if we didn't highlight the fact prominently, something which might not suit some purchasers. The idea of SI releases is to encourage listening and reading prior to purchase!

Andrew Rose
WEBERN Five Pieces, Op. 5
Concert broadcast from Carnegie Hall, 15th November, 1958

MOZART Symphony No 41 'Jupiter' in C, K.551
Concert broadcast from Carnegie Hall, 15th November, 1958

BEETHOVEN Symphony No 1 in c, Op. 21
Concert broadcast from Carnegie Hall, 22nd November, 1958

Played by New York Philharmonic Orchestra
conductor Herbert von Karajan
Concert broadcasts from Carnegie Hall, 15th & 22nd November, 1958
Originally broadcast by CBS Radio, announcer Jim Fassett
Recording designated "Special Interest" due to limited frequency range indicative of AM broadcast
XR remastering by Andrew Rose at Pristine Audio, April 2010
Cover artwork based on a photograph of Herbert von Karajan

Total duration: 63:06