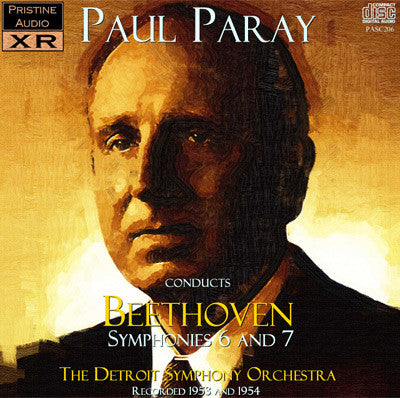 This album is included in the following set
s

:
This set contains the following album
s

:
Producer's Note
Full Track Listing
Cover Art
Paul Paray's vibrant-sounding Beethoven Symphonies
With a rare observance of Beethoven's own tempi!
Notes on the recordings:
"I couldn't believe my ears, and darted to the turntable to see if it was set by mistake to 45. But it wasn't ; Paray really was taking the first movement like that. "Cheerful impressions received on arrival in the country ", wrote Beethoven on the score ; this is a cheerful impression all right..." - Gramophone review of 6th Symphony, January 1957
Thus wrote the Gramophone critic on hearing - clearly for the first time in his life - Beethoven's Pastoral Symphony taken at precisely the speed its composer had intended when he added metronome timings to the score. It is astonishingly swift, and very few conductors have abided by the composer's instructions in this respect.
But it makes for a quite different reading - and once you've climbed over the metaphorical stile that is this sudden increase in tempo, and stroll into Paray's pastoral world, you may well find it's one which agrees with you. Certainly there's much to like here in both recordings - Paray had molded the Detroit Symphony into a world class orchestra, and Mercury's Living Presence sound recordings were the perfect way to capture them in the early years of the LP era.
This is the first of a short series of Mercury recordings by Paray at Detroit that we have planned for the coming weeks, and it's a great start - transferred from near-mint British Pye pressings by Edward Johnson. The somewhat constricted and hard sound of the original recordings has really opened out wonderfully thanks to XR remastering, and with the additional (optional) Ambient Stereo processing you might be forgiven for thinking you were listening to a recording made a decade or two later.
Andrew Rose
BEETHOVEN Symphony No. 6 "Pastoral" in F, Op. 68


Recorded Orchestra Hall, Detroit, November 1954
Issued as Mercury Olympian LP MG-50045


BEETHOVEN Symphony No. 7 in A, Op. 92


Recorded Orchestra Hall, Detroit, February 1953
Issued as Mercury Olympian LP MG-50021
Transfers by Edward Johnson from his private collection
XR remastering by Andrew Rose at Pristine Audio, December 2009
Cover artwork based on a photograph of Paul Paray
Total duration: 71:59

Fanfare Review
One of the great Sevenths of all time, with an uncommonly stimulating, thought-provoking "Pastoral" thrown in for good measure
In the North American orchestral landscape of the 1950s, Paul Paray's Detroit style was instantly recognizable: an orchestra drilled to the utmost degree of unanimity (down to the constituent notes in string trills), and a sound characterized by light, bright textures, clarity of articulation, and a distinctively fast, nervous vibrato from the woodwinds as well as the strings—though sounding rather dated nowadays and accentuated by the dry acoustic of Mercury's recordings. Interpretively Paray was very much a score-based literalist, usually (though not always) favoring fast tempos, but with a tendency to unvaried strictness that sometimes left little breathing room; an uncharitable comparison might be to Toscanini but without the Italian maestro's singing, breathing approach to musical line. (Ironically, Paray was literally something of a singer among conductors, and his melodious baritone can often be heard lending encouragement to his players.)
Paray's stereo Mercury recordings have been extensively reissued on CD, but a few significant gaps remain. Enter the ever-resourceful Pristine Audio, with expert transfers from Mercury LPs of these Beethoven symphonies from 1953–54. A previous Japanese CD (on the exotically named Grand Slam label, also derived from LPs) was outstandingly full-bodied and vibrant, the sound leaping from the speakers in a way the newcomer does not match—though warm and well balanced, it is transferred at a lowish level and needs a considerable volume boost (especially in No. 7).
The present coupling illustrates well the pros and cons of Paray's way: One performance is constantly stimulating but only intermittently convincing; the other close to ideal. The first movement of the "Pastoral" is taken at Beethoven's precise metronome mark of 66, radically for its time. Of earlier interpreters, only the ever-provocative Mengelberg came anywhere close (Telefunken, 1937–38, numerous CD releases); not many later ones did either, before the advent of period performance, one notable exception being Scherchen's exceptionally zippy 1958 stereo remake (Vienna State Opera Orchestra, Westminster/DG). On the plus side are an unusual alertness and exceptional precision; on the down side, a relentless literalism that seriously short-changes the music's ebb and flow, the poetry in Beethoven's deceptively plain style (e.g., those woodwind echoing figures in the transition—in Mengelberg's hands, like ripples spreading out in a pond; in Paray's, merely a well-drilled woodwind section). Although at 11:00 the "Scene by the Brook" is similarly radical in its adoption of Beethoven's specified tempo, here the unaccustomed briskness comes as a breath of fresh air, the strictly maintained pulse beautifully evoking the music's quietly buzzing, pulsating microcosm of life. Surprisingly few other versions match the up-tempo freshness here—Boult/LPO (1956, Vanguard); Scherchen 1958; Abbado/BPO (2000, DG); uniquely, Karajan in his digital remake (1982, DG) clocks in at an incredibly swift 10:19! The Scherzo has great vitality, though these tipsy village musicians are uncommonly wide-awake and punctiliously disciplined. Which they would need to be, to survive Paray's "Storm," at a tempo that threatens to break the sound barrier—MM 96 to Beethoven's mere 80!—though obsessively accented subdivisions make for a needlessly rigid effect. In the "Shepherd's Hymn," a lack of tonal luster to the strings reminds us that, however impressively drilled by Paray, the Detroit Symphony was never one of the world's great orchestras; but the movement builds with fine cumulative effect, somehow more than the sum of its parts.
The introduction to No. 7 is measured and uninflected—the woodwind solo interludes in the flat-side keys of C and F Major played straight, with no hint of the idiomatic swaying lilt often heard here. But the ensuing Vivace is characterized by buoyant phrasing that truly breathes, and marvelous airy textural clarity on an uninflated Classical scale. (The beginning of the development brings an audible uncorrected early second-violin entry—a refreshing reminder that studio recordings used to be real performances, far more so than today's micro-managed products; the whole movement has an irrepressibly spontaneous feeling.) The second movement is a real Allegretto, of crystalline clarity and irresistible momentum —among contemporaries, belonging in the elite company of Erich Kleiber (Concertgebouw, 1950/Decca), Schuricht (Paris Conservatory, 1957/EMI), Toscanini (NBC SO, 1951/RCA), and Wand (Cologne Gürzenich, 1957/Testament). The Scherzo has a crisp Gallic brio; the Trio a wonderfully delicate swing, then crushing power. Best of all is the finale, truly ideal in its lean, spare, stripped-down sound, with phenomenally precise string articulation and quite apocalyptic slow timpani crescendi toward the end of the exposition and recapitulation. The coda comes to the boil and beyond in a controlled accelerando that is outrageously exciting.
So, one of the great Sevenths of all time, with an uncommonly stimulating, thought-provoking "Pastoral" thrown in for good measure. Essential listening for anyone with the slightest interest in the recorded history of this repertoire.

Boyd Pomeroy
This article originally appeared in Issue 33:5 (May/June 2010) of Fanfare Magazine.