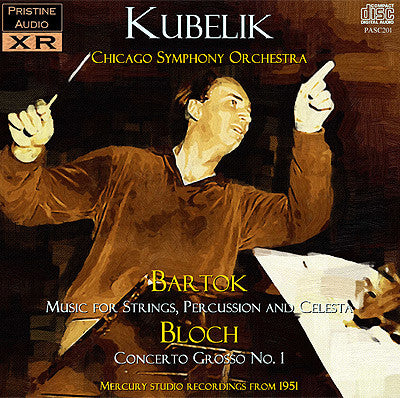 This album is included in the following set
s

:
This set contains the following album
s

:
Producer's Note
Full Track Listing
Cover Art
The 2nd issue in Mercury's revolutionary Living Presence series
Superb sound quality further boosted by XR remastering & Ambient Stereo
Although it was Kubelik's recording of Mussorgsky's Pictures at an Exhibition, as orchestrated by Ravel, which has gone down in history as the first of what would quickly be dubbed their Living Presence series (Howard Taubman, music critic of The New York Times, described the sound quality of the disc as ""being in the living presence of the orchestra"), these two recordings deserve to be seen in the same light, being recorded during the same sessions as the Mussorgsky in 23-24 April, 1951.
The recordings took place in Orchestra Hall, Chicago, with the orchestra seated on stage, so that the sound produced by the instruments in the back of the orchestra was reflected and acoustically amplified by the walls. This was captured by a single Telefunken microphone, hung about 25 feet above the orchestra in the middle of the front-line of the orchestra.
The idea behind this technique was to place a non-directional microphone in what was considered the absolute ideal position to pick up the entire orchestra and its acoustic, and clearly this approach found immediate favour. What is interesting when analysing this recording today is that there's a considerable treble boost at the top end of what would have been heard on many 78rpm discs - around 5.5kHz - which, although it adds a somewhat harsh edge to the sound, is very effective in cutting through and providing an illusion of extra 'presence', a kind of primitive aural "flavour enhancer", if you like.
With this unnatural boost removed in XR remastering, the recordings sound even better than in their Living Presence original sound, as though a layer of age has been lifted off. The very low bass, somewhat light in the original, has also been adjusted, with the net result of a very fine sound quality indeed. When the reverberant sound captured by that U-47 microphone in 1951 is extracted and subtly spread across the sound stage, as it is in our Ambient Stereo version, the effect is truly magical.
This particular combination of works and composers must have been a brave move as part of the launch of a new series of LPs back in 1951. Both recordings have more than stood the test of time.
Andrew Rose
BARTOK Music for Strings, Percussion and Celesta
Recorded Orchestra Hall, Chicago, 24th April, 1951


BLOCH Concerto Grosso No. 1 for String Orchestra and Piano Obbligato
Recorded Orchestra Hall, Chicago, 23rd April, 1951
Both recordings issued as Mercury MG 50001
Transfers and XR remastering by Andrew Rose at Pristine Audio, November 2009
Cover artwork based on a photograph of Raphael Kubelik

Total duration: 51:52