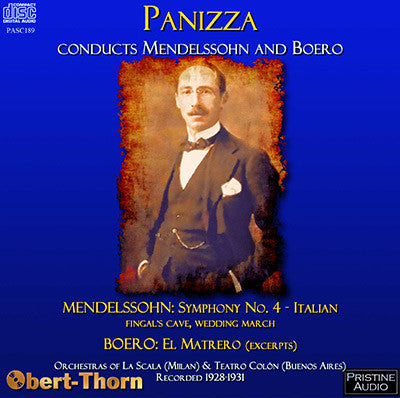 This album is included in the following set
s

:
This set contains the following album
s

:
Producer's Note
Full Track Listing
Cover Art
Ettore Panizza's complete Mendelssohn
Plus rare recordings from Boero's Argentine opera, El Matrero
As a result of the release (first on LP, more recently on CD) of a number of Metropolitan Opera broadcast performances from the mid-1930s through the early 1940s, Ettore Panizza is remembered today as one of the great opera conductors of the first half of the 20th Century, with particular distinction in the Verdi repertoire. But during his lifetime, his commercial discography was slim, filling fewer than three CDs' worth of recordings. Nearly all of them were made with the orchestra of La Scala, Milan, where he served as an assistant to Toscanini; and, as one might expect, they center on the (largely operatic) works of Italian composers.
Two notable exceptions to the rule were Panizza's recordings of Mendelssohn, all of which are contained on this release, and the scenes from Felipe Boero's opera El Matrero, which he set down shortly after he conducted the world première on 12 July 1929. The latter is a particularly rarity in his discography in that it was the only recording he made in his native Buenos Aires, where he had been born of Italian parents, and it was also the only recording he made for the Victor label.
Victor's involvement most likely came about because of the participation of Apollo Granforte, La Scala's great baritone in the inter-war years, well-known to record collectors due to his participation in the complete Italian HMV recordings of Aida, Otello, Il Trovatore and Pagliacci, who was making his Colón debut that season. The excerpts chosen from the opera (whose title has been variously translated as The Sly One, The Artful Knave and The Bandit) center around his character, Don Liborio. (Other Matrero recordings were made around this time, including two discs of choral excerpts credited to another conductor, and two 10-inch sides with Nena Juárez on which no conductor or orchestra is identified on the label, and no matrix information is displayed which might tie it to the Panizza sessions.)
El Matrero was initially scheduled for three performances in July, 1929; but it caused such a sensation that another three performances were added for the following month, at which time the present recordings were made. They are particularly rare in that they were only issued in Argentina, and their only previous reissue was on the small historical vocal LP label, Club 99, in the 1970s. (I could find no reference of any complete recording of El Matrero ever having been made. A synopsis of the plot can be found lower down this page.) The Mendelssohn items have only previously been reissued on a two-CD set accompanying a Panizza biography published by La Scala.
The principal sources for the transfers were a black label Italian Voce del Padrone disc for the Hebrides Overture; a Victor Red Seal "Z"-type shellac pressing for the Italian Symphony and its filler; and "Gold" label Argentine Victor pressings for the Matrero set. A couple instances of blasting on the Matrero sides, as well as some overload distortion in the Midsummer Night's Dream Wedding March, appear to be inherent in the original recordings.
- Mark Obert-Thorn
PANIZZA conducts MENDELSSOHN
La Scala Orchestra, Milan


Hebrides Overture, "Fingal's Cave", Op. 26
Recorded in April, 1928 in Milan. Matrices: CF 1641-2 and 1642-2.
First issued on La Voce del Padrone AW 3984


Symphony No 4 "Italian" in A, Op. 90
Recorded 5th January, 1931 in Milan.
Matrices: CF 3731-2, 3746-2, 3647-1, 3748-3, 3749-2, 3750-2 and 2F 6-2.
First issued on La Voce del Padrone AW 245 through 248


A Midsummer Night's Dream, Op. 61 - Wedding March: Allegro vivace
Recorded 10th January, 1931 in Milan. Matrix: 2F 17-1.
First issued on La Voce del Padrone AW 248



PANIZZA conducts BOERO's El Matrero


Act 1 - "La Media Caña"
Act 1 - "El Canto del Hornero"
Act 1 - Pedro's Aria and Trio
Act 2 - Trio
Act 2 - Duet (Act II Finale)
Act 3 - Trio (Act III Finale)
Pedro Cruz …………………………………………………. Pedro Mirassou (tenor)
Pontezuela ………………………….………………………Nena Juárez (mezzo-soprano)
Don Liborio ………………………………………………… Apollo Granforte (baritone)
Orquesta del Teatro Colón, Buenos Aires. Recorded August, 1929 in Buenos Aires
Matrices: CVE 44700-3, 44701-2, 44709-2, 44710-3, 44702-5, 44708-2
First issued on (Argentine) Victor 9574 through 9576 in album S-2
Producer and Audio Restoration Engineer: Mark Obert-Thorn
Cover artwork based on a photograph of Ettore Panizza

Total duration: 67:15
©2009 Pristine Audio.

Fanfare Review
A native of Argentina, Ettore Panizza was an assistant to Toscanini at La Scala during the 1920s, but had an international career of his own, including conducting 304 performances for the Metropolitan Opera between December 1934 (an Aida) and April 1942 (a Tosca in Cleveland while the company was on tour). He was the leading conductor of the company's Italian wing once Tullio Serafin departed for La Scala in 1934, and his solid, idiomatic work can be heard on a good many Met broadcasts of the time. His operatic contribution to this Pristine Audio CD is some excerpts from Felipe Boero's opera, El matrero ("The Artful Knave"), recorded a month after the opera's July 1929 premiere. The producer, Mark Obert-Thorn, speculates quite reasonably that the presence of the celebrated baritone, Apollo Granforte, in one of the leading roles accounts for the recording that, in any case, was only issued in Argentina and had appeared here in the U.S. only on a Club 99 LP in the 1970s.
Granforte played Don Liborio, a wealthy farmer whose district has been plagued by a matrero. One day, Liborio's daughter, Pontezuela, is serenaded by a wandering singer, Pedro Cruz, who unsuccessfully courts her. She rejects him, saying that her ideal of a man is the daring matrero. Have you guessed who the matrero is, yet? Anyway, he has a severe accident and dies in her arms as the opera ends. The music, while it uses the language of verismo, is flavored with Argentine folk elements and supposedly even uses gaucho dialect in some places, for authenticity.
Although Panizza was primarily associated with opera during his career, he was not strictly limited to it, as the three Mendelssohn recordings demonstrate. He has his own interesting take on the symphony. He seems to be using a thin string section for the performance, but the loss in sonority is compensated by a gain in precision and detail. The tempo is moderate. Not surprisingly, there's no exposition repeat in movement one. The second movement trudges a bit—it's certainly more sober than most, perhaps even mournful, but tastefully punctuated and stretched for expression. Except for all the skipped repeats, the third movement is conventional, but that isn't the case with the presto finale, which goes at a surprisingly deliberate tempo, deriving its momentum from the clarity of the agitated rhythmic figures that propel it. Tension builds through the accumulation of detail, but a little more urgency would have helped. The Hebrides Overture and the Wedding March (which is also shorn of some repeats) are, likewise, solid performances by a conductor who could obviously stray outside his specialty without embarrassing himself. The transfers of these early electrical recordings seem to be about all that could be asked for. Further information can be had at www.pristineclassical.com.

James Miller
This article originally appeared in Issue 33:4 (Mar/Apr 2010) of
Fanfare
Magazine.