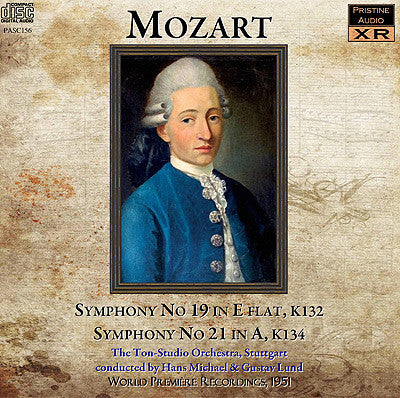 This album is included in the following set
s

:
This set contains the following album
s

:
Producer's Note
Full Track Listing
Cover Art
Historic Review
World première recordings of two Mozart symphonies
XR remastering reveals much-improved sound from these lovely recordings
In these days where every last note Mozart is known to have written has been recorded at least twice - based on the two major box sets of his entire works - and much of his music far more often than that, it seems incredible to find that these two symphony recordings from the early 1950s were world premières. We live in an age of musical plenty, and the student of Mozart who wishes to know about the work of the 16-year-old composer in the summer of 1772 can turn quickly and easily to any number of recordings.
When this recording fell into the hands of eager listeners in 1952, for most it would surely have been their first ever opportunity to hear this music. One can only wonder what they made of it, filtered through a particularly murky and ill-balanced recording such as is heard directly from the grooves of this record.
The review in The Gramophone of July 1952 (see below) hints at this in the following two lines:
Dare I say that the recorded tone of the Ton-Studio sounds like studio tone ? By which I mean that it lacks fullness, resonance, and appears rather dry.

I would go a lot further - the microphone positioning is pretty hopeless, the overall tone was muddy and dull, there were hints of distortion and harshness in the strings, and yes, it was as dry as old boots. Tackling this to find a suitable and believable sound was quite a task - the imbalance in the original recording simply sounded wrong when tonally matched to most modern recordings of the same works, yet it was always difficult to pinpoint exactly why this should be the case. Eventually I found a series of recent recordings which we both excellent in themselves and also seemed to be an ideal, if unexpected, tonal reference for these Mozart symphonies, in the series of Haydn symphonies Thomas Fey has issued with the Heidelberger Sinfoniker. With the overall tonal response of these recordings as a guide, I carefully adjusted aspects of the Stuttgart recordings, and heard everything suddenly appear to come into focus.
Whether this is a truly accurate representation of the sound of the Stuttgart orchestra is impossible to say - it was too poorly recorded in the first place to give any kind of indication as to what one might have heard from the conductor's rostrum in 1951. As such, my remastering can only be a subjective response to the recording, albeit one which after much work appears the most musically satisfying and convincing. For you, the listener, I hope this will allow you to concentrate more clearly on the music and its performance, without any consideration of objectionable sound quality to cloud your pleasure.
MOZART Symphony No 19 in E flat, K132 (July 1772)
The Ton-Studio Orchestra, Stuttgart, cond. Hans Michael


MOZART Symphony No 21 in A major, K134 (August 1772)


The Ton-Studio Orchestra, Stuttgart, cond. Gustav Lund
Recorded c.1951, Stuttgart, Germany
Issused as Period Records LP in the US in 1952
Transfers from Nixa UK issue, 1952, PLP.538
Transfer and XR remastering by Andrew Rose at Pristine Audio, April 2009
Cover artwork: Portrait of Mozart by Delahaye, 1772

Total duration: 34:53

Mozart Symphonies 19 and 21
as reviewed in The Gramophone, July 1951
*MOZART: Symphonies in E flat major K.132 and in A major K.134. Stuttgart Ton-Studio Orchestra (Gustav Lund : Hans Michael). Nixa PLP538 (12 in., 39s. 6d.).
Neither of these symphonies has been recorded before. Both of them were well worth doing. They belong to the set of six, with Kochel numbers ranging from 128 to 134, which were written between May and August of 1772 in Salzburg. The first movement of the E flat is rather conventional. Two second movements were written; the later alternative version is played here. It shows a very gracious use of imitation between the fiddles, when the main theme returns towards the close. The minuet pokes pleasant fun at academic canon ; and in the finale Mozart strikes out with one of the firm-limned and curiously definite melodies which seemed to have fascinated him at this time. But the invention in this movement tends to become facile.
K.132 uses two oboes and four horns. K. 134 has only two horns, and flutes instead of oboes. It is plainly a sunnier and more playful work than the other one. Yet in it Mozart's " key of many colours" fails to assume any distinctive emotional hue. It bubbles along gaily, beneath an unshadowed sky, and the passing incident is worked out with exquisite finesse.
Dare I say that the recorded tone of the Ton-Studio sounds like studio tone ? By which I mean that it lacks fullness, resonance, and appears rather dry. The players are neat and able. Hans Michael elicits from them more vivacious playing than does Gustav Lund.
A.P.