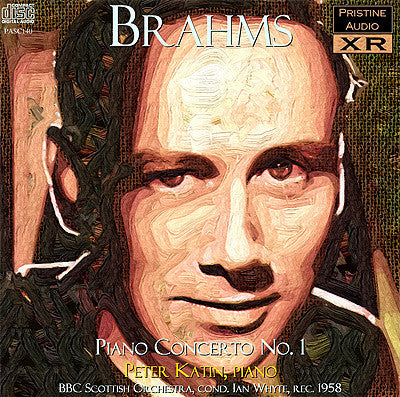 This album is included in the following set
s

:
This set contains the following album
s

:
Producer's Note
Full Track Listing
Cover Art
The only recording of Katin playing a Brahms Concerto
Never previously issued, direct from the pianist's own archive
Prior to the discovery of this live broadcast recording, the only previously published (in any form) recording of Peter Katin performing either concerto by Brahms, was this first concerto for the 1962 film
The L-Shaped Room.
When I asked Peter how this had come about, he replied: "
I made a recording of edited bits of the Brahms (first movement) for The L-shaped Room, but it was nothing like a performance. The film was produced by Bryan Forbes and God knows why he wanted the Brahms as background music!
"
This present recording is therefore a real rarity. As Dr. Katin notes: "I had prepared the Brahms before I met Sir Clifford Curzon in 1949. Five hours of inspiring words opened a door for me and I wanted to relearn everything; well, I certainly took the Brahms apart in time for the Glasgow performance. "Invited audience" really meant that the BBC only paid the artist's studio fee while the audience came in on free tickets. The performances were never repeated and I'm sure that in accordance with a somewhat shaky policy, the tapes were destroyed after about four years - a procedure that deprived us of hearing Lipatti in the Waldstein Sonata!"

Aside from a very short instance of mild tape drop-out in the upper frequencies at one point during the recording, the open-reel tape remains in excellent condition. Studio acoustics were clearly better than some, but not completely ideal. However, XR remastering and Ambient Stereo processing have helped to further bring out the natural detail in this excellent performance by Katin. We are highly grateful to him for offering us this exceptionally rare recording, and recommend it highly to all collectors and music-lovers alike.
BRAHMS Piano Concerto No. 1 in D minor, Op. 15
Peter Katin, piano
BBC Scottish Orchestra
conducted by Ian Whyte

Live broadcast recording from BBC Glasgow Studios, 2nd June, 1958
Tape transfer from Peter Katin's archive collection by Peter Harrison at disk2disc

XR remastering by Andrew Rose at Pristine Audio, January 2009
Cover artwork based on a photograph of Peter Katin

Total duration: 47:32