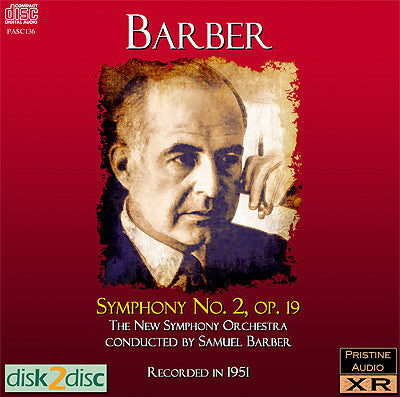 This album is included in the following set
s

:
This set contains the following album
s

:
Producer's Note
Full Track Listing
Cover Art
The composer conducts on a splendid early Decca LP
Sounding wonderful in this test-pressing transfer by Peter Harrison
The transfer for this restoration was made from an original, probably unplayed Decca "Factory Sample" disc and shows dramatically the astonishing recorded sound quality that Decca were able to achieve in the early days of the mono LP. Listening to the result it is hard to believe that this recording is over 57 years old. However the recording isn't without its faults: for example occasional patches of tape flutter and scrape can be heard - but I don't think they materially detract from a remarkable historic document.
BARBER Symphony No. 2

New Symphony Orchestra
conducted by Samuel Barber
Recorded 11 December, 1950, Kingsway Hall, London
Producer: John Culshaw
First issued 1951 by The Decca Record Company Limited on LX 3050

Producer and Audio Restoration Engineer: Peter Harrison
XR Process and Ambient Stereo: Andrew Rose
Cover artwork based on a photograph of Samuel Barber

Total duration: 27:37