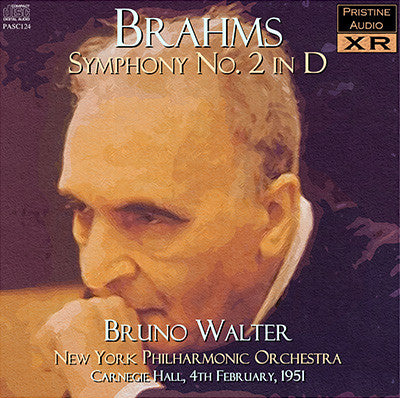 This album is included in the following set
s

:
This set contains the following album
s

:
Producer's Note
Full Track Listing
Cover Art
A real treasure from Bruno Walter's 1951 Brahms cycle period
Live performance beautifully captured on this recording

This recording was rebroadcast by BBC Radio on Christmas Day, 1977 and captured in excellent quality on quarter-inch open reel tape, from which I was able to make a highly effective remastering. Restoration work consisted mainly of removing a number of coughs and extraneous noises present in the original live broadcast.
XR remastering served to further bring out the rich and full sound of the New York Philharmonic, while the addition of Ambient Stereo processing does an excellent job of filling out the acoustical space that is the Carnegie Hall.
Now you've read all of that you can probably forget it! This is one of those wonderful recordings where the music simply takes over and sweeps you away - and there's nothing in the sound quality to come between you and that concert on a February Sunday in 1951.
BRAHMS Symphony No. 2 in D, Op. 73
New York Philharmonic Orchestra
conducted by Bruno Walter
Live broadcast concert at Carnegie Hall, Sunday 4th February 1951
This transfer remastered from a BBC re-broadcast on 25th December 1977.

Transfer and XR remastering by Andrew Rose at Pristine Audio, September 2008
Cover artwork based on a photograph of Bruno Walter

Total duration: 40:01