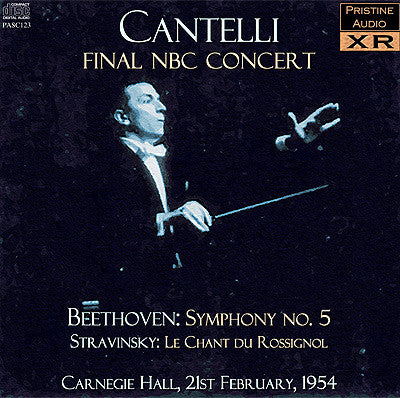 This album is included in the following set
s

:
This set contains the following album
s

:
Producer's Note
Full Track Listing
Cover Art
Cantelli leaves the NBC with a real tour de force
Stunning Beethoven 5th - scintillating Stravinsky
The source material for this recording, a high-quality BBC re-broadcast of the concert some years later, was in excellent shape, well-preserved on high-quality quarter-inch open reel tape. The only problem to be overcome was a somewhat mysterious low-frequency thumping noise, which repeated throughout the Stravinsky and infiltrated the first few minutes of the Beethoven. Fortunately these thumps were easy to remove, if a little tedious as each had to be dealt with individually to ensure no musical content was lost.
The recording responded very well to XR remastering and the use of Ambient Stereo processing really helps to give an impression of the three-dimensional acoustical space of Carnegie Hall.
In the BBC's rebroadcast (date unknown) the two recordings were played in reverse order, with the Beethoven first. We have chosen to revert to the original programme order as performed on 21st February, 1954.
STRAVINSKY Le Chant du Rossignol
BEETHOVEN Symphony No. 5

NBC Symphony Orchestra
conducted by Guido Cantelli
Live broadcast concert at Carnegie Hall, 21st February 1954
This transfer remastered from a later BBC re-broadcast transmission.

Transfer and XR remastering by Andrew Rose at Pristine Audio, September 2008
Cover artwork based on a photograph of Guido Cantelli

Total duration: 52:10