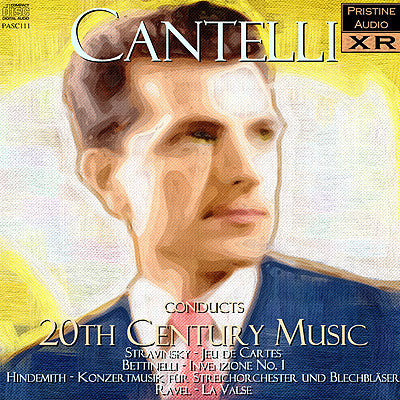 This album is included in the following set
s

:
This set contains the following album
s

:
Producer's Note
Full Track Listing
Cover Art
Four rare and previously unreleased recordings
XR-remastered from live broadcast tapes
These recordings were remastered from tapes in the collection of Keith Bennett, whose new biography of Guido Cantelli is, at the time of writing, imminent.
Asked to comment briefly about the collection of performances and recordings presented here, Mr. Bennett replied thus:

"I'll deal with the composers in alphabetical order:

Bettinelli - this performance of the first of the Due Invenzioni - he [Cantelli] only programmed it twice and the other was in 1946 - has never appeared on CD although it was once on a double LP (LAR 31);

Hindemith - Cantelli performed this on four occasions - three with the Philharmonic-Symphony Orchestra of New York one of which has appeared on CD (no doubt it has long been out of print) but this NBC performance has never appeared on CD;

Ravel - this can be called core repertoire, Cantelli performed it 38 times! The performance of 1949 was the first of three which he gave with the NBCSO but be warned - it's his worst: however, it has never appeared on CD. The 1951 performance is on Music & Arts CD (in a box of 12) and the 1954 performance was in the first (and only) volume of The Cantelli Legacy issued by the defunct Arturo Toscanini Society of America (LPs of course) and is on an AS disc CD long out of print. Incidentally, La Valse was scheduled for commercial recording on three occasions but, alas, it was one of many where Cantelli had a change of mind;

Stravinsky - Cantelli performed this twice with the Orchestra della Scala; once with the NBC SO on 20 December 1952 (which has appeared on CD), but none of the remaining nine performances - all with the Boston Symphony Orchestra - has appeared on CD."

From a technical perspective the recordings all responded well to XR remastering, though the older Ravel recording has considerably less dynamic and frequency range that the other three. Overall they make a very fine collection. I have retained Ben Grauer's final continuity announcement at the very end of the Ravel recording which completes this issue. Elsewhere the recordings are left with brief applause where available, which is quickly faded.
Andrew Rose


Stravinsky - Jeu de Cartes
Boston Symphony Orchestra (Symphony Hall, 31/1/53)

Bettinelli - Invenzione No. 1 (from Due Invenzione)
NBC SO (Carnegie Hall, 20/12/53)

Hindemith - Konzertmusik für Streichorchester und Blechbläser, Op. 50
NBC SO (Carnegie Hall 31/1/54)

Ravel - La Valse
NBC SO (NBC Studio 8H, 5/2/49)

Boston Symphony Orchestra
NBC Symphony Orchestra
conducted by Guido Cantelli

All believed previously unissued on CD. The Bettinelli once appeared on a long out-of-print LP.


Live performances recorded 1949-54 in Boston and New York.
Restoration and XR remastering by Andrew Rose at Pristine Audio, April 2008
Cover artwork based on a photograph of Guido Cantelli

Total duration: 59:45