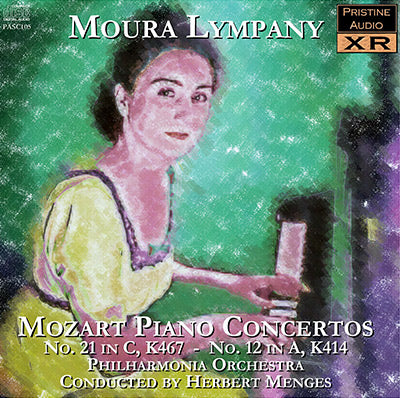 This album is included in the following set
s

:
This set contains the following albums:
Producer's Note
Full Track Listing
Cover Art
This rather wonderful recording is an excellent example of collaborative work between two restoration engineers. The original transfer and clean up was carried out by vinyl wizard Peter Harrison and, before the advent of XR remastering, is more or less what would have been presented here for your delectation.
Actually, it may not have been, as Peter was concerned about distortion in several of the movements and was particularly unsure about its technical suitability, despite being fond of the performance. He sent me the entire 'completed' restoration across the Internet to see what, if anything, XR might bring to it.
My initial thoughts on hearing the recording were that the top end was particularly harsh and unbalanced, and that fixing this might also have a beneficial effect on the aforementioned tendency to sound distorted, where upper harmonics in the piano were being given undue prominence.
My hunch paid off, and the resulting final recording presented here is one that has appeared unusually regularly on the Pristine Audio hi-fi over the last few weeks. It's unusual these days to hear Mozart played with an orchestra of the size deployed here - and what a delight its richness and fullness is to hear! Both concertos are taken with a degree of restraint that Peter refers to as 'gentlemanly', and this brings a charm and warmth to both works which I really do love.
Andrew Rose

MOZART Piano Concerto No. 21 in C, K.467
MOZART Piano Concerto No. 12 in A, K.414
Moura Lympany, piano
Philharmonia Orchestra
conducted by Herbert Menges


Released in 1955 as HMV LP CLP 1038
Transfer and restoration by Peter Harrison at disk2disc, December 2007
XR remastering by Andrew Rose at Pristine Audio, December 2007

Duration 53:35