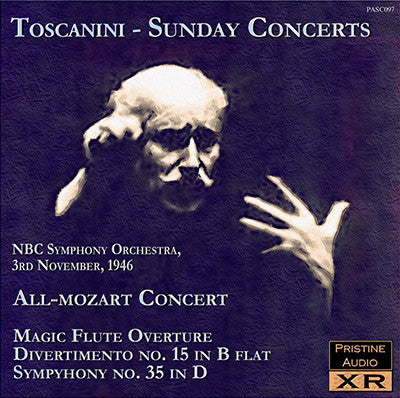 This album is included in the following set
s

:
This set contains the following album
s

:
Producer's Note
Full Track Listing
Cover Art
As with our well-received Symphony of the Air concerts, this recording was taken from a very good open-reel tape source, and required relatively minimal restoration to bring it up to an excellent sound quality. As with the other recordings in this series from Pristine Audio, the programme is presented as broadcast, complete with announcements and introductions by NBC announcer Ben Grauer. In the original recording of this programme there is a short gap during applause for station announcements - I cut the gap out and crossfaded the continuing applause. This is the only edit from this live broadcast. The programme was originally recorded onto disc - bad damage to the disc was audible in the opening announcement and, despite extensive repair work, some evidence of this remains. Fortunately this does not extent to any damage in the musical content, which was preserved immaculately.
MOZART Overture: Die Zauberflöte, K620
MOZART Divertimento No 15 in B flat, K287*
MOZART Symphony No. 35, "Haffner" in D major, K385
*Movement 5 of this 6-movement work is omitted
NBC Symphony Orchestra
conducted by Arturo Toscanini


Transfer and XR remastering by Andrew Rose, September-October 2007
Recorded live at NBC Studio 8H, 3rd November 1946
Total duration: 59:15