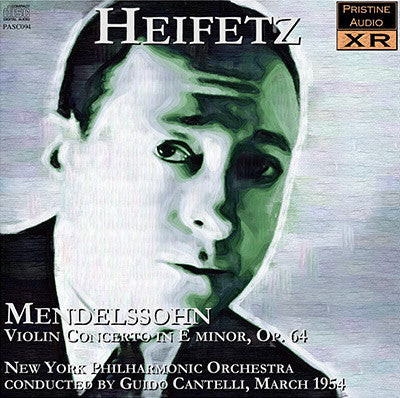 This album is included in the following set
s

:
This set contains the following album
s

:
Producer's Note
Full Track Listing
Cover Art
 This recording was taken from the same excellent collection of tapes which has yielded so many Toscanini recordings recently. Thanks to further refinements to the Pristine Audio XR process I have been able to do without any digital tape hiss reduction whatsoever, despite the original being particularly badly afflicted. The sound is clear, bright and full-bodied, with little to indicate that it might be more than fifty years old beyond it being a mono recording.
MENDELSSOHN Violin Concerto in E minor, Op. 64
Jascha Heifetz, violin
New York Philharmonic Orchestra
conducted by Guido Cantelli

Recorded live at Carnegie Hall, New York, 14th March, 1954
Transfer and XR remastering by Andrew Rose, September 2007


Duration 23:43