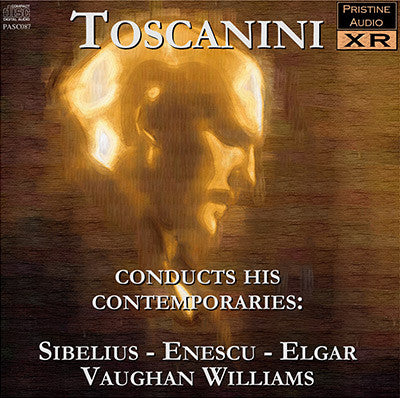 This album is included in the following set
s

:
This set contains the following album
s

:
Producer's Note
Full Track Listing
Cover Art
All four recordings represented here were originally made on broadcast acetate discs, later dubbed to quarter-inch open reel tape. Although there is some variation in quality between the recordings, all were in excellent condition, though in some cases applause had been cut rather short, and overall sound quality is exceptional for this period. I have retained announcements wherever present.
I resisted the temptation to remove more hiss than was necessary, leaving a wonderfully rich, open sound with plenty of top-end extension, most especially in the latter two recordings. Of the four, the Enescu is slightly more restricted in frequency range, something more than made up by the fiery gusto of a truly magnificent performance!
SIBELIUS Symphony No. 4 in A minor, Op. 63
ENESCU Romanian Rhapsody Op. 11, No. 1
ELGAR Introduction and Allegro, Op. 47
VAUGHAN WILLIAMS Fantasy on a Theme by Thomas Tallis
NBC Symphony Orchestra
conducted by Arturo Toscanini

All live broadcasts from NBC Studio 8H, New York:
Sibelius: 27th April, 1940
Enescu: 14th December, 1940
Elgar: 20th April, 1940
Vaughan Williams: 18th November, 1945

Pristine Audio XR remastering by Andrew Rose, August 2007

Total duration: 72:11

Fanfare Review
One of Sibelius's darkest symphonies ... Toscanini gives a feeling of gloom overwhelming the optimism
Now, here is—for all the praise I've given other Toscanini releases—one of the most interesting and indispensable of those that Pristine Classical has issued. For one thing, none of these performances, to my knowledge, has been available on CD before; and for another, they are excellent and interesting readings of unfamiliar Toscanini fare that adds to his legend rather than detracting from it.
My standards in Sibelius's symphonies are generally Thomas Beecham and Karajan, and so it was with considerable interest that I compared this reading of the Fourth to Beecham's, a commercial recording made around the same time by a conductor who Toscanini loathed. The differences, as well as the similarities, are striking. Both conductors take this, one of Sibelius's darkest symphonies, at essentially the same tempos; but Beecham generally presents a reaching for optimism through the gloom, while Toscanini gives a feeling of gloom overwhelming the optimism. This is Toscanini's only recorded performance of this work; it was formerly released by Music & Arts (755), but this transfer has greater clarity and fuller string tone.
The remaining three works are essentially encore pieces, but played with an energy in the first and seriousness of purpose in the latter two that make them quite attractive. The Enescu is based on an old gypsy melody, well known in the Rom community, and Toscanini tears into it for all it's worth. The Elgar, like Toscanini's more celebrated reading of the same composer's "Enigma" Variations, is less stylistically British, perhaps, than many others, yet his transparent textures and ethereal legato in the Introduction do convey a pastoral calm echoed in Mischa Mischakoff's solo violin, and the Allegro has a boisterous rustic character well suited to the music. Also, the way in which Toscanini builds drama is nothing short of amazing. Listeners who recall how he elevated Grofé's tacky Grand Canyon Suite, particularly in "Painted Desert" and "Cloudburst," will certainly recognize the same interpretive genius in this slight but much better work.
Vaughan Williams's Fantasia on a Theme of Thomas Tallis is a very rare example (formerly on Memories HR-4182) of Toscanini playing music that seems on the surface to be entirely outside his ken, a solidly British work with no implied universality, yet he somehow manages to find exactly that. Perhaps predictably, he makes Tallis's theme sound more tragic and less genteel, yet that adds to its stature. Here, particularly, his uncanny sense of balance stacks the strings in a way that endows the music simultaneously with richness and clarity. Listeners who prefer a more leisurely pace will, I'm sure, be disappointed, but those of us who feel the incredible life force of Toscanini's music-making can overlook a lack of British pastoral feeling in lieu of the riches he presents us. The string quartet within the orchestra, beginning at about the seven-minute mark, is especially well played and stunning in its total integration into both the musical context and the fabric of the surrounding (all-string) orchestra. For me, at least, this disc is indispensable; and, at 72 minutes, a surprisingly good bargain from Pristine Classical.

Lynn René Bayley
This article originally appeared in Issue 31:4 (Mar/Apr 2008) of
Fanfare
Magazine.