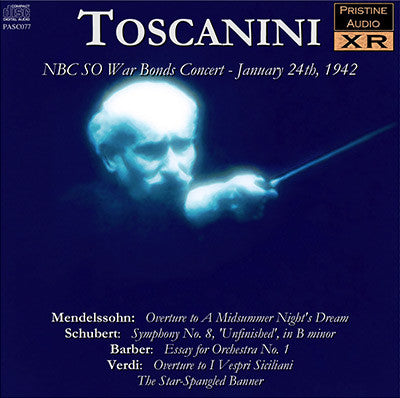 This album is included in the following set
s

:
This set contains the following album
s

:
Producer's Note
Full Track Listing
Cover Art
 Samuel Barber's Essay for Orchestra No. 1
notes by Andrew Rose
Barber's Essay for Orchestra No. 1 is the natural partner to his most famous work, the Adagio for Strings, and both are intrinsically linked to Toscanini. During the summer of 1937, as he began his tenure conducting the NBC Symphony Orchestra, Toscanini asked the orchestra's supervisor, Rodzinski, for suggestions of American works to perform. The suggestion of something by Barber was raised, but rather than play an existing composition, Toscanini decided to ask for a new piece to review.
Thus Barber, still a young composer, excitedly got to work on his Essay for Orchestra, which was submitted alongside the Adagio for Strings. Then for several months nothing appeared to happen, and the scores were returned to the composer without comment. Discouraged, Barber started to seek alternative performances.
During the summer of 1938 Barber had been invited to Toscanini's summer home in Italy, but piqued by his apparent rejection, refused to go, instead sending a friend with news of an illness. This ruse was quickly seen through by Toscanini, who stated that Barber had no need to be angry with him - he was planning to perform both works, and had returned the scores as a courtesy having already memorised both.
Thus the première performance of both works was conducted by Toscanini on 5th November 1938 in an NBC Symphony Orchestra Concert. To the best of my knowledge this release is the only recording of Toscanini conducting the Essay to be issued.
Musically it is perhaps the ideal partner to the Adagio for Strings. Although scored for full orchestra and piano it appears to inhabit the same musical world, certainly at the outset. The piece is essentially in two sections, beginning with a broad, lyrical, brooding Andante sostenuto, which is eventually interrupted by the Allegro molto of the second section, a quasi-scherzo of new material in triple time which builds up to a climax in which themes from the first part are recalled. Finally the piece dies down, first with near-canonical writing in the trumpets, before ending with the violins restating the original theme, which is left hanging in mid-air.
On Toscanini's War Bonds Concerts
An edited discussion from the Yahoo Toscanini group
BB: "The Verdi was issued by RCA originally on LM 6041 (Verdi and Toscanini 2 lp set); the Barber was taken into the studio and recorded in a regular session. The 1941-42 War Bond Concerts (the first was on December 6, 1941 and was a Treasury Bond concert though Pearl Harbor was only hours a away!) were without audience. There were five altogether and served in the end to bring about a rapprochement between Toscanini and NBC.  Stokowski had become the orchestra's Principal Conductor in 1941-42."

AK: "Right. But only the "Adagio for Strings" was given a session recording."

BB: "Re. that particular War Bond concert, the Verdi, as I said, was eventually issued. The Barber was recorded separately. RCA was engaged in doing the complete Mendelssohn MSND  music with Toscanini and the Philadelphia Orchestra; not released as it turned out because of RCA's technical screw ups but still "in prep" in 1942; and RCA did not need to release or record the Schubert Unfinished interpretation at that time because, frankly, they already had a fully serviceable version in their catalogue with Koussevitsky and the Boston Symphony (M-319) plus a black label recording by Walter and the VPO on set G-9."
 *Although this concert has never been commercially released before, the recording of Verdi's Overture to I Vespri Siciliani was issued by RCA. We cannot trace any issue of the other recordings - indeed this appears to be the first release of Barber's Essay for Orchestra as conducted by Toscanini.
MENDELSSOHN Overture to A Midsummer Night's Dream
SCHUBERT Symphony No. 8, 'Unfinished', in B minor
BARBER Essay for Orchestra No. 1
VERDI Overture to I Vespri Siciliani
NBC Symphony Orchestra
conducted by Arturo Toscanini
Broadcast live with no audience, 24th January 1942, Studio 8H
Pristine Audio XR remastering by Andrew Rose, June 2007

Duration 51:09