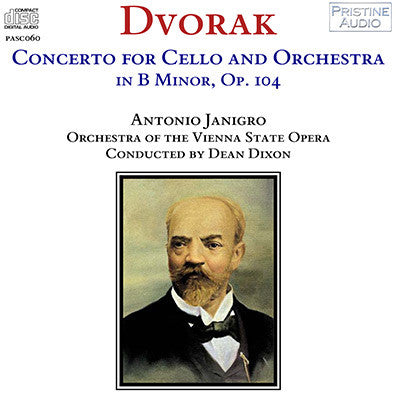 This album is included in the following set
s

:
This set contains the following album
s

:
Producer's Note
Full Track Listing
Cover Art
Dvorak's Cello Concerto is without doubt one of the greatest of them all, with perhaps only Elgar's challenging for supremacy, and in the view of some critics is the composer's finest work, "the crowning achievement of Dvorak's copious and warm-hearted genius" according to 1955's The Record Guide.
Written in the United States through the winter of 1884-5, and then finalised with a revision of the final sixty bars some months later when the composer had returned to Bohemia, there are conflicting stories about the genesis of the Concerto, though both firmly point to American cellists as the source of Dvorak's stimulus. It is likely that the work was originally intended to have an America première, but this came to nothing when the cellist Hanus Wihan, which whom Dvorak had make a successful tour in1891-2, was refused permission to modify the solo part with his own cadenzas.
Thus the première took place in London on 19th March, 1896, with the composer conducting the Philharmonic and Leo Stern as soloist, and it would be a further nine months before the US première took place in Boston.
Until now, this site has represented the recordings of Milan-born cellist Antonio Janigro (1918-89) with his chamber music partnership with Fournier and Badura-Skoda, and with the Brahms Double Concerto, again with Jean Fournier. Here at last we get a chance to hear the great man with the spotlight on him alone - and what a magnificent perfomance this is, brought back to life once again by the magical studio wizardry of Peter Harrison.
DVOŘÁK Concerto for Cello and Orchestra in B minor, Op. 104
Antonio Janigro,
cello
Orchestra of the Vienna State Opera
Conducted by Dean Dixon
Recorded Spring 1953
Issued as Westminster LPs WL5225, XWN18517
Duration 40:30