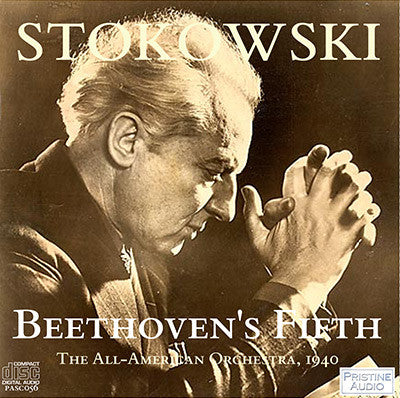 This album is included in the following set
s

:
This set contains the following album
s

:
Producer's Note
Full Track Listing
Cover Art
Beethoven's Fifth Symphony is so enormously well-known that it has almost become a cliché. Is it a victim of its own success? When did you last actually listen to it, either at a concert or on the radio? When did you last choose a recording of it from your own collection?
If your answer is like mine, you might find that Beethoven's Symphony No. 5 in C minor is something of a distant memory! And yet there's no doubt that it is one of the greatest works of musical art ever created. Perhaps it's time to give it a new listen!
This recording was the second of Stokowski's three studio performances issued on disc - he first recorded it nine years earlier, with the Philadelphia Orchestra, and was not to revisit it outside of live performances until his 1969 recording with the London Philharmonic.
The orchestra here, credited as the All-American Orchestra on the original 78s, but more properly named the All-American Youth Orchestra, had an interesting genesis, as described on Peter Gutman's Classical Notes website:
"As recounted in fine CD liner notes by Noah Andre Trudeau, the All American Youth Orchestra "was a concept born of great ideals and personal pique." Stokowski sought to combat Nazi propaganda touting the wonders of Hitler youth with an artistic statement from young emissaries of the free world. But his goal was not entirely selfless, as he seized the opportunity to vent his frustration with RCA, his record company, which had refused to sponsor a Stokowski tour but then launched one with Toscanini, its other star conductor. While his Philadelphia Orchestra remained under exclusive contract to RCA, Stokowski would face no such constraints with an entirely new ensemble. And so he created one, arranged a contract with rival Columbia and then proceeded to cut with his new orchestra many of the works that RCA had wanted him to record.
Announcements for the 1940 troupe generated 15,000 applicants. The finalists were selected through five rounds of local, state, regional and national auditions. The members represented all 48 states and included many women, a rarity in orchestras at the time. Intensive, concentrated rehearsals were followed by tours of the US and South America."
The orchestra served as Stokowski's personal baby - with a group of musicians unsullied by professional prejudice or habit and keen to learn from and follow their master, Stokowski could do more or less what he liked in his interpretations. Here, surely, is the most primal example of Stokowski's vision for this work, which he manages somehow to approach with a freshness that its familiarity normally prevents.
Together Stokowksi and the AAYO recorded a number of repertoire 'standards', and in each, the conductor brings a real individuality to the performance, to great effect - as Gutman remarks, "his highly individual, flamboyant AAYO readings of these well-worn scores are his very best, to which the AAYO musicians add an extra measure of excitement by playing their hearts out."
BEETHOVEN Symphony No. 5 in C minor, Op. 67

The All-American Orchestra
Conducted by Leopold Stokowski
Recorded 14th November, 1940
Released as US Columbia Masterworks Set M-451
Disc Catalogue Numbers 11548-D - 11552-D
Matrix numbers XCO 30094-300192

Duration 30'29"