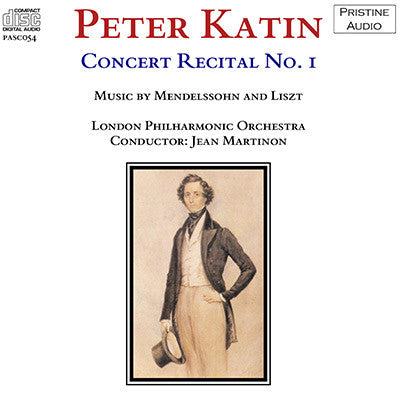 This album is included in the following set
s

:
This set contains the following album
s

:
Producer's Note
Full Track Listing
Cover Art
Peter Katin's prodigious talent showed itself in his debut recital at London's Wigmore Hall, when he was just 18. Four years later he made his appearance at the Henry Wood Promenade Concerts; the following year, 1953, found him at Decca's studios making his first recordings.

To choose an all-Liszt recital was perhaps not too surprising- but to choose less familiar pieces throughout, as he did, was. At the time the disc was released, none of these pieces was available on LP in the UK. And a problem arose: the programme that had been selected was not within the capabilities of the cutting room! Side 1 would not fit! Thus it was that the 12-inch LP LXT 2977 omitted the first of the two Polonaises that had been recorded; and a second, 10-inch disc LW 5116 was released that contained just the two Polonaises. To have the complete recital one thus needed to buy both records - and would end up with two copies of the second Polonaise! Our restoration unites the recital as (we believe) it was originally intended. (Some years later Peter Katin re-recorded the same recital in stereo with the 'full' programme - disc cutting having progressed to allow longer side lengths - but our release is, please note, taken exclusively from the earlier mono recordings.)

A second release was to follow on the heels of the first: this time with Katin as soloist in an orchestral concert with the LPO and Martinon. A major Liszt piece - the Totentanz is its centrepiece, however Mendelssohn makes an equally important appearance with his Capriccio Brillant and Rondo Brillant showcases. And a second recital the same year: again an all-Liszt programme was selected but this time we get some 'pops', including three of the most popular of the Hungarian Rhapsodies. They received rave reviews.

Our restorations were sourced from original pressings of the Decca LPs in the possession of a personal friend of Mr Katin's (one of the sleeves is autographed). We were very fortunate to have at least two copies of each release available to us and so could pick and choose for the best quality. Thanks, Robert and Don!
Peter Harrison
MENDELSSOHN Capriccio Brillant in B Minor, Op. 22
MENDELSSOHN Rondo Brillant in E Flat Major, Op. 29
LISZT Totentanz, S126
Peter Katin,
piano
London Philharmonic Orchestra
Conductor: Jean Martinon
Recorded 9-10 February, 1954
Kingsway Hall, London

Producer: James Walker
Enginerr: Kenneth Wilkinson

Released in 1954 on Decca LP LXT 2932
Matrix nos. ARL 2043/ ARL 2044
Total duration: 37:20

Bill Rosen's Review
A frightening realization of Liszt's demonic vision
Review notes: PETER KATIN RECITAL SERIES
Franz Liszt is a problematic composer. Probably the greatest musician of the 19th century for his own transcendental technique, his influence on other composers, his voluminous and selfless transcriptions of other composers' music, and his advocacy of Wagner, Berlioz, Grieg and countless others, his own ouevre is exceedingly large and varies wildly in quality. But even in the least of his works Liszt imparts a romantic afflatus that combines sentiment, virtuosity and an often pale but distinct lyricism. Because Lizst possesses such virtuosity, many performers (even Horowitz and Richter) stress the pianism to the detriment of the music, which can sound superficial and fustian. The musical virtuosity must be mastered, then subordinated to convey the larger musical idea.
Peter Katin, an English pianist, known to me in a limited fashion for his performances of Mendelssohn and Rachmaninoff, understands the way Liszt should be played and has the virtuosity to do it. He has not had a brilliant international career, but over and over again in the three volumes below, I was impressed by his tremendous musicianship and also by his virtuosity when needed. Most of all, he seems to be able to subordinate his virtuosity to capture and convey the elusive Liszt romantic ethos.
Liszt Recital #1: "Dante Sonata", 2 Polonaises, 6 Consolations (1954)
An excellent example of Katin's ability is his playing of the "Dante" Sonata. All those octaves, trills and bass rumblings are made to mean something beautiful and coherent. There is no triple fortissimo banging. The first Polonaise is much grimmer and leaner than Chopin , a very sad piece of music. Katin conveys a spare bitterness that I have never heard before. In the happier Polonaise #2, hear Katin's runs toward the end of the piece as an example of Liszt playing at its best. The six Consolations, which I have mostly considered as rather faded sentimentality, are played with a tenderness and subtlety. In particular, the third Consolation in D Flat Major now strikes me as great music.

Liszt Recital #2: 3 Liebestraume, Rigoletto Paraphrase, Hungarian Rhapsodies #2,6,15 (1954)
Even Peter Katin cannot quite rescue the first two Liebestraume from the trunk in the attic, but his playing of number three is lovely, transforming its slightly saccharine quality to lyricism. The Rigoletto Paraphrase is gay and delightful. The supreme warhorse, the Hungarian Rhapsody #2, is played so differently and so magnificently that it almost defies description. The textures in the "Lassu" portion are very lean and rapid. There is no grand, rhetorical lingering over each phrase. The 'Friss" has an astounding drive that banishes all thoughts of the circus. It must be heard. The Rhapsody #15, the Racoczy March from Berlioz "Damnation of Faust", is again very tight but exciting.
Peter Katin - First Concert: Mendelssohn: Capriccio Brilliant, Rondo Brilliant; Lizst: Totentanz (LPO, Martinon) (1954)
No better example of the difference between early and middle 19th century romanticism and Katin's versatility could be provided. The Mendelssohn are gentle, musing, elfin works. Katin plays them like a puff of breeze and they retain their charms very well. The Totentanz is a vision of Hell. The Katin opening octaves do not pound; they rattle hollowly in the spare frame provided by the orchestra. There is occasional lyricism, but the emphasis is on the dry skeletal bones scattered around some lunar landscape bereft of love, life and hope. A frightening realization of Liszt's demonic vision.

The sound is very detailed and clear, a great improvement over the original Decca LPs.