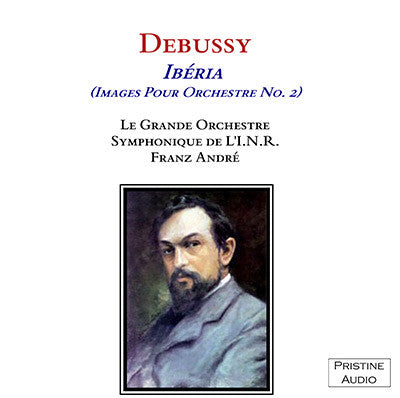 This album is included in the following set
s

:
This set contains the following album
s

:
Producer's Note
Full Track Listing
Cover Art
Debussy began the 3 orchestral Images (called Images pour Orchestre to differentiate them from the earlier piano compositions of the same name) in 1906 and completed them in 1912. By then he'd effectively founded Modern Music and much of his most important, or at least most famous work was behind him.
In works like the orchestral Images we see the result of Debussy's constant refining of his technique and style, and of the three is the second which is most often heard and most popular.
Ibéria, the ancient Roman name for the Spanish penunsular, is set in three parts, with the opening By the roads and by the paths using a number of short Spanish tunes. One suggestion for this movement is a juxtaposition of the contrasting streets of the towns and the rural lanes of the countryside - there certainly is plenty going on!
The second movement, The perfumes of the night, can be read a highly impressionistic and abstract evocation of the night air of Spain. The movement ends as the dawn begins and we move into The morning of a festival, which depicts with mounting emotion and excitement the preparations and enjoyment of a fiesta. As I write this our southern French village is itself preparing for a jour de fête and this music seems entirely appropriate!
This new restoration was carried out by Andrew Rose at Pristine Audio from an original Telefunken LP, pressed in the UK by Decca.
DEBUSSY Ibéria (Images pour Orchestre, No. 2)
Le Grand Orchestre Symphonique de L'I.N.R.,
Conductor: Franz André
Recorded 20 November, 1950
Palais des Beaux-Arts, Brussels
Released on Telefunken LP LGX 66001

Bill Rosen's Review
It is a worthy successor to that greatest of all French symphonies
Why do Frenchmen write such wonderful Spanish music? I think of Debussy's Ibéria as well as his "Soiree dans Granade", "Le Serenade Interompue", "La Puerta del Vino"; Ravel's "Rhapsodie Espagnole", "Alborada del Gracioso" and "Habanera"; Faure's enchanting end to the "Dolly" suite; Chabrier's "Espana"; Roussel's "Guitarre" and sundry other efforts. I don't wish to ignore efforts by Rimsky, Wienawski, Mozkowski and all the other sunshine-seeking Slavs. But it seems that the French really have their hearts in it and I believe the reason is that the Spain of their imagination (don't bother to visit the real place!) is a realm where the French demand for restraint and reason is much loosened and they can free their more primitive side: their sensuality and anger and joy. And believe me, everybody, this is the Spain that Franz André springs on us in the recording under review.

I actually wondered why I should bother listening to this recording. Franz André was a shadowy figure from my early 20's conducting the (to me) obscure Belgian Radio Orchestra. I remember the early Telefunken LPs as being clunky and dim and selling in 1951 at the outrageous price of $5.98. Having now heard the performance four times, I can only say that the opening fortissimo chord raises my blood pressure and knotty, sunbaked, hieratic Spain of my imagination begins to unfold. This is not the one-week tour from Gatwick or Frankfurt to Alicante where lobster-colored English and German tourists get whisked to their cabanas. Franz Andre makes me think in the first movement of the Spain of Don Quijote setting out and of the Falangist Guardia Civil beating up leftists. In the second movement, there is little languor, but constant restlessness - don't Spaniards sleep? In the last movement, the Id reigns with incredibly forceful large guitar-type chords and screaming clarinets in alt and I see religious processions and penitents and maybe even an auto de fe or two. As André plays this work, it is not an orchestra showpiece or the weaker and more dissonant sister to La Mer. It is a worthy successor to that greatest of all French symphonies.

This restoration of Ibéria springs from my speakers with almost no apology for its source material. I do not know how this was accomplished; it is very difficult for me to believe that this tiger lay for 50 years inside an elderly Decca or a Telefunken cage. In the first movement, there is no blending of colors; the harshness of dissonances intended by Debussy comes through. In the second movement, the lack of sonic murk actually makes the night seem less languorous. In the finale, the guitarish chords and pizzicatti are incredibly thrilling sonically and the ending is very exciting. There is a hint of glare in string fortissimos, but just a hint. Even audiophiles will be surprised by this finale.

A final note: as much as I congratulate the audio restorer on unleashing this tiger, I congratulate him even more on knowing that this tiger of a performance existed.