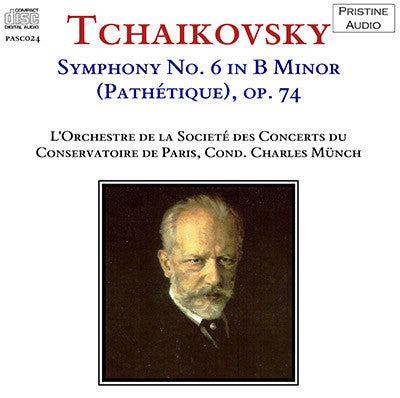 This album is included in the following set
s

:
This set contains the following album
s

:
Producer's Note
Full Track Listing
Cover Art
"The Pathetique is the one symphonic work in which Tchaikovsky solved his own formal problem on a really large scale. Success in performance of this very neurasthenic music depends on the extent to which the conductor suppresses the natural temptation to over-dramatise it. Rational tempi, an iron control of rhythm (especially in the third movement), and a certain broadness in the treatment of the themes, are minimum requirements without which the symphony falls to bits."
So wrote the authors of the 1951 Record Guide. Never ones to be held back in their opinions by mundane consistency, just one year later they criticised this recording, as follows: "We are not too enthusiastic about Munch's reading of this symphony, for he does his best to tone down the hysteria which is fundamental to the music." Well in our opinion, somewhat less hysteria is to be welcomed compared with some performances we could name; and here we certainly have a well controlled reading with a very pronounced 'French' orchestral tonality both of which to our taste suit the work better than teutonic Sturm und Drang and wild-haired conducting.
Our transfer is from a test pressing made by Decca for their US 'London' label and the matrix number shows it to be one of Decca's early ffrr recordings - almost the earliest one we have seen. Made in Paris in May, 1948, it was first issued on twelve 78rpm sides, then in 1950 transcribed from the masters and issued on LP in early 1951. This put it alongside newer recordings exploiting the rapid advances in recording technology that had been made in the interim, particularly the greater tonal and dynamic range of magnetic tape, and it is perhaps for this reason that it was somewhat neglected.
Clearly there remained some unusual tonal qualities on the LP disc. Fortunately for the twenty-first century listener we have digital wizardry to allow us to coax further musical greatness from the grooves of this recording. We feel sure that the authors of The Record Guide would have been highly appreciative!
Andrew Rose & Peter Harrison
TCHAIKOVSKY Symphony No. 6 in B minor (Pathétique), Op. 74
L'Orchestre de la Societé des Concerts du Conservatoire de Paris
Conducted by Charles Münch

Recorded 24-27 May 1948.
Originally released as six ffrr 78rpm discs, Decca K 1968-1973.
This remastering from Decca LP LXT 2544 (in its US 'London' incarnation, LLP275), first issued in the UK in 1952 and transcribed from the 78rpm masters by Decca.

Duration 45'44"