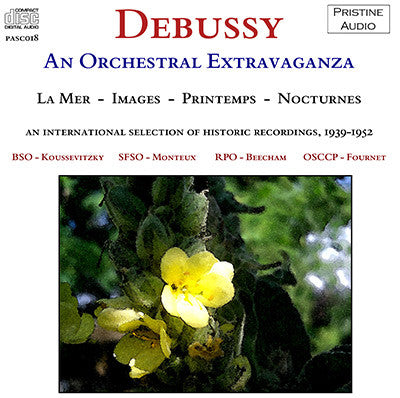 This album is included in the following set
s

:
This set contains the following album
s

:
Producer's Note
Full Track Listing
Cover Art
This collection is something of a departure for us - for the first time we've brought together a selection of recordings made by different orchestras and conductors over a 13-year period. We've also put remasterings from shellac and vinyl side-by-side, and the whole thing has been an artistic collaboration between Andrew Rose at Pristine Audio, working on the 78rpm recordings, and Peter Harrison at disk2disc, who remastered the vinyl Nocturnes recording.
As you can see from the track listing notes above, three of these recordings was given top ratings by contemporary reviewers. Likewise, our recording of La Mer was also considered the definitive edition of its day. Musically the collection spans almost the full breadth of Debussy's orchestral musical development, from the youthful Printemps through to the mature splendour of the Images. This latter recording also compliments our issue of Ibèria, the long second Image in three movements, issued as PASC008.
All in all this adds up to an extended musical treat - truly an International Extravaganza!
DEBUSSY La Mer (1903-05)
Boston SO
Conductor: Serge Koussevitzky
(from HMV DB3923-3925, recorded 1939)


DEBUSSY Images I & III (1906-12)
San Francisco SO
Conductor: Pierre Monteux
(from HMV DB6182-6183, recorded 1942, double-starred in The Record Guide, 1952)


DEBUSSY Printemps - Symphonic Suite (1887)
Royal Philharmonic Orchestra
Conductor: Sir Thomas Beecham
(from HMV DB6549-6550, recorded 1946, double-starred in The Record Guide, 1952)


DEBUSSY Nocturnes (1893-99)
L'Orchestre de la Société des Concerts du Conservatoire de Paris
Conductor: Jean Fournet
(from Philips A 00.160L, recorded 1952, winner Grand Prix de l'Académie de Disque, 1953)

Total duration: 77'37

Bill Rosen's Review
I have never heard Monteux so unbuttoned before. Score a bullseye!
I've known for more than a half century that Debussy was a great composer. This release reminded me why he was a great 20th century composer, a forerunner of Bartok and Stravinsky. Debussy had a deep, almost mystical relationship with nature - the sea, the sky, the water, the snow, the rocks, the land. He was comfortable with the primitive. Most of all, he viewed everything and himself with an objective eye, without sentimentality. Oddly enough, the three significant performances in this seeming lollipop of a release further this view of Debussy.

La Mer (Boston Symphony, Koussevitzky) (1938).
One of the greatest of all performances of this supreme masterpiece. Unexpectedly tough, masculine and austere. There is no lovely mist; this is not a tropical ocean. The oceanic movement begins and does not stop until three-quarters into the first movement after the cello divisi theme when there is a pause with a bit of melodic tenderness and then the constant oceanic motion resumes. There is no lingering over details in the second movement, but there is a lightening of texture and (as Eric Satie said) there are some nice parts around "quarter to eleven". But there is the constant awareness of the unceasing movement of the sea, the fact that the sea is always the same and never the same. The end of the second movement comes more quickly that I had expected. The third movement begins with overhanging gray menace which leads to a storm which finally clears up and yields the first real calm and warmth in the performance: the magnificent high string harmonics over the yearning theme in the woodwinds representing humanity at last. But the storm returns more ferocious than ever and ends this greatest of French tone poems. Koussevitzky belongs with Toscanini and Boulez in taking a tough, objective view of La Mer.

Images #1 (Gigues Triste) and #3 (Rondes de Printemps) (San Francisco Symphony Orchestra, Monteux) (1942).
I don't know if it's Monteux's conducting or it's hearing the two images divorced from their more famous #2 (Iberia), but I was simply bowled over. I never knew they were such wonderful works! The oboe in the Gigue Triste sounded so plangent, so antic that I could believe I was in 13th century England. The words I wrote down for Image #3 were joyous, primitive, irrepressible, pileup of energy and joy. I have never heard Monteux so unbuttoned before. Score a bullseye!

Printemps (Royal Philharmonic, Beecham). (1946)
I don't care for this early, derivative Debussy work, mostly warmed over Massenet. I don't even like fresh Massenet. Sir Thomas is always at his most inspired playing second and third-rate music, so he does well here.

Images (Paris Conservatory Orchestra, Fournet) (1952).
While not quite on the level of Koussevitzky or Monteux, this is a very good performance by Jean Fournet. Again, Nuages and Fetes are rather clear-eyed and a bit austere, quite devoid of mist. I could have done with a bit more excitement in Fetes at the climax of the march. Sirenes, however, is extremely good. Those ladies are very voluptuous and close and tying one down to the mast might not have been sufficient.

My stock of adjectives to praise the sound on Pristine Audio releases is exhausted. May I only say that if Serge Koussevitzky could briefly appear to hear his La Mer on my speakers, both he and I might drop a tear or two.