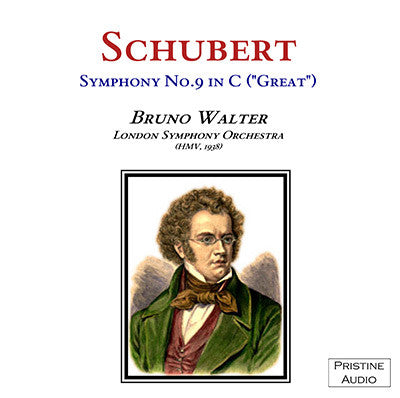 This album is included in the following set
s

:
This set contains the following album
s

:
Producer's Note
Full Track Listing
Cover Art
Schubert's mammoth 9th Symphony is great not only in length but also in substance. As Bill Rosen writes below, "it is difficult to conceive his creating a work surpassing either this Symphony No. 9 or the Quintet in C".
Here we bring you a new remastering from excellent 1938 HMV discs that bring together both a great orchestra and one of the greatest conductors of all time in what is, in some sections, an individualistic take on this work that seems bound to provoke a strong reaction.
SCHUBERT Symphony No. 9 in C ("Great") D.944
London Symphony Orchestra
Conductor: Bruno Walter
Recorded 11th-12th September, 1938
Originally issued as 6 HMV 78rpm discs, catalogue numbers DB3607-DB3612
Matrix numbers: 2EA6754-II, 2EA6755-IA, 2EA6756-II, 2EA6757-II, 2EA6758-II, 2EA6759-IA, 2EA6760-IA, 2EA6761-II, 2EA6762-II, 2EA6763-I2EA6764-1A, 2EA6765-I

Duration 45'56"
Bill Rosen's Review
Schubert died at 31, the youngest age of any of the great composers. Although one can only imagine what he might have created had he been granted the lifespan of Beethoven (57) or Bach (65), it is difficult to conceive his creating a work surpassing either this Symphony #9 or the Quintet in C. Four perfectly balanced movements, the symphony is a miraculous fusion of classical form and Schubertian lyricism. Often criticized for his finales, in the final movement, Schubert produces a finale of Olympic power and beauty. There have been criticisms of the symphony's "heavenly length". A most unlikely defender, Igor Stravinsky, has said, "I may nod occasionally, but when I awake, I am always in heaven."

Bruno Walter has recorded the Schubert 9th five times: (1) LSO, 1938; (2) NBC Sym, 1940; (3) New York Phil, 1946; (4) Stockholm, 1950; (5) Col Sym, 1959. I have heard all but (2) and believe that the one under review and the New York Philharmonic are the best, although all I've heard are worthy of the masterpiece. It has been suggested that in reviewing this recording I also compare it with a modern conventional recording and a modern original instruments recording. I've chosen Karl Bohm's 1963 recording with the Berlin Philharmonic as the conventional recording and Roger Norrington's recording with the London Classical Players as the original instruments recording.

1st movement: Nobody plays the opening horn call with the romantic mystery I want. Walter comes closest. His whole approach is moderate and more classical than I expected. Good excitement leading to exposition and the dynamic second theme. Very pointed and fast recapitulation leading to light coda. Magnificent, fiery ending. Bohm is far more Romantic, slower, heaver-all the way. Finds fantasy and inner voices, but an awful lot of big brass and fortes. Prefer Walter. Norrington's prelude is an aesthetic abomination: fast, expressionless, robotic. I want to stop and give the CD to my garbageman, but duty calls. The first movement improves but is absurdly fast and expressionless and we have to suffer the repeat of the exposition! The recap and coda begin to sound a little better - I am getting brainwashed.

2nd movement: Walter: taut, reined-in, but extremely beautiful. Does not make the huge Furtwangler luftpause at the 2-note climax. Bohm: Very powerful and dramatic. Neck and neck with Walter. Norrington is martial rather than lyrical, not overly fast. It sounds like a review march for Empress Maria Theresa's private regiment.

3rd movement: Walter very rhythmically strong first part. The trio is heartbreakingly lilting, but no sentimentality or slowing down. Bohm's scherzo is slow, heavy and pointed, a trifle elephantine, but still very musical. Norrington's scherzo is excellent-light, good speed, well-sprung until we come to the trio which is fast and expressionless - where did this man study music? And of course the endless repeats.

4th movement: Walter's finest movement: Light, fast, an utterly brilliant playing of the moto perpetuo second subject, shattering power in the coda. Bohm not at his best: too much legato, heavy accents, brass and more brass. Norrington: repeats, but why? Deadpan, souless phrasing, robotic interpretation. One longs for the end.

Walter is clearly superior to Bohm by virtue of his classicism and his lyricism. The reproduction is utterly splendid. As for Norrington, I don't think I dare put it in my garbage. I have to find a special waste dump for aesthetically toxic material.