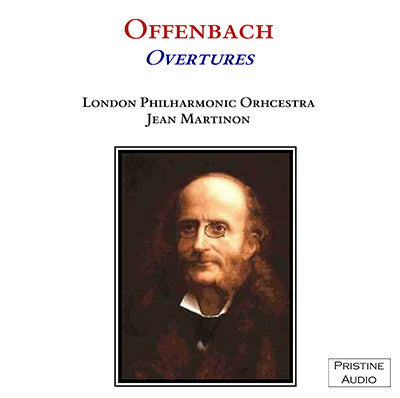 This album is included in the following set
s

:
This set contains the following album
s

:
Producer's Note
Full Track Listing
Cover Art
These five overtures, masterfully conducted by Jean Martinon (left), capture perfectly and vividly the wit, melodiousness and joie de vivre that typifies the music of Offenbach. In 25 years he wrote ninety opéras bouffes which epitomised the pleasure-loving Second Empire of France.
This recording was exceptionally well received on its release, gaining a coveted double-starred review in The Record Guide and the following note:
"However apprehensive one may feel at the thought of a record containing five overtures, and however disinclined to play them all on end, it must be admitted that makes [this record] a delightful collection: the French conductor has drawn from his English players a surprising zest and elegance, the recording is a admirable, and the music unfailingly spirited and inventive."
Yet again Peter Harrison of disk2disc has provided an excellent trancription and restoration of this fabulous early Decca vinyl LP. 
OFFENBACH Barbe-bleue - Overture
OFFENBACH La belle Hélène - Overture
OFFENBACH Le mariage aux lanternes (The Betrothal at the Lantern) - Overture
OFFENBACH Orphée aux enfers - Overture
OFFENBACH La grande-duchesse de Gérolstein - Overture
London Philharmonic Orchestra,
Conductor: Jean Martinon
Recorded 13-14 February 1951, Kingsway Hall, London
Issued as Decca LL350 & LXT2590

Transfer and remastering by Peter Harrison

Duration: 32:04

Bill Rosen's Review
He does not play them as just lollipops, but digs for the gold
Jacques Offenbach is not a favorite composer of mine. I cannot deny his incredible industry, his musicianship, nor his unending fount of melody and rhythm. Still, I find that he cannot hold a candle to Johann Strauss, Jr. or even to Franz von Suppe as a writer of 19th century operettas. On the other hand, as one of the most magnificent late blooming miracles in music, his final work, "The Tales of Hoffman", is a great 19th century opera which I love. As for the overtures offered, they are all quite enjoyable, but Maurice Rosenthal has picked all the best melodies and put them into "Gaite Parisienne". It is very good to get to hear "Le Mariage aux Lanternes".

Martinon conducts splendid and poetic performances of the overtures. He does not play them as just lollipops, but digs for the gold. Listen to the famous "can-can" when it comes--it actually seems to grow out of the earlier part of the overture rather than just be a raucous paste-on. Listen to how Martinon highlights the cello melodies; Offenbach wrote concert music for two cellos. If there is any criticism of Martinon's playing, it is that perhaps occasionally he goes for the gold when there is only silver there; he's a bit too much of a gentleman, sometimes. But we prize that in a Frenchman.

No little carpings on the remastering. At first I thought it was early stereo and then remembered that the source material had to be at least 50 years old. It never occured to me that this sound was from 1951; it seemed so well-matched to the music. The sound is not unlike the performance, rather poetic and a bit unspectacular. Rather gentlemanly, in fact.