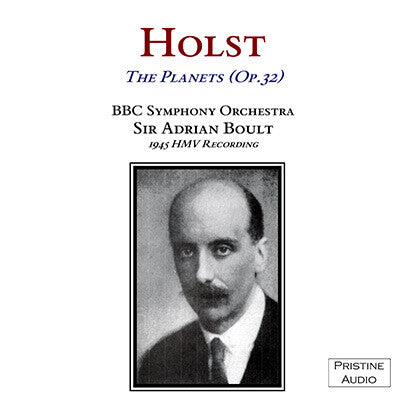 This album is included in the following set
s

:
This set contains the following album
s

:
Producer's Note
Full Track Listing
Cover Art
Sir Adrian Boult was at the centre of British musical life for many years, and it was as conductor of the BBC Symphony Orchestra that he first achieved international fame. However, way back in 1919, at the composer's request, it was Boult who conducted the first performance of parts of Holst's suite, The Planets, a work which was destined to become the composer's most well known piece and bring him, too, international fame and recognition.
Boult was also a powerful advocate for British music, conducting many performances and recordings of works by both well-known and lesser-known composers, and thus was in the perfect position to deliver definitive recordings of the great works of the British repertoire - one only has to listen to his 1949 delivery of Elgar's first symphony (PASC003) on this site to appreciate his talents. A quick listen to our new restoration will reveal what a gem has been uncovered from this wartime recording, especially now we've filtered out background sounds in the last few sides - which resembled the distant rumble of heavy aircraft flying overhead! 
HOLST The Planets Suite

Recorded in the Corn Exchange, Bedford, 2nd-5th Jan 1945.,
Released as HMV D.B.6227-D.B.6233 & D.B.S.6229
Download ID: 98176/432792

Duration 46:45

BBC Symphony Orchestra,
Conductor: Sir Adrian Boult

Bill Rosen's Review
They have something that Bernstein and Karajan don't
The immense popularity of Gustav Holst's "The Planets" as an audiophile showpiece has blinded us to the fact that it is a great piece of music. It has the melody, the orchestration, the drive, and the variety that none of his other works--not the English sunday school flavors of the "Choral Symphony" or "Choral Fantasy" nor the pub folksy joys of the band suites nor the hermetic eastern mysticisms of "Savitri" or the "Rig Veda Hymns"--possess. These two recording, both taken down closer in time to the work's composition than I am to their recording, re-affirm for me the Planet's magic in a way that modern recordings do not. Why that is, I do not know. I do know that the audio restorations have afforded me great pleasure and brought a tear to my eye more than once. The two recording are very different and I will compare them movement by movement:

MARS: Boult's Mars starts out with very detailed, detache strings and reserved brass and works up to a great crescendo; the effect is very menacing. Sargent starts out with fairly strong brass, with strings more in the background; the effect is warlike, but not as menacing as Boult. Sargent has the better sound throughout, but Boult through his tightness seems to bring greater intensity. In the rushing quavers leading to the hammer-blows at the end, Boult projects a crushing sense of tragic inevitability while Sargent gives us a lot of excitement. Even with poorer sound Boult wins, but not by as much as I'd have imagined.

VENUS: Sargent was supposed to have a way with the fairer sex and so he certainly does here. Even allowing for his finer sound, Sargent's Venus is far superior to Boult's. His langorous oboe and flute, the sensuous strings, the tempi are so gorgeous as to make Boult's Venus someone sitting at the phone waiting for a call from her teen-aged boyfriend.

MERCURY: Sargent's Mercury is brilliant in the percussion area, but a little heavywight in the strings. Tempi are slow. Boult's version is lean, very fast, somehow more forward moving and just more (dare we say) mercurial?

JUPITER: Both Boult and Sargent play Jupiter magnificently; neither sentimentalize nor slow up at the great Elgarish tune; both are lean and fast. It is left to later foreign conductors to inject avoirdupois into this piece. Sargent's finer sound causes me to prefer his version. Neither version can capture the magnificent subterranean billowing strings upwelling near the end; that required future technology.

SATURN: Saturn can bring anti-climax as well as old age. Neither is brought by Sargent. He gives the greatest performance in either set of "The Planets" to Saturn. It is hard to describe as it brought a tear to my eye: the power and inevitability of the opening chords, the anguish and the warmth and serenity of the closing I've never experienced before. Boult in his grimness and austerity is swept away.

URANUS: Here Boult is brilliant. The central, mocking march is made to be so arrogant and cocksure that one must chuckle. Sargent cannot summon the same degree of cheek.

NEPTUNE: I fear that Sargent doesn't understand this music; neither do I. But Boult does and he makes me appreciate it. It's not just a salad of sonorities; it really conveys an otherworldly feeling under Boult's baton.

Well, in summary, it's almost impossible to choose between the two, which is surprising given Boult's and Sargent's contemporary reputations. Sargent has, in the Pristine Audio remastering, by far the best sound. Boult wins, by a slight margin, musically. Sargent gives the single greatest performance ("Saturn"). I intend to get them both. They have something that Bernstein and Karajan don't.