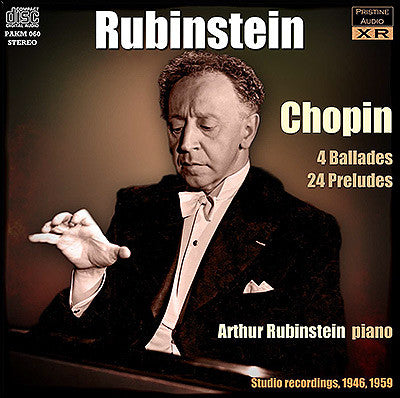 This album is included in the following set
s

:
This set contains the following album
s

:
Producer's Note
Full Track Listing
Cover Art
Rubinstein's finest Chopin recordings in amazing 32-bit XR sound quality
"This masterly performance is the best we have had so far of Chopin's great work" - The Gramophone
Rubinstein's 1959 stereo recording of the Chopin Ballades was well made for its time - this XR remastering adds some extra flesh to the bones of a recording which occasionally lacks body, without substantially altering the tone. Following this with the 1946 recording of the Preludes involved a lot of work in curing pitch flutter, dealing with surface noise, and making major improvements to piano tone. In most of the preludes this is highly successful, with clean, clear tone and a very believeable instrument, capturing brilliantly the superb nuances of Rubinstein's playing. Some sides proved more tricky, however, with variable surface noise and an occasional tendency to peak distortion in the higher registers.
This is of course Rubinstein's only complete studio recording of the Preludes, and is widely regarded as one of the finest recorded performances by one of Chopin's finest exponents. This new XR remastering strips a good few years off its age, bringing us closer than ever to those amazing performances.
Andrew Rose

CHOPIN 4 Ballades


No. 1 in G minor, Op. 23

No. 2 in F major, Op. 38

No. 3 in A flat major, Op. 47

No. 4 in F minor, Op. 52




Recorded 28/29 April 1959,




Manhattan Center, New York City




Issued as RCA LP LSC-2370


A stereo recording



CHOPIN 24 Preludes, Op. 28
Recorded 11, 18 & 25 June 1946
RCA Studio 2, New York City
First issued as RCA 78s 12-0564-67
in set M-1260,
Matrix Nos. D6-RC 5947-54
Presented in Ambient Stereo

Arthur Rubinstein

piano



MusicWeb International Review
They sound almost as if they could have been recorded yesterday, and are a truly wonderful record of this very great pianist's work
This is a very special CD; important to remember, though, that we have two completely different 'animals' here. The recording of the Preludes goes back to the early post-war days, and the sound quality reflects that era. On the other hand, the Ballades hail from 1959, by which time studio techniques had advanced hugely. That said, Rubinstein's Preludes were for many years widely regarded as the version by which all other recordings were judged.
 
The four Ballades, though - and I have always felt them to be the highest examples of Chopin's art - need no such perspective. In Andrew Rose's re-mastering, they sound almost as if they could have been recorded yesterday, and are a truly wonderful record of this very great pianist's work.
 
What is it that makes Rubinstein's Chopin so exceptional? That is almost the title of a doctorate thesis; yet in some ways, the answer is quite simple. For he is able to encompass and deliver the extremes of Chopin's expressive character: on the one hand the feminine sensitivity, on the other, the masculine assertiveness and muscularity. Listen to the G minor Ballade (track 1); when that glorious second theme first appears, it glows with grace and beauty. Yet a few moments later, it is occupying the entire keyboard with overwhelming strength and exuberance. Rubinstein's technique and musical imagination is such that there is no barrier between his concept of the work and its practical realisation. The same quality is sustained throughout the remaining three of these truly stunning performances.
 
The preludes, recorded in 1946, are, in fairness, not quite able to live up to this standard, because of their very dated recording. Although it has been effectively 'cleaned up', the piano tone is uncomfortably dry, so that Rubinstein's expressive and tonal subtleties are not as well captured. But we still have his ability to project immediately and powerfully the character of each of these amazing short pieces - some only a few bars long. For example the left-hand melodies of numbers 4 and 6 (tracks 8 and 10) are remarkable for their flexible cantabile, while the Viennese insouciance of the famous no.7 in A (track 11) is captured to perfection.
 
I've heard it said that Rubinstein hated re-takes, like many musicians of his generation. If that is true, it makes the cleanness and unerring accuracy of his playing all the more remarkable. The very brevity of these preludes means that there is no time to prepare or adapt for the often considerable technical challenges they present, as in, for example, the mayfly-like bravura of no.10 (track 14) or no.14 (track 18). Yet in those one or two preludes which give the opportunity for a broader perspective, Rubinstein takes us with him into a more reflective world, as in no.13 (track 17) or the compelling performance of the famous 'Raindrop' Prelude (track 19).
 
He is daring with sonorities; his pounding out of the merciless repeated A flats at the close of no.17 (track 21) borders on the brutal. Yet this imparts the character of a funeral bell, and gives the pieces a previously unsuspected sinister character.

These are but isolated examples. The great attribute of Rubinstein's playing is that he forces you to listen afresh to each piece, taking nothing for granted. This is a CD that no lover of great piano music and unsurpassed pianism will want to miss.
 
Gwyn Parry-Jones 
MusicWeb International, August 2013