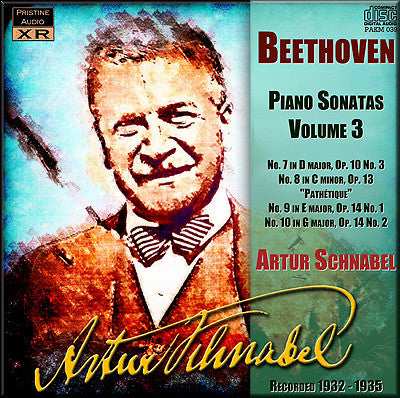 This album is included in the following set
s

:
This set contains the following album
s

:
Producer's Note
Full Track Listing
Cover Art
Additional Notes
The legendary Schnabel Beethoven series continues
"They embody what may well prove to be the sonically finest transfer
that these recordings from the 1930s have received" Fanfare
Artur Schnabel's 1930s Beethoven Sonata recordings are not a remastering project to be undertaken lightly. There are of course many other transfers already available, and I have held off beginning this series for a number of years, until I could be confident not just of repeating the previous efforts of my colleagues, but of achieving something dramatically new and substantial to the recordings through Pristine's 32-bit XR remastering process.
This is a project which has been started and abandoned several times before in my efforts to produce the very finest, most authentic piano tone, with as clean and quiet a background as possible. This I believe I have finally achieved here, and it is only in the occasional side or short section that one is reminded that these recordings were made nearly 80 years ago. My hope is that the much increased clarity, fidelity and realism of these Pristine releases will allow the listener a far greater appreciation of Schnabel's genius than ever before - and that you will forget the vintage of the recording and matters of sound quality and enjoy these legendary recordings as if hearing them for the very first time.
This release marks the commercial debut globally for a remarkable new technology from German company Celemony which aims to reduce or eliminate wow and flutter from analogue recordings. Certainly here it's had a great effect on Schnabel's piano tone, creating a much better sense than ever before of a very real instrument being played, one that was crafted very solidly out of heavy wood and metal! Pitch aside, the sonic results achieved in this third volume offer some indication of the variable nature of both pressings and recording quality in a series which spanned some 3 years of recording and 5 years of releases in the 1930s, and it will probably be clear to the listener that some sides were more troublesome than others. At all times my priority has been the tone of Schnabel's piano, and in places this has resulted in a degree of background "shash" remaining audible, despite my best efforts.
Andrew Rose

BEETHOVEN Piano Sonata No. 7 in D major, Op. 10, No. 3
Recorded 12 November 1935, issued as HMV DB 3345-47
Matrix Numbers 2EA.2521-26. All 1st takes except side 2: take 2


BEETHOVEN Piano Sonata No. 8 in C minor, Op. 13, "Pathétique"
Recorded 2 October 1933 & 3 April 1934, issued as HMV DB 2356-58
Matrix Numbers 2B.5362-66. Takes 3, 1, 1, 2, 2


BEETHOVEN Piano Sonata No. 9 in E major, Op. 14, No. 1
Recorded 25 March 1932, issued as HMV DB 1818-19
Matrix Numbers 2B.3259-62. All 2nd takes



BEETHOVEN

Piano Sonata No. 10 in G major, Op. 14, No. 2


Recorded 23 April 1934, issued as HMV DB 2465-66
Matrix Numbers 2B.6144, 6145, 6148, 6146. All 1st takes except side 2: take 2

Artur Schnabel

piano



Finally a cure for wow and flutter: Celemony's Capstan software's commercial debut on Pristine
(A Pristine Classical newsletter editorial by Andrew Rose)
It's something to get an audio restoration engineer's heart beating a little faster than usual - a specialist music software company in Germany announces a cure for wow and flutter. Not perhaps on a par with a cure for cancer, of course, but as they say themselves: "For over 100 years, music has been recorded on mechanical storage mediums, and for over 100 years such recordings have been plagued by the same problems: wow and flutter".

After lengthy research and development, and building on revolutionary technology which already allows phenomenal feats of musical editing from within a recording, such as re-pitching, moving, lengthening or otherwise altering an individual note or chord despite it being apparently locked into complex polyphony, Celemony finally this week released their Capstan software. It is "for the first time a program capable of removing wow and flutter from musical recordings", as they put it.

I've been working with their Capstan specialist Mathis Nitschke over recent weeks, sending him part-restored piano sonatas from the Schnabel recordings for him to work his incredible wow-and-flutter magic on, and early last week I was finally allowed to get my own hands on the final release product itself, a week ahead of general issue.

It's given me a little time to experiment, tweak, and generally find out how this new software works, what it can do, and where its strengths and weaknesses lie, as well as put it to good use for this week's releases - and update our previous Schnabel sonata volumes.

In operation everything seems remarkably simple, with the bulk of the power kept firmly "under the hood". When you load up a sound file into Capstan it takes a while to think about it - a full length CD completely maxes out my PC system's fast four-core processor for maybe 15-20 minutes. This is the clever bit, it seems - Capstan is performing zillions of high-speed calculations to untangle and analyse all the notes and their various harmonic frequencies, working out what it thinks are intentional pitch fluctuations - vibrato - and which are undesireable - wow and flutter.

At the end of this process the user is presented with a waveform and pitch analysis on the screen, and given two basic controls in order to "drive" the processing. Each acts as a kind of accelerator/brake - one controls the degree of pitch alteration, the other the 'jaggedness' or resolution of that change, allowing you for example to smooth out what the machine thinks may be flutter but which should be heard as legitimate vibrato.

It sounds simple, and in essence it is for the operator. But to continue the motoring analogy, it's also a powerful vehicle capable of inflicting damage or careering off road unless carefully driven. The automatic detection can be sidetracked or find itself a little confused, and I'm no more ready to let a computer make these kind of musical decisions than I am to let it drive me to the supermarket.

So while for much of the time I go along with Capstan's expert judgement, from time to time I'll have to intervene. Sometimes it struggles with very quiet single notes played over a hissy or noise background - which occurs more than once in the current Schnabel sonatas release; at other times a bump or the barely-audible remnants of a click will confuse it too.

On material dominated by vocals it needs considerably more reining in than necessary on a piano recording - in my murky, distant past I played keyboards on a music demo by the now-comedian, TV and film star Ricky Gervais, a slightly mangled cassette of which I've managed not to lose in the intervening 23 years but which has always suffered pitch wobble from being copied from  tape-to-tape back in 1988. Out of curiosity - and because the content was so sonically different to the Schnabel, I ran this through Capstan and quickly realised how much more intervention this kind of music needed. The software often picked up on the powerful lead vocal 's pitch inflections and tried to take the rest of the music with it, requiring a dab on the 'brakes' from time to time.

But so far, so good. I think it's done amazing things to the Schnabel piano - you'd want it to if you were paying nearly $4500US for a single new step in your remastering process - and it helps me in a number of other ways, with accurate pitching being a fundamental requirement of XR remastering.

And of course it is only another tool - albeit a revolutionary one (in more ways than one!) in the remasterer's armoury. It may offer a cure to one problem inherent in historic recordings, but as my wrestling this week with some of the less-well-preserved sides of Schnabel's Beethoven reminded me, it still leaves a lot of what I regard as more routine cleaning up and restoration still to do!


Andrew Rose, July 1, 2011
Gramophone Historic Review
In the present Volume this is most beautifully played, and the realism of tone is also remarkable.
Sonata No.7

"...The Sonata in D major, Op. 10, No. 3, was composed two years later than the C minor Sonata. It is in every way a superior work, and in my opinion Beethoven never wrote a more perfect movement than the Largo e mesto movement of this Sonata. In the present Volume this is most beautifully played, and the realism of tone is also remarkable. There is a very short minuet and a finale that is full of the characteristic humour of the composer. Eric Blom remarks that 'charm and abruptness contend with each other in giving us the impression of a wilful and quick-tempered but warm-hearted personality.' The reader who hears these records will endorse this view..."

From The Gramophone, March 1938