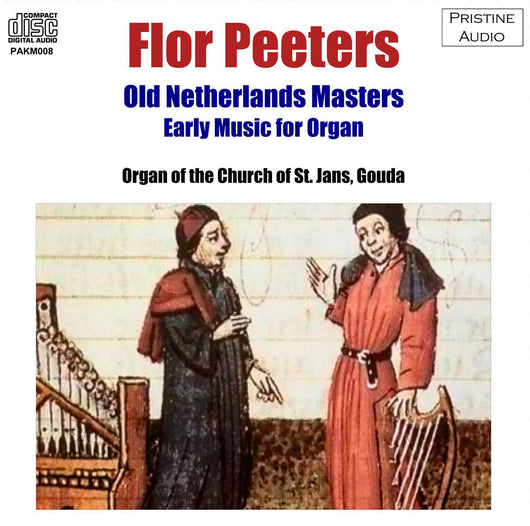 This album is included in the following set
s

:
This set contains the following album
s

:
Producer's Note
Full Track Listing
Cover Art
Flor Peeters' brilliant early organ music recordings

Fine transfers of these 1952 recordings

An old question asks you to name six famous Belgians. Hmm. An author, a cyclist, a singer... then many people's list runs out. Perhaps they should also remember a Belgian musician: Flor Peeters.
There can't be many organists whose portrait has graced a Nation's postage stamps. But this was only one of a great many honours and tributes to performer, conductor, teacher, and composer Franciscus Florentinus Peeters. Born on 4 July 1903 in Tielen, near Turnhout (and later made an honorary citizen of that town), he died at Antwerp on his birthday in 1986. In the course of a sixty-year career he had gained worldwide renown.
Flor Peeters as composer is today represented in the CD catalogues though by only a tiny fraction of his vast output, but what of Peeters as performer? Although occasional LPs were released in the '50s and '60s, all have long ago been deleted from the catalogues. Search, and we believe you won't find any recording of his currently available - until now!
In the early fifties Flor Peeters recorded, for the Nixa Record Company, three recitals at the organ of the church of St. Jans, in Gouda (of cheese fame). Of these recordings one included works by old English composers (and curiously appears not to have been issued in the UK - though it may be we just haven't looked hard enough); one was of the music of early Italian composers; and the third, our reissue, was of the music of the "Old Netherlands Masters".
One reason for any difficulty in listing 'famous Belgians', perhaps, is that Belgium as we know it today is a relatively young country. At the beginning of the fifteenth century it was a part of a much larger entity: the Netherlands, which included part of what today is Northern France as well as Belgium, Luxembourg, and Holland, and though this union was broken at the end of the sixteenth century, the term remained in widespread use in Europe.
Using the term 'Netherlands' allows Peeters a much larger geographical area than just 'Holland', and each of the ten tracks on this release is by a different composer. They are presented in roughly chronological sequence, from a motet of Guillame Dufay (1395-1474) to a preludium of Van Der Kerckhoven (1627-1673) which foreshadows Bach and Buxtehude.
Flor Peeters tailors his use of the capabilities of the St Jans organ to complement the development of the compositional styles, from using single and simple stops to unleashing many of the 4,000-plus pipes on this 1730s instrument. The 1952 recording captures fine detail as well as the ambience of the venue, though we suspect that the engineers didn't expect that the sound of the truck driving off outside would be audible - and it wasn't, until revealed by our restoration!
This is a highly unusual, eclectic, and pleasurable recital and we recommend it not only to aficionados of the 'king of instruments' but to anyone who loves music and would like to venture into less familiar territory. We're delighted to be able to make this unique recording available once again.
Peter Harrison
Dufay (1395-1474) - Alma Redemptoris Mater
Ockeghem (1430-1495) - Fuga Trium Vocum
Obrecht (1430-1505) - Ein Frölich Wesen
Isaac (1450-1517) - Gott, Lass Dich Erbarmen
Josquin Des Près (1450-1521) - Canzona
Willaert (1490-1562) - Ricercare
Demonte (1521-1603) - Canzona
Sweelinck (1562-1621) - Fantasie met Echowerk
Cornet (1562-1626) - Fantasie op den 8sten Toon
Van Der Kerckhoven (1627-1673) - Preludium en Fuga in D
(Note - some dates are speculative - taken from the original LP sleeve)
Recorded in 1952, originally released on Nixa LP PLP 239
Duration 34:10

Flor Peeters, Organ of the Church of St. Jans, Gouda